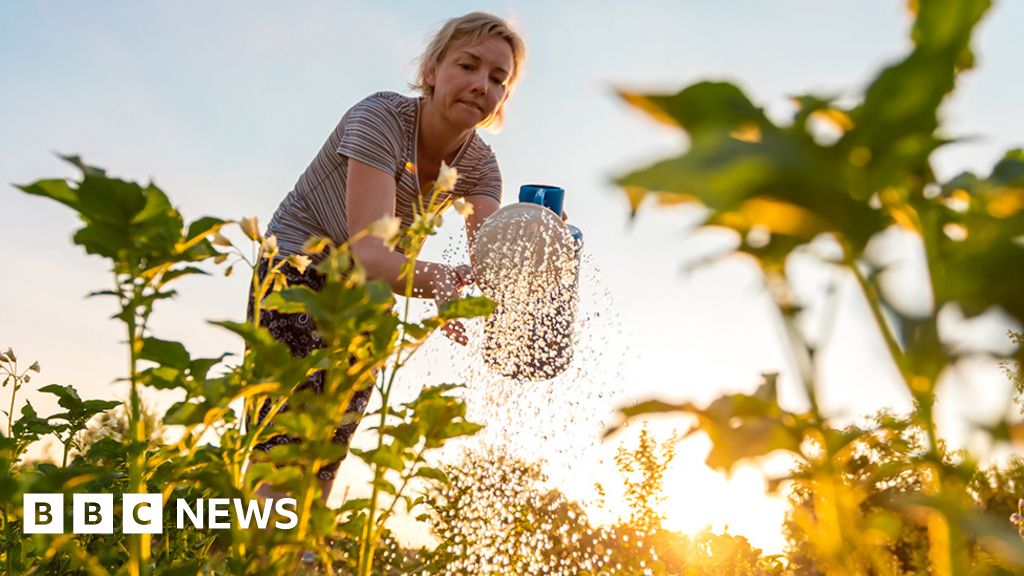 By Charley Adams & Christy Cooney
BBC News
Yorkshire Water is the latest water company to announce a hosepipe ban because of the unusually dry weather.
Hosepipe bans are already in place across large parts of southern England, and are planned for south-west Wales.
People living in these areas are not allowed to use hosepipes to water lawns or plants, to clean cars or to fill paddling pools.
When and where are hosepipe bans being introduced?
Southern Water imposed a ban in Hampshire and the Isle of Wight on 5 August, and South East Water imposed a ban in Kent and Sussex on 12 August.
Welsh Water has announced a hosepipe ban to come into force on 19 August, covering Pembrokeshire and a small part of Carmarthenshire.
Yorkshire Water, which has 5 million customers, will start its ban on 26 August.
Thames Water, which has 15 million customers, says it will introduce a ban "in the coming weeks".
South West Water and SES Water say they may introduce restrictions such as hosepipe bans if the weather stays dry.
Many of the UK's other water companies say they are monitoring water levels closely.
What is a hosepipe ban?
Restrictions on usage during hosepipe bans can vary between water providers but generally people are not allowed to use hosepipes or anything that connects to a hosepipe or an outside tap.
During a ban, people cannot use a hosepipe to:
Water a garden or plants
Fill a paddling or swimming pool
Clean a car
Fill a pond
Clean walls or windows
But there are some exceptions when a hosepipe can be used:
To water a new lawn within 28 days of it being laid
For business use (for example, watering crops or running a car wash business)
To fill pools needed for medical treatment
To fill a fountain used for religious practices
To top up a fishpond
Anyone breaking the rules could face a fine of up to £1,000.
How can I water the garden if I cannot use a hosepipe?
Leigh Johnstone from Southampton, who shares his gardening tips on TikTok, said plants were hardier than most people think.
More damage can be done from overwatering plants and "if you are clever about it" there are lots of ways to save water, he said.
Mr Johnstone – known on social media as the Beardy Gardener – suggests using a water butt to collect rain water, and to put "grey water" from baths and cooking pots on the garden.
However, he says, soapy water should not be used on plants you are growing to eat.
Mr Johnstone says mulch should be used to keep moisture in the soil. Mulch is material such as wood chippings that you put on top of the soil.
And he suggests planting drought-resistant plants such as lavender, Euphorbia and wildflowers.
The Royal Horticultural Society (RHS) says gardeners should always use watering cans rather than hosepipes because they direct water more accurately to the roots of plants.
It suggests watering plants in the mornings or evenings so that water does not evaporate off their leaves.
It also suggests letting the grass on lawns grow taller, because then they will grow deeper roots, making them more resilient to drought.
The RHS also recommends installing water troughs, putting saucers under plant pots and using homemade compost.
Water UK, which represents the UK's water industry, says hosepipe bans normally reduce water usage by only 10%.
It suggests further water-saving measures such as reusing paddling pool water, washing dogs outside instead of in the bath, and filling ponds with rain water.
What are other water companies thinking of doing?
South West Water said if the dry weather continues "we may have to make the difficult decision to introduce formal restrictions over the coming weeks"
SES Water said it was working to "minimise the need for any restrictions in the coming weeks and months"
Affinity Water said it shouldn't need to introduce any restrictions, but added that was dependent on rainfall in the coming months
Anglian Water said it had no hosepipe bans in place and was "working hard to keep it that way" – but was watching river levels very closely
Wessex Water said water levels were below average for this time of year but that it had no plans to introduce a hosepipe ban
Portsmouth Water said it was "not considering applying for a hosepipe ban at this point in time" but was monitoring the situation "on a daily basis"
Severn Trent Water said it continued to monitor reservoir levels closely
Northumbrian Water said its reservoirs were below normal levels but it was "not anticipating the need for any restrictions this summer"
South Staffordshire Water said it continued to monitor the situation, but had no plans for a hosepipe ban
Bristol Water said it did not anticipate the need for any hosepipe ban and was continuing to monitor the situation
United Utilities Water said it was not considering any ban
Hafren Dyfrdwy said it did not anticipate a need for any ban but was continuing to monitor the situation
Northern Ireland Water said it was "currently content" with water levels but if they reduced significantly it "would have to consider the possibility of a hosepipe ban"
Scottish Water said there were no plans for any restrictions
How will you be affected by the issues in this story? Share your experiences haveyoursay@bbc.co.uk.
Please include a contact number if you are willing to speak to a BBC journalist. You can also get in touch in the following ways:
If you are reading this page and can't see the form you will need to visit the mobile version of the BBC website to submit your question or comment or you can email us at HaveYourSay@bbc.co.uk. Please include your name, age and location with any submission.