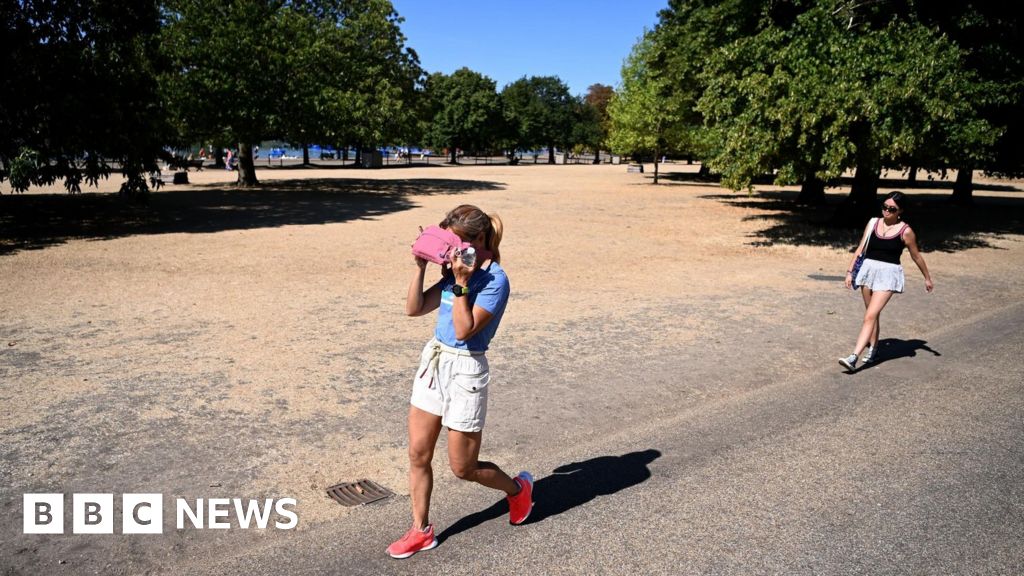 By Andre Rhoden-Paul & James Gregory
BBC News
Millions of people face hosepipe bans as low water levels and tinder dry conditions continue across the UK.
Yorkshire Water is the latest firm to announce restrictions, from 26 August, while a South East Water ban is now in place for some 1.4m Kent and Sussex customers.
The government is expected to declare a drought for much of England later.
A four-day amber warning for extreme heat from the Met Office is in place for many parts of England and Wales.
Ongoing dry conditions, combined with July's record-breaking heatwave, have depleted rivers, reservoirs and aquifers – leading to a number of water firms bringing in restrictions.
The period between January and July was the driest start to the year since 1976 – with experts warning that dry spell could last for several more months and get even more severe.
Analysis from the UK Centre for Ecology and Hydrology (UKCEH) shows that low or even exceptionally low river flows and groundwater levels will probably continue for the next three months in southern England and Wales.
Yorkshire Water, which has more than five million customers, says that parts of the region have seen the lowest rainfall since records began more than 130 years ago.
Elsewhere, Hampshire and the Isle of Wight are under a hosepipe ban, while Welsh Water is implementing a ban from 19 August.
Thames Water is also set to follow suit with its own restrictions in the coming weeks.
But Cathryn Ross, strategy and external affairs director for the firm, told BBC Breakfast a ban would probably come in immediately if a drought was declared.
The decision to declare a drought will be taken after a meeting of the National Drought Group, which is made up of government and agency officials, water companies and groups including the National Farmers' Union (NFU).
Drought is decided area by area, and announcing one means government and water companies will launch plans to deal with it, with measures including hosepipe bans and taking more water than usual from rivers.
Wales Drought Liaison group, including environment, health and water professionals, is also looking at the effect of the prolonged dry weather.
Drought declaration expected
Since late July the UK has officially been in what is called "prolonged dry weather" – the stage before a drought is declared.
The government had already said if this dry picture continues – which it has – then a drought is likely to be declared.
What will determine the decision is the hydrological position across the country – how much water there is around.
The Department for Environment, Food and Rural Affairs (Defra) and the Environment Agency will be asking the other members of the National Drought Group about rainfall, river flows, groundwater levels, reservoir levels and soil moisture.
They will then ask how that is likely to impact the public water supply, how it will affect other people using water like businesses and agriculture and of course they will want to know what the impact on the environment is likely to be.
BBC News has been told that Defra believes there could be serious impacts to some or all of these and will declare that parts of the UK are in drought.
The last time a drought was announced was in 2018, when hosepipe bans were put in place by water companies across the country.
Neil Dewis, director of water at Yorkshire Water, said rivers and reservoirs in the region are running at 20% lower than expected for this time of year.
The firm had been "doing everything we can to avoid putting in restrictions" but they were now necessary, he said.
South East Water, whose ban came into force on Friday, is asking people to observe restrictions on using hosepipes to water plants, wash the car and fill a paddling pool.
The ban also applies to anything which serves the same purpose as a hosepipe such as sprinklers and irrigation systems or pressure washers.
Rule-breakers could be hit with a £1,000 fine.
The company said its underground water aquifers were below average for the time of year across Kent and Sussex and its raw water reservoirs were also at a lower level.
About four billion litres of water is lost to leaks each day in the UK – accounting for between 20% and 24% of the total water supply.
Alastair Chisholm, from the Chartered Institution of Water and Environmental Management, told BBC News that the "Victorian era" system needed more investment to bring that figure down, but added that there was an "improving picture."
Meanwhile, the four day amber extreme heat warning is in place for southern and central England and parts of eastern Wales until Sunday, with warnings that the high temperatures are likely to impact on health and could cause travel disruption.
Met Office chief meteorologist Andy Page said UK temperatures had been rising day-on-day through the week – with a peak of 35C expected on Friday and possibly 36C over the weekend.
There will be "increasingly warm nights" with temperatures not expected to drop below the low 20s in some places in the south, he said.
Temperatures are forecast to be lower early next week with heavy showers and thunderstorms likely in some areas.
The situation in the UK is being mirrored across Europe. Much of the continent is baking in record heat, exposing riverbeds and triggering restrictions on water use in many areas.
The Met Office's fire severity index, which assesses how severe a blaze could become, is currently "very high" for most of England and Wales.
The situation facing firefighters across the UK has been described as "unprecedented", with increasing numbers of wildfires.
Heatwaves are becoming more likely and more extreme because of human-induced climate change.
Research institute UK Centre for Ecology and Hydrology (UKCEH) said it would require "exceptional" rainfall over the next one to three months to bring river, reservoir and groundwater levels back up to normal.
But scientists have warned bouts of heavy rain after a prolonged period of hot weather can cause flash flooding.
Robert Thompson, a professor of Meteorology at the University of Reading, said "the ground has effectively become like urban concrete" and will not absorb water quickly enough to cope with longer showers.
He told BBC News: "We need light drizzly rain after a bout of hot weather, not heavy rain, otherwise there's a danger of flash flooding because the water can't get into the ground," he added.
What is a hosepipe ban?
Restrictions on usage during hosepipe bans can vary between water providers but generally people are not allowed to use hosepipes or anything that connects to a hosepipe or an outside tap.During a ban, people cannot use a hosepipe to:
Water a garden or plants
Fill a paddling or swimming pool
Clean a car
Fill a pond
Clean walls or windows
But you can use other water sources, like using your mains water supply but with buckets or watering cans instead of hosepipes, or using stored rainwater from a water butt and there are some exceptions when a hosepipe can be used.
Anyone breaking the rules could face a fine of up to £1,000.
Have you been affected by the hot weather and restrictions? Please get in touch by emailing: haveyoursay@bbc.co.uk.
Please include a contact number if you are willing to speak to a BBC journalist. You can also get in touch in the following ways:
If you are reading this page and can't see the form you can email us at HaveYourSay@bbc.co.uk. Please include your name, age and location with any submission.