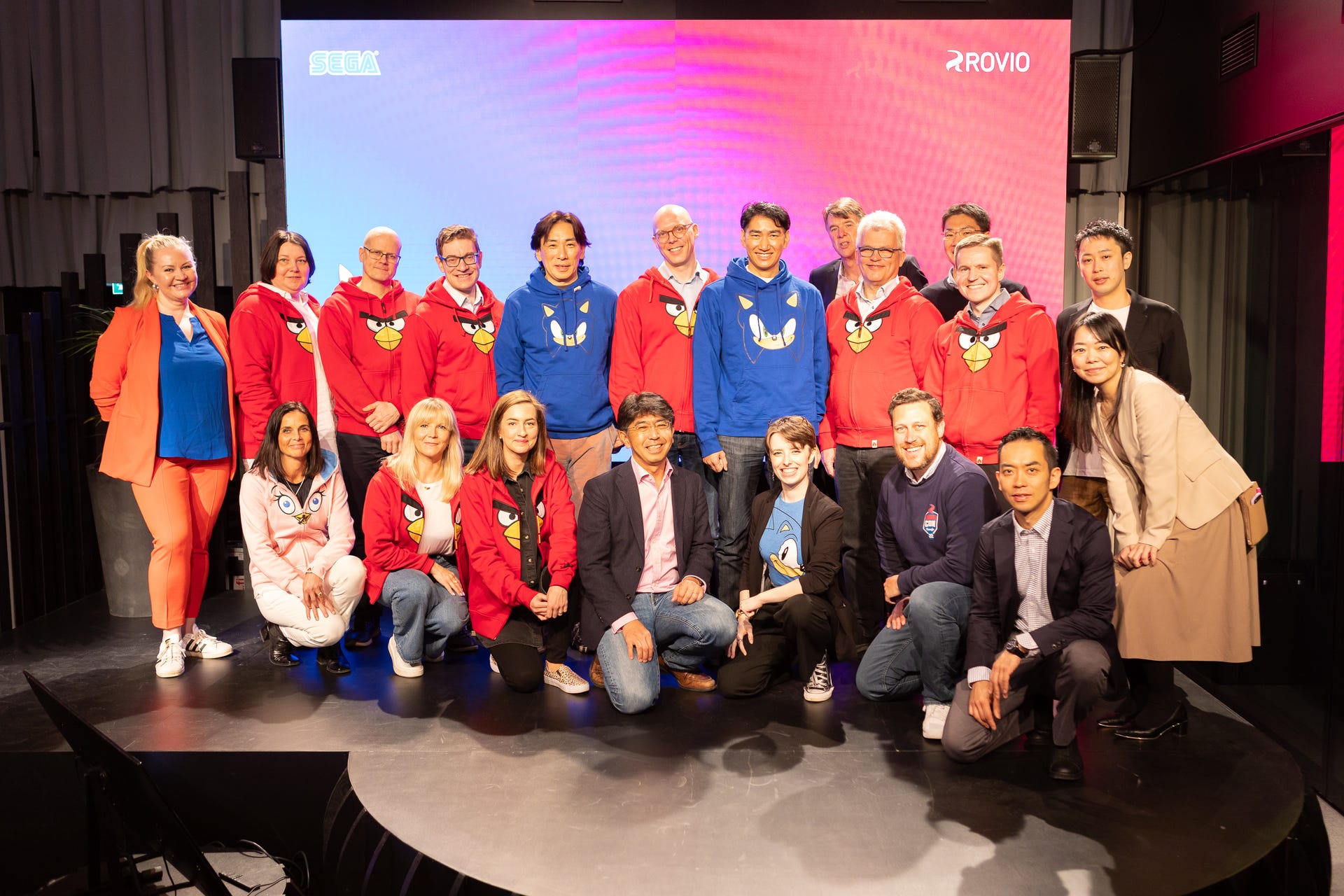 On April 17, Sega announced plans to acquire Rovio, the Finnish studio behind the hugely popular Angry Birds series, in a deal worth €706 million.
It's the latest example of a long-standing console and PC publisher trying to establish a foothold in the lucrative but highly competitive mobile gaming market, following Take-Two's $12.7 billion purchase of Zynga, Electronic Arts' $2.1 billion acquisition of Glu Mobile and Microsoft's ongoing attempt to acquire Activision Blizzard, which owns Candy Crush creator King.
But in the case of Sega and Rovio, there's more to the new partnership, as the leadership of both firms discussed during a press conference at Rovio's Helsinki headquarters yesterday.
Sega Sammy Holdings president and CEO Haruki Satomi revealed that discussions between his company and Rovio actually began in June, almost one year ago. Initially, discussions centred around business opportunities for the two parties to work together but later evolved into acquisition talks.
"I believe the success of The Super Mario Bros Movie should accelerate the transmedia trend of game IPs"

Shuji Utsumi, Sega
While other parties have expressed interest in buying Rovio – including Israel-based mobile publisher Playtika – the Angry Birds firm's chairman of the board Kim Ignatius said that throughout discussions with Sega, he "always felt there was a strong potential in this combination."
At the beginning of 2023, the Rovio board conducted a strategic review of all the options – including offers from other parties and retaining independence.
"During this process, it became quick clear that Sega and Rovio would make a strong fit," said Ignatius. "There are synergies in several areas."
He added that the Rovio board is recommending this "financially solid deal," noting that the acquisition price "represents a premium of approximately 63% compared to the undisturbed share price".
Rovio CEO Alexandre Pelletier-Normand also said the company's staff is behind the acquisition: "Judging by the smiles across the room and all the positive atmosphere that we felt [when we told them], it was clear that Rovians were excited at the idea of partnership with a company that many of them had admired since childhood playing Sonic The Hedgehog."
The sheer size of Sega and its decades of experience in the games industry make it an appealing parent to Rovio, but why did Sega want to add the team behind Angry Birds to its roster?
To improve Sega's presence on mobile

Let's get the obvious one out of the way; as mentioned, Rovio's acquisition is another example of a console and PC publisher buying its way into mobile.
That said, it's important to remember Sega is not inexperienced in the mobile space. In fact, the iOS version of Super Monkey Ball was a launch title for the App Store way back in 2008 – shortly before the original Angry Birds released and dramatically outperformed it.
"I was so sad," Satomi joked. "But I still remember the feeling of seeing everyone playing Angry Birds. That's why we're so excited for the possibility of having Rovio join the Sega family and exploring our business together.
"From a strategic point of view, this is a great opportunity for Sega to expand its business in the global market. Our objective is to learn new strengths from Rovio's high level of development and management capabilities. For Sega, we believe that by reaching out to the global market, we'll be able to achieve another level of significant growth."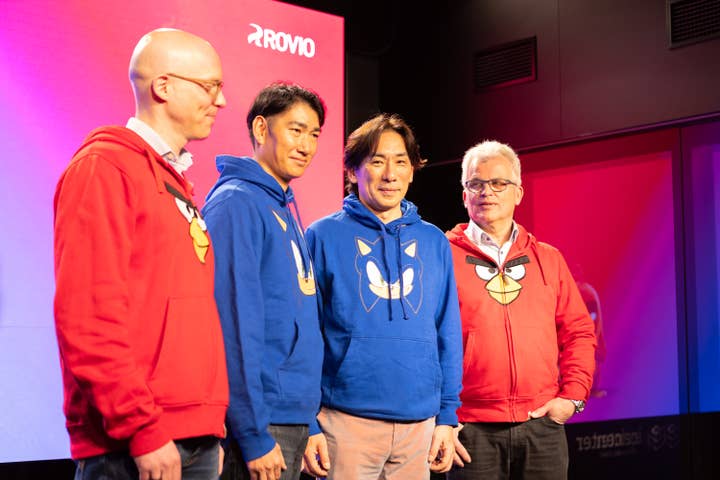 Pelletier-Normand added: "On the Rovio side, we've spent the last 20 years developing and operating mobile games. We're excited at the idea of helping Sega expand their IPs and reaching even more people on the global mobile gaming market."
He later suggested Rovio may be more directly involved in bringing Sega IP to mobile, rather than playing a supporting role, although no concrete plans have been made.
"Sega has, throughout the years, developed a good number of IPs that are very rich and deep. The mobile gaming market today is very competitive. It's been a big advantage for us to have the Angry Birds brand that is recognised worldwide… We've developed an expertise over the years of nurturing this brand and having it help us when it comes to user acquisition. When we think about the brands Sega has developed over the years, it's exciting for us to think about what else we can do with other brands on top of what we do with Angry Birds."
To make use of Rovio's Beacon technology

Mentioned in the original acquisition announcement, Beacon is Rovio's platform for handling mobile development, publishing, updates, live operations, user acquisitions and more. It's an SDK that gives the company's development teams access to these key features so that, as Pelletier-Normand put it, they can concentrate on the games themselves.
"It really helps develop and scale those games, which means every team that starts on a project can really focus on the core game and Beacon basically handles the rest. We have those tools and those people that can really support our creation teams."
Satomi added that it was one of the things that most impressed Sega during the acquisition, saying: "That's what Sega is missing. We've done it ourselves a little bit, but Rovio has done it at a global scale. By adding the Beacon system to Sega's existing titles, that itself is going to be invaluable to us."
To bring Angry Birds to other platforms

While the original Angry Birds Trilogy and the themed Angry Birds Star Wars both released for consoles, PC and handhelds in 2012 and 2013, the franchise has been predominantly a mobile offering. Having partnered with Activision on the aforementioned releases, Rovio would now be able to use Sega's expertise to bring its titles to a wider ranger of platforms.
"The reason why this project is exciting to us is because it simply makes sense," Pelletier-Normand said. "Sega is a household name on PC and console, which means they can help us bring Angry Birds to new audiences on those platforms."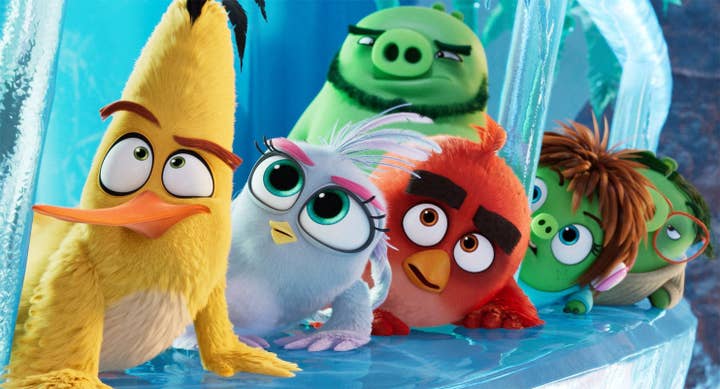 To accelerate Sega's transmedia plans

As with so many major games firms now, Sega is looking beyond the video games sector for growth opportunities.
Shuji Utsumi, co-COO and president of Sega Games and Transmedia, used the publisher's flagship franchise as a prime example: in addition to a new Sonic The Hedgehog game almost every year – with 2022's Sonic Frontiers selling 3.5 million units, according to Utsumi – the company has also produced toys, merchandise, Lego sets, the Sonic Prime series on Netflix, and two blockbuster Hollywood movies through various partnerships.
"Adding Beacon to Sega's existing titles, is going to be invaluable"

Haruki Satomi, Sega
As successful as this has been, particularly the movies, Utsumi expects this to ramp up – in part thanks to Sega's old rival Nintendo.
"I believe the success of The Super Mario Bros Movie should accelerate the transmedia trend of game IPs," he said.
"I joined [the company] three years ago and I feel like Sega is like a treasure island, with great IPs and great talent… [and] Rovio has strengths we do not have. We believe [the two companies] have characteristics that complement each other for future growth. With Rovio, I believe Sega can accelerate its transmedia initiatives more aggressively."
Rovio has also seen some success here, with the release of two Angry Birds movies and various animated series, including the latest series on Netflix.
To grow Rovio

While perhaps not a specific goal, Sega expects Rovio to grow under the Sonic firm's ownership. Satomi pointed to some of the previous studios Sega has acquired, estimating that around ten have been brought into the fold over the last 15 years.
"All of those teams have grown since then – especially Creative Assembly," he said. "When I visited their offices the first time, it was a just a small house with about 60 people, now expanded to 800 and one of the biggest studios in the UK. In Japan, Atlus joined the Sega family and their size is nearly double now."
He noted that, while the two companies are working out the specifics, Sega has previously shown that it will respect a subsidiary's established brand. Atlus, for example, was already publishing its own titles before it joined the Sega group, and has continued to do so because of the strength of its brand. Utsumi added that with Sega's help, Atlus has gone from a console-only company to also producing games on PC and now expanding onto mobile.
"We believe that sharing and collaboration of both [Sega and Rovio's] IP will further [the] growth of mutual fanbases of both companies," he added.
Sign up for the GI Daily here to get the biggest news straight to your inbox