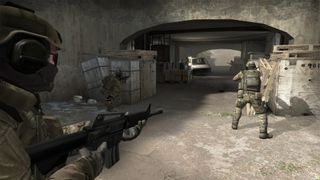 (Image credit: Valve)
CS:GO's staggering popularity shows no sign of slowing down as, once again, Valve's seminal shooter smashes its own concurrent user record.
It was only a little over a month ago (opens in new tab) that the shooter broke its own concurrent user record – the term given to the number of players logged into a game simultaneously – topping 1,519,457 concurrent players.
Now, despite being over a decade old, CS:GO is still attracting huge numbers of players, this time exceeding 1.8 million simultaneous players: 1,818,773, to be precise. 
That solidifies CS:GO's position as Steam's second biggest game ever, second only to PUBG: Battlegrounds, which still sports a staggering concurrent record of 3.2m players. And whilst it's tempting to think it unlikely that CS:GO could come close to toppling PUBG's record… well, CS:GO is already over halfway there (thanks, SteamDB (opens in new tab)), adding half a million to the concurrent record since it peaked during the pandemic. 
It's likely no coincidence that renewed interest in the game comes after the next generation of Valve's iconic FPS, Counter-Strike 2 (opens in new tab), was finally announced. It currently targets a summer 2023 release window, but a limited test is already up and running.
Steam, too, is incredibly popular at the moment. Its upward trend began three years ago, in January 2020, when the world began to self-isolate at the start of the COVID-19 crisis. On February 2, Steam's existing record of 18,537,490 users – set in January 2018 – was surpassed (opens in new tab), smashing the existing record by an impressive 300,000 to peak at 18,801,944 players. 
It's gone on to be broken several times since, including a weekend in March 2020 that saw numbers breach 20 million for the first time (opens in new tab). We then saw 24.7 million users peak in December 2020 (opens in new tab), 26.5 million in February 2021 (opens in new tab), and at the end of October, the PC platform topped 30 million users (opens in new tab) at once for the first time.
Right now, Steam's own concurrent user record is 33,598,520, a record that was set last month.
Did you see that a Counter-Strike fan thinks they've found a reference to "Left4Dead3" in the files for CS2 (opens in new tab)?