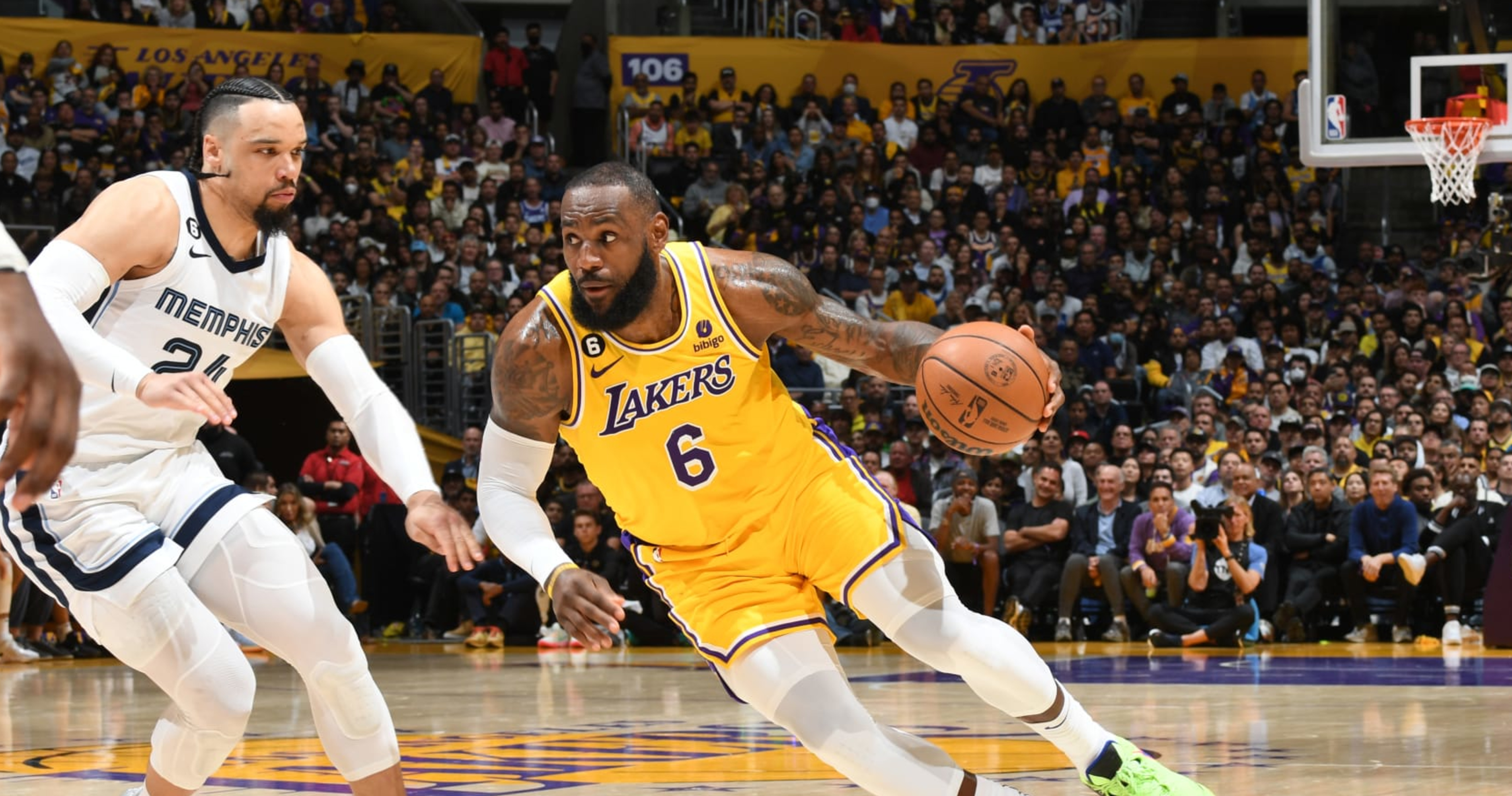 Francisco Rosa
April 25, 2023

Andrew D. Bernstein/NBAE via Getty Images
When the time came, the king defended his castle.
LeBron James put up a herculean effort in the Lakers' 117-111 win against the Memphis Grizzlies at Crypto.com Arena on Monday night. In doing so, Los Angeles took a commanding 3-1 series lead over the No. 2 seed in the Western Conference.
It wasn't the easiest night for James and his squad on a night where offense was hard to come by. He dropped 22 points on 8-of-18 shooting from the field but scored big buckets down the stretch, including the game-tying layup that sent the game to overtime.
He also had the biggest shot of the night, an and-1 that effectively sealed the game for Los Angeles.
James grabbed 20 rebounds and had seven assists to go along with two blocks. He became the first Lakers player to finish with 20 points and 20 rebounds in the playoffs since Shaquille O'Neal in 2004.
After struggling on the road during the regular season, it was pivotal that the Lakers defended their home floor against a young, talented Memphis team that got Ja Morant back for Games 3 and 4.
And they did just that with two clutch victories to put themselves in a great position to advance to the second round and face the winner of the Golden State Warriors versus Sacramento Kings series.
At 38 years old, it's spectacular to see James put on performances like this every night, and Twitter kept singing his praises following the win.
Earvin Magic Johnson @MagicJohnson

LeBron James saved the @Lakers tonight with a king-sized performance to put the Lakers up 3-1 in the Series!
Earvin Magic Johnson @MagicJohnson

LeBron James hit the game-tying layup to send the Lakers into overtime and finished with 22 points, 20 rebound and 7 assists 🤯. To put his performance in perspective, he's the first Laker with 20 points and 20 rebounds in the Playoffs since Shaq in 2004!
Jovan Buha @jovanbuha

LeBron James has tied his playoff career high with 19 rebounds.
Dave McMenamin @mcten

LeBron James has turned a 5-for-14 shooting night into a pretty brilliant performance with 16 rebounds, 7 assists, 2 blocks, no turnovers and a monster charge drawn on Ja Morant.
Chris Manning 🏀 @LD2K

You wanted the King you got him!!!!!
Kyle Goon @kylegoon

LeBron IS technically old but,,,,,
Nate Jones @JonesOnTheNBA

Brooks getting cooked to end this game is a fitting ending.
Marcus Thompson II @ThompsonScribe

Brooks brought this on himself
Jovan Buha @jovanbuha

LeBron James is the first Lakers player with 20 points and 20 rebounds in a playoff game since Shaquille O'Neal on 6/13/04 against Detroit.
Sarah Spain 💙 @SarahSpain

What's that saying, Dillon Brooks?

Careful what you wish for, you just might get it.
The Lakers were always going to be dangerous lurkers once they made it to the postseason as long as James and Anthony Davis remained healthy. And aside from a few scares with Davis, that's been the case.
Now, they'll have an opportunity to send the Grizzlies packing on their home floor at the FedEx Forum. It's something no one would've seen coming after Los Angeles started the season 2-10.
Game 5 of the series will tip off Wednesday at 7:30 p.m. ET.