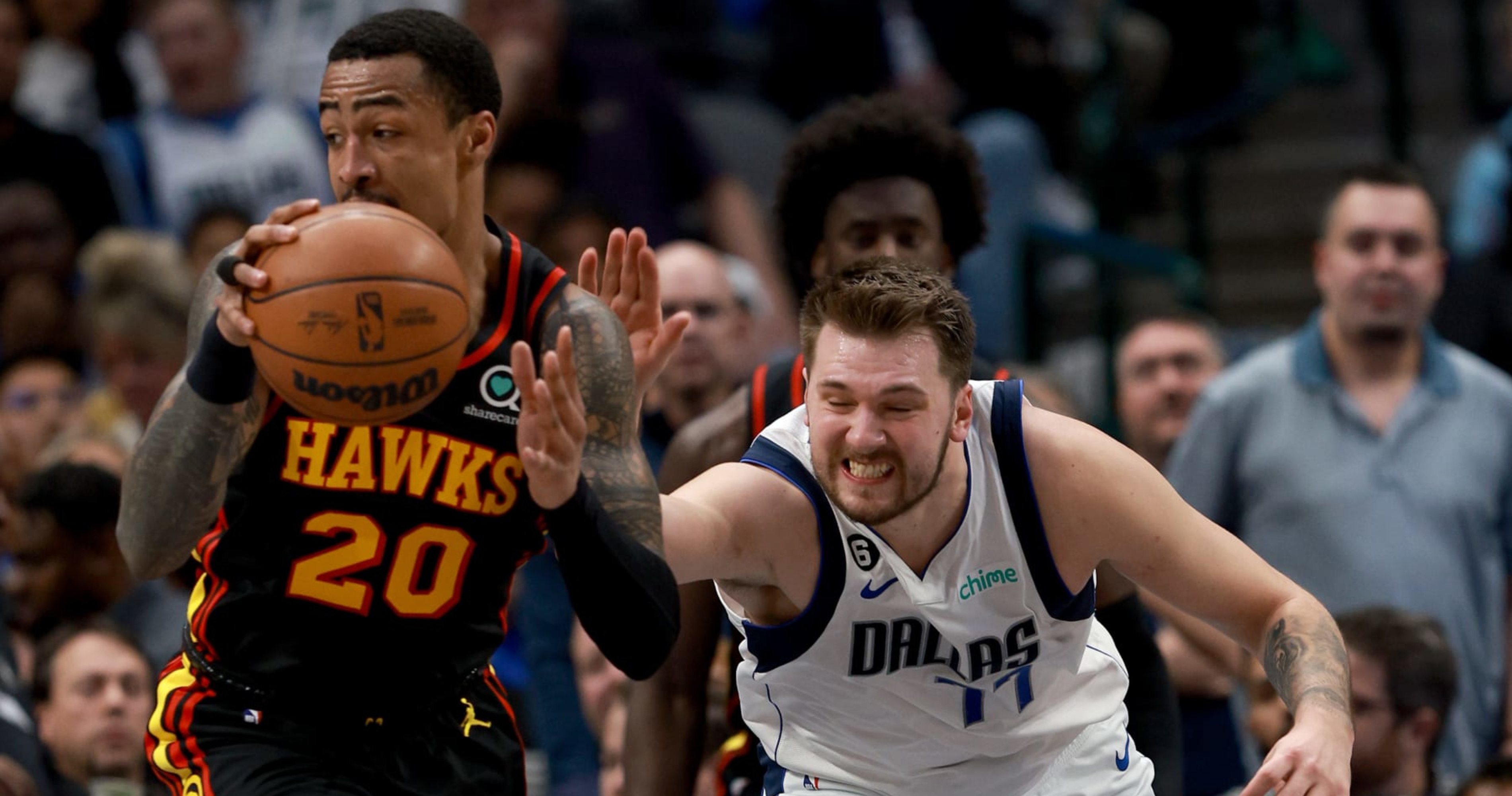 Scott Polacek
@@ScottPolacek
Featured Columnist IV
January 19, 2023

Tom Pennington/Getty Images
Luka Dončić may be an MVP candidate, but that is about the only thing the Dallas Mavericks have going for them.
Dallas lost a third straight and fell to 1-5 in its last six games with a 130-122 defeat to the Atlanta Hawks on Wednesday at American Airlines Center. While it is still a solid 24-22 on the season, a defense that is 25th in the league in efficiency, per NBA.com, figures to be its undoing in the long run.
It certainly was against a Hawks team that won its fourth straight and improved to 23-22. Dejounte Murray torched the Mavericks perimeter players on the way to 30 points, while Trae Young added a double-double of 18 points and 12 assists.
Social media was quick to criticize the Mavericks defense:
A.J. @ComboAJ

The Dallas Mavericks on the defense:

Option A: Give up layup

Option B: Force jump-shot, allow offensive rebound. Give up layup.
New Hops, New Hoops, No Oops @HopsHoops

Mavs played defense for about 5 minutes and decided that was enough for the night smdh
Grant Afseth @GrantAfseth

The Hawks reached the 40-point threshold against the Mavericks in the opening period. The defense has a lot of work needed, even with Dorian Finney-Smith and Josh Green back in the lineup.
Mavs in 8 @mister_4177

Not a lick of defense being played
Eddie Sefko @ESefko

Mavericks' defense hasn't changed much in the early going, sadly. Hawks have gone up 15-8 and all five ATL starters have scored. Atlanta already with eight fast-break points (Mavs 0).
Brad Rowland @BTRowland

The Mavericks are generally below-average across the board in interior defense and Dallas is a bottom-five team in free throw rate allowed.

Seems that the Hawks picked up the scouting report.
lami⭐️ @lamibackup

Mavericks defense isn't even trying the Cowboys are really all I have
The Smoking Cuban @thesmokingcuban

Luka Doncic scored 19 points and the Mavericks had 37 in the 1st quarter, but they are down by 3 heading into the 2nd. Mavs need to find their defense and fast. #MFFL #Mavs
Indy Maverick @IndyMaverick13

Mavs really left defense in 2022
TDLaw 👑 @MavsLaw

Our defense staying horrendous
The biggest storyline whenever these two teams face each other is the head-to-head matchup between Young and Dončić. After all, they were dealt for each other in a draft-day trade after the latter was chosen No. 3 overall and the former was picked No. 5 overall in 2018.
Dončić wasted little time reminding Young why he was chosen earlier and poured in 19 points in the first quarter alone. Atlanta responded by doubling him almost as soon as he crossed half court on a number of possessions, which created situations where the Mavericks could play four-on-three but also put more pressure on his teammates.
Young wasn't countering much as a scorer with just 10 points through three quarters, but he kept the offense rolling as a facilitator while Murray attacked and John Collins stretched the floor with his outside shooting.
That formula proved to be more than enough with Dončić scoring just 11 points after that first quarter, especially with Dallas' defense providing little to no resistance on the other end. Eight Hawks finished in double figures, as the visitors provided more balance and a better overall approach throughout the contest.
They will look to keep things rolling when they host the New York Knicks on Friday.
🚨 SPORTS NEWS ➡️ YOUR INBOX
The latest in the sports world, emailed daily.