An oil tanker caught fire at a Russian airfield in Kursk near the border with Ukraine following a drone attack, according to a local official.
Regional governor Roman Starovoyt did not specify the origin of the attack but it comes a day after Moscow blamed Kyiv for similar strikes in Russian territory.
"There were no casualties. The fire is localized. All intelligence agencies are on site," Starovoyt wrote on his Telegram channel. In a follow-up message, he said he had held a meeting of the "anti-terrorist commission" and that the level of terrorist danger would remain at a high or "yellow" level for another 15 days.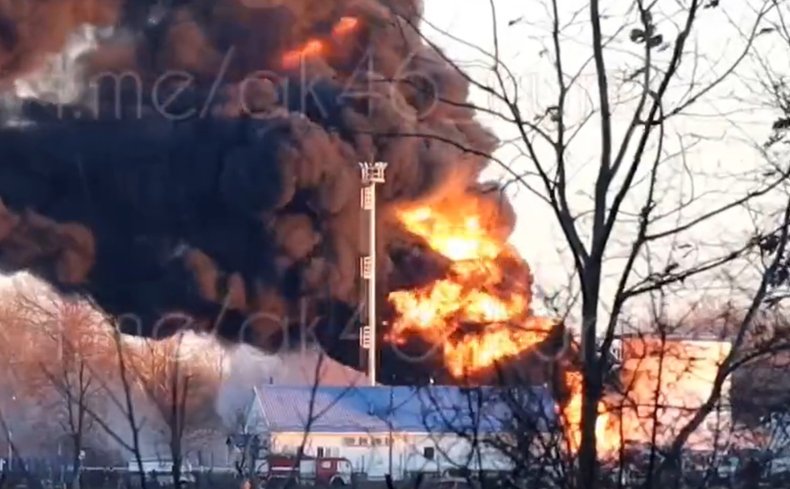 Video widely shared on social media showed flames and smoke purportedly from the site billowing into the sky.
Ukraine has not claimed responsibility but the country's interior affairs adviser Anton Gerashchenko shared a video from the site, tweeting, "There's this great song by Deep Purple that fits here, with a small adjustment: 'Smoke on the Kursk, a fire in the sky.'"
Russia said that there had been two other explosions at its air bases on Monday. A drone hit the Engels airfield in the Saratov region, while a fuel truck caught fire at the Dyagilevo airfield near the city of Ryazan following a similar strike.
The Russian defense ministry said that attacks were carried out by Ukrainian drones with satellite imagery indicating Russia's military planes in Ryazan had been damaged.
Meanwhile, the Baza news channel reported on Tuesday that drones had targeted a facility in the Bryansk region around 50 miles inside Russia's border with Ukraine.
The outlet said that the drones fell only a few meters away from five-ton fuel tanks but that they were empty and a serious fire was avoided. Ukraine has not officially commented on any of the incidents.
But British defense officials said on Tuesday that if Russia assesses that the incidents were deliberate, it will probably view them as some of the most "strategically significant failures of force protection since its invasion of Ukraine."
In their daily update, the MOD said it was significant that Engels' location was around 400 miles inside of Russia—much deeper inside its territory than previous, similar explosions.
The main operating base of Russia's Long Range Aviation (LRA) within western Russia, Engels hosts over 30 bombers which contribute to the country's nuclear deterrent and have also been used to launch conventional cruise missiles at Ukraine.
"The LRA is likely to respond by temporarily moving bombers to dispersal airfields," British defense officials said, adding, "The Russian chain of command will probably seek to identify and impose severe sanctions on Russian officers deemed responsible."
The incidents come as Kyiv develops longer-range combat drones. State-owned weapons manufacturer Ukroboronprom has said that it had nearly finished a new long-range drone according to its posts on Facebook which have said the device would have a range of more than 600 miles.
Company spokeswoman Natalia Sad told Ukrainian television there had been successful testing of the drones although there is no public indication that it was ready for deployment or was involved in the latest explosions, CNN reported.
Newsweek has contacted the Ukrainian and Russian defense ministries for comment.