Online News
Accessibility advocates say they hope the legislation will address the various barriers they face every day.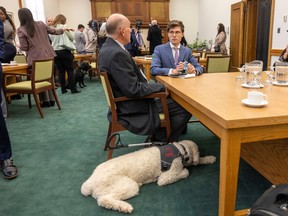 Robin East says he can finally start getting excited about Saskatchewan planning to remove various barriers that many people, like him, face.
East, the chair and founder of Barrier Free Saskatchewan, often struggles to access guide dogs and says signage usually is not accessible.
Regina Leader Post Headline News
Sign up to receive daily headline news from Regina Leader-Post, a division of Postmedia Network Inc.
By clicking on the sign up button you consent to receive the above newsletter from Postmedia Network Inc. You may unsubscribe any time by clicking on the unsubscribe link at the bottom of our emails. Postmedia Network Inc. | 365 Bloor Street East, Toronto, Ontario, M4W 3L4 | 416-383-2300
On Wednesday, he sat in the Legislative Building as Social Services Minister Gene Makowsky outlined Bill 103, The Accessible Saskatchewan Act.
The legislation, introduced on Tuesday, comes nearly seven years after the government released its disability strategy in 2015.
"We've been waiting for this," East said. "It's very important that this is not just consultation from old, but it's new consultation, which means meaningful engagement. If we have that, we're going to go far."

For years, accessibility advocates like East have asked the government to introduce legislation that aims to prevent and remove barriers; many have experienced physical, attitudinal and systemic challenges when trying to access public spaces.
If passed, Makowsky said the legislation will allow the government to establish accessibility standards and regulations for a number of areas,  including employment, transportation, service animals and procurement.
He said it also aims to ensure public spaces are built accessibly so that everyone can utilize them.
Makowsky said the legislation would first apply to government ministries, agencies and Crown corporations. It's expected to be implemented in provincial organizations within two years.
Following that, there will be further consultation before it's implemented in municipalities and the private sector.
Makowsky said he's heard from the private sector, but added the plan isn't meant to be punitive, noting it might not have high costs.
"There might be some ask or some wish for there to be some fund for people to comply with some of the things we're looking at," he said. "We're not at that point yet, but down the road, it's something to consider."
Recommended from Editorial
Group seeks to create accessible Saskatchewan environment

Sask. libraries to evaluate accessibility under proposed legislation

As part of the legislation, he said the government would appoint an Accessibility Advisory Committee, where half of the members will be persons with disabilities or from an organization that represent people with disabilities.
The province would also establish a Saskatchewan Accessibility Office that aims to increase public awareness and education of the act. The office will make sure organizations are complying with the legislation and will enforce it if necessary.
Online News Article content
Makowsky said the office will first focus on educating an organization before enforcing regulations. They would be able to do inspections, he said.
In addition, the act would recognize sign language as the main form of communication for people who are deaf, as well as publish an annual report on the actions that have been taken.
Barrier Free Saskatchewan has previously filed 520 complaints with the Saskatchewan Human Rights Commission against 40 restaurants because of their lack of access.
The organization has said they shouldn't need to file human rights complaints to see action.
While Makowsky said they would still be able to file complaints, he hopes the legislation will provide a "smoother process."
East said while he still needs to fully review the bill, he hopes it contains strong wording.
Online News Article content
"If the wording is vague, we're in trouble," he said. "I think, overall, if we have cultural change, where persons of disabilities are looked at as citizens first, then I think we're going to have a huge change in this province."
jsimes@postmedia.com 
The news seems to be flying at us faster all the time. From COVID-19 updates to politics and crime and everything in between, it can be hard to keep up. With that in mind, the Regina Leader-Post has created an Afternoon Headlines newsletter that can be delivered daily to your inbox to help make sure you are up to date with the most vital news of the day. Click here to subscribe.