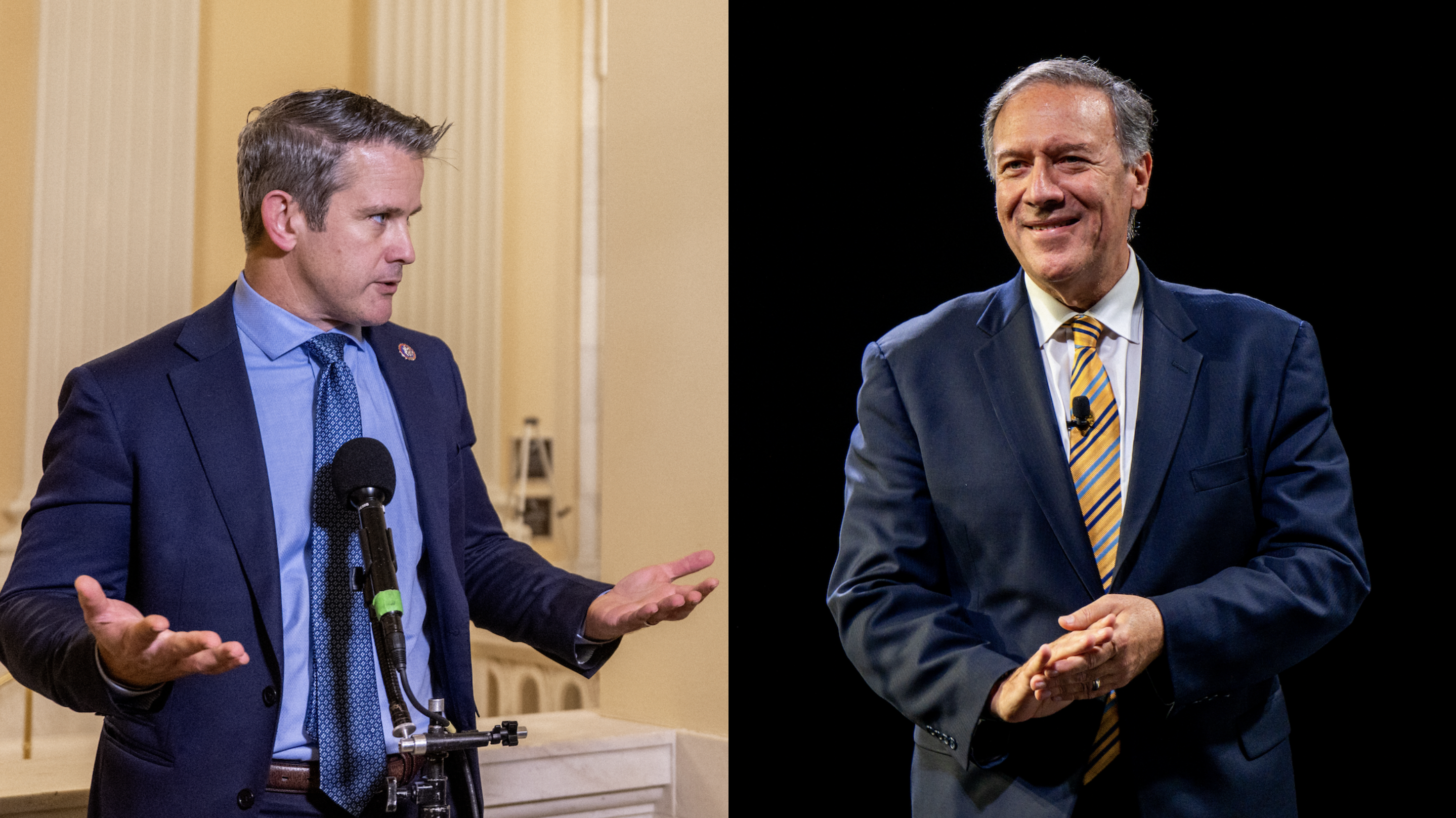 Representative Adam Kinzinger, an Illinois Republican, slammed his "friend" former Secretary of State Mike Pompeo on Friday, describing him as "somebody without a moral center."
Pompeo previously served in Congress alongside Kinzinger, representing Kansas' 4th District from 2011 to 2017. The prominent Republican then was nominated by former President Donald Trump to lead the CIA in 2017, before he took on the role of secretary of state, which he held from April 2018 through January 2020.
Speaking to CNN, Kinzinger, who strongly opposes Trump, knocked Pompeo for allying himself with the ex-president so closely. The GOP lawmaker said that he and Pompeo had generally agreed on foreign policy issues when they served together in the House.
"We worked together in Congress. He was as hawkish as I am, very much a believer in what America stood for. Went off to the administration, did a good job at the CIA, became secretary of state and basically did Donald Trump's bidding," Kinzinger said.
He criticized Pompeo for "writing the deal" with the Taliban in Afghanistan, which eventually led to the full withdrawal of U.S. troops under President Joe Biden last year. Kinzinger knocked the former secretary of state for "pinning" all the blame on Biden for the bungled end to the two decade-long war.
"They're all to blame," the Republican congressman said.
"Let's be clear here, he [Pompeo] wants to run for president. He knows that he cannot go after Trump and run for president. He's hoping Trump doesn't run and he can use that lane, so he's trying to walk a tightrope." Kinzinger continued. "That's somebody without a moral center, and he had a moral center. So I don't know what happened when he went off to the administration. But I guess power is very, very attractive to some people."
The anti-Trump Republican added that "it's sad to see my friend gone the way he's gone." He urged Pompeo to "tell the truth," saying that he did some "heroic things" within Trump's administration.
Newsweek contacted Pompeo's Champion American Values PAC seeking comment.
The former Trump administration official had sparred with Kinzinger on Twitter on Thursday, prior to the CNN interview.
".@adamkinzinger repeatedly asked me for job in Trump Admin (Air Force Sec, Amb), and for wife. Now attacks our Afghan plan that saw no US fatalities/no Taliban takeover/no Americans left behind. Adam, I enjoyed our work in Congress. What's happened to you? YOU should know better," Pompeo wrote in a tweet.
Kinzinger later responded, rejecting Pompeo's claim that he asked for jobs.
"Wait wait wait… hang on… didnt you ask me if i was interested in being an ambassador? I wasn't," the GOP lawmaker wrote on Thursday. "Every trump hit is 'x begged for a job…'. You're learning from your boss. My wife had a job why in the world would i beg for a job for her?? She's plenty capable without me."
In a follow-up post on Friday, Kinzigner wrote: "Losing your soul hurts i get it. But stop lashing out and just take ownership of the deal your struck literally across the table from the Taliban. That's the issue we were discussing."
While Biden oversaw the bungled withdrawal of troops from Afghanistan last August, the peace deal with the Taliban was signed under Trump in February 2020. Pompeo, as the top U.S. diplomat at the time, was a key negotiator in that agreement.
The initial deal signed by the Trump administration agreed to withdraw all U.S. troops by May 1, 2021. Biden's administration extended the deadline by several months in a bid to make the withdrawal smoother, believing preparations had not been adequately implemented.
Whether Pompeo plans to seek the presidency in 2024 remains to be seen. The prominent Republican's name is often floated as a potential contender for the GOP nomination. The former secretary of state has shown a degree of political independence from his former boss ahead of the midterm election, endorsing and campaigning for several GOP contenders in primaries against Trump's preferred candidates.
Kinzinger is not seeking reelection, and was one of the 10 House GOP lawmakers that voted to impeach Trump for inciting his supporters to attack the U.S. Capitol on January 6, 2021.
Along with GOP Representative Liz Cheney of Wyoming, Kinzinger is one of just two Republicans serving on the House select committee investigating the riot that targeted the federal legislative branch of government. Cheney, who also voted for the former president's impeachment, lost her Republican primary on Tuesday to Trump-backed opponent Harriet Hageman.