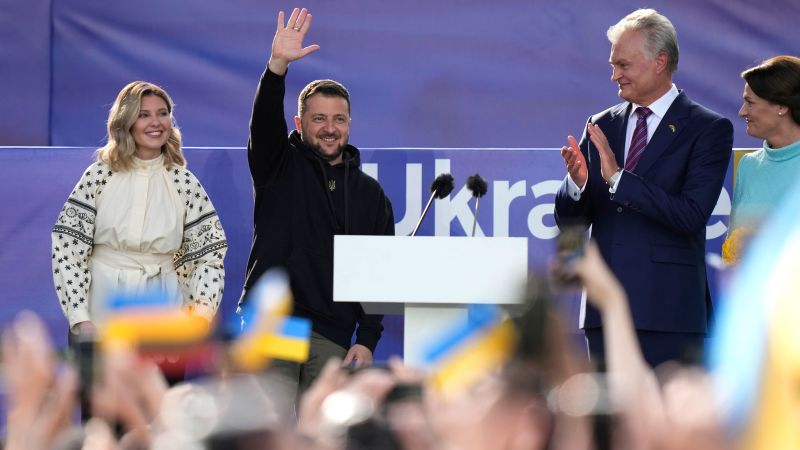 CNN
 — 

Attending a NATO summit in Vilnius on Tuesday, Ukrainian President Volodymyr Zelensky got huge support from adoring crowds and some concessions from the alliance's leaders – but no clear timeline on when Ukraine could join the group.
Zelensky signaled before the meeting that he wanted NATO to commit to a concrete timeframe for Ukraine's accession, warning that not doing so could make the country's membership a bargaining chip in future negotiations with Russia.
But while Ukraine's NATO allies reaffirmed their support for Kyiv's bid for membership, they remained vague about the timing.
"Ukraine's future is in NATO," the leaders of the alliance declared in the summit's final communique. "We will be in a position to extend an invitation to Ukraine to join the alliance when allies agree and conditions are met."
Ukraine did win one major concession at the summit, as NATO agreed to streamline the accession process by removing a key hurdle for Ukraine. "[We] agreed to remove the requirement for a Membership Action Plan. This will change Ukraine's membership path from a two-step process to a one-step process," NATO Secretary General Jens Stoltengberg told reporters on Tuesday.
The Membership Action Plan is a program of economic, defense and security reforms that other recently admitted countries had to go through before joining NATO. The process can be a burdensome and lengthy and its removal could significantly streamline Ukraine's membership bid once it is formally invited to apply.
Amid the speculation about Ukraine's potential membership, Stoltenberg also stressed that "the most urgent task now is to ensure that Ukraine prevails, because unless Ukraine prevails, there's no membership issue to be discussed at all."
NATO allies also reiterated their condemnation of "Russia's blatant violations of international law, the Charter of the United Nations, and OSCE commitments and principles."
"We do not and will never recognize Russia's illegal and illegitimate annexations, including Crimea," the statement said.
"There can be no impunity for Russian war crimes and other atrocities, such as attacks against civilians and the destruction of civilian infrastructure that deprives millions of Ukrainians of basic human services," the declaration went on to say.
For months, Kyiv has been pushing for full membership of NATO, but many member states harbor serious doubts about admitting Ukraine to its ranks as Russia's full-scale invasion rages on.
US President Joe Biden told CNN Sunday that Ukraine was not yet ready to join the alliance, saying that Russia's war in Ukraine needs to end before the alliance can consider granting Kyiv's pleas for membership.
"I don't think there is unanimity in NATO about whether or not to bring Ukraine into the NATO family now, at this moment, in the middle of a war," Biden said.
"We're determined to commit every inch of territory that is NATO territory. It's a commitment that we've all made no matter what. If the war is going on, then we're all in war. We're at war with Russia, if that were the case."
UK Defense Secretary Ben Wallace echoed the US stance, saying that "we can't have a new member in the middle of a conflict. That would just import war into the alliance."
However, speaking to CNN from Vilnius, Wallace said that "whenever this conflict finishes, we should be prepared as quickly as possible to bring Ukraine into NATO."
The NATO Secretary General said earlier Tuesday that he was "confident" that the summit would send "a positive and strong message" on Ukraine's path to membership.
Speaking alongside Stoltenberg, Biden said NATO members were working to "agree on the language" used surrounding Ukraine's future hopes to join the alliance.
Zelensky had, however, moments before Biden's comments, tweeted that he had "received signals that certain wording is being discussed without Ukraine," and expressed dismay that the "wording is about the invitation to become NATO member, not about Ukraine's membership."
"It is unprecedented and absurd when time frame is not set neither for the invitation nor for Ukraine's membership. While at the same time vague wording about 'conditions' is added even for inviting Ukraine. It seems there is no readiness neither to invite Ukraine to NATO nor to make it a member of the Alliance," Zelensky said.
"Uncertainty is weakness. And I will openly discuss this at the summit."
Zelensky is due to attend meetings with NATO leaders Wednesday, including a one-on-one discussion with Biden.
On Tuesday evening, Zelensky gave a speech at Lukiskes Square in Vilnius – just a few kilometers from the summit – where he was introduced to huge crowds by Lithuanian President Gitanas Nauseda.
Speaking before thousands on a stage decked out with the blue and yellow of the Ukrainian flag – beneath a huge sign reading "#UkraineNATO33" – Zelensky said he was attending the summit to seek "total assurance" from NATO members of the decision that Ukraine "deserves," as he continued to put pressure on the alliance to provide clarity as to when his country can join its ranks.
"NATO will give Ukraine security. Ukraine will make NATO stronger," he said.
Lithuania was the first country to leave the Soviet Union, splitting from the bloc in March 1990. Lukiskes Square once featured a huge state of Lenin – and large crowds gathered to celebrate its removal in 1991. Many in the country retain a visceral hatred towards Russians – and they welcomed Zelensky like a rockstar.
"In the ruins of Bakhmut, on other battlefields in Ukraine, Russian occupying ambitions were shattered, and Russian ambitions will stay in ruins," he said, to huge cheers from the crowd.
He said the Ukrainian flag is "still alive and free" despite being under attack.