Ons Jabeur is known back home in Tunisia as the Minister of Happiness. She's a pirouetting, skipping, sliding cartoon on the court. She plays like a video game character if someone dropped the controller and all the trick‑shot combinations were mashed at once.
Elena Rybakina is shy. She's nice, she's polite. She unexpectedly has the serve of someone dropping a bowling ball from the roof of a building. In the final last year, when she bested a devastated Jabeur in three sets to win her maiden grand slam title, she celebrated akin to someone who had just claimed £10 from a scratchcard. In a way it was refreshing, now that players will lie starfish on their back at winning low‑tier Challenger events.
After her win in the previous round, Jabeur said jokingly-seriously that she was looking forward to taking revenge on Rybakina. She tried hard to do so. And she did, winning in three riveting sets, 6-7 (5), 6-4, 6-1.
The two held their opening service games easily, but then it immediately got interesting. With a brain fritz Jabeur went 3-1 down when she gifted Rybakina three break points with a wild forehand long and two shots into the tramlines. She was duly punished.
But just as quickly as Jabeur had malfunctioned she fired right back, earning her own triple break opportunities after a sublime three-shot, drop shot rally that had the crowd applauding in awed appreciation of both players' hand skills and footwork. A bullet of a return winner put them back on serve.
The set played out to the players' strengths: Jabeur coming to the net often to put away balletic volleys and drop shots, pulling off the odd cheeky lob; Rybakina whacking forehands on to the baseline and snugly into the corners, like someone who had focused really hard on geometry in her maths lessons, then hammering serves down from the sky with all the wrath of a god.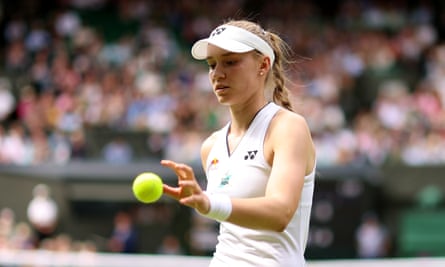 At 5-5, though, Rybakina was in trouble; a couple of loose errors bringing up a break chance for Jabeur, and a clean cross-court winner enabling her to go 6-5 up to serve for the set. But multiple frail second serves were punished by Rybakina to head into a tie-break. And she simply out‑hit Jabeur who could not handle her power and accuracy. Rybakina secured the set.
Jabeur came into the second set bushy tailed, winning break points thanks to a combination of a clever block return and a gentle drop shot. But Rybakina rained down three massive serves to cut her off.
Midway through the set Jabeur wriggled out of a sticky spot by way of an ace and a fortunate net cord. Perhaps her Houdini act gave her the confidence for what followed. As Rybakina served to stay in the set at 4-5, Jabeur had other ideas. A couple of glorious groundstrokes gave Jabeur the chance to snatch it, which she did, with a leap Rudolf Nureyev would have been proud of, to land a cross‑court volley for 6-4.