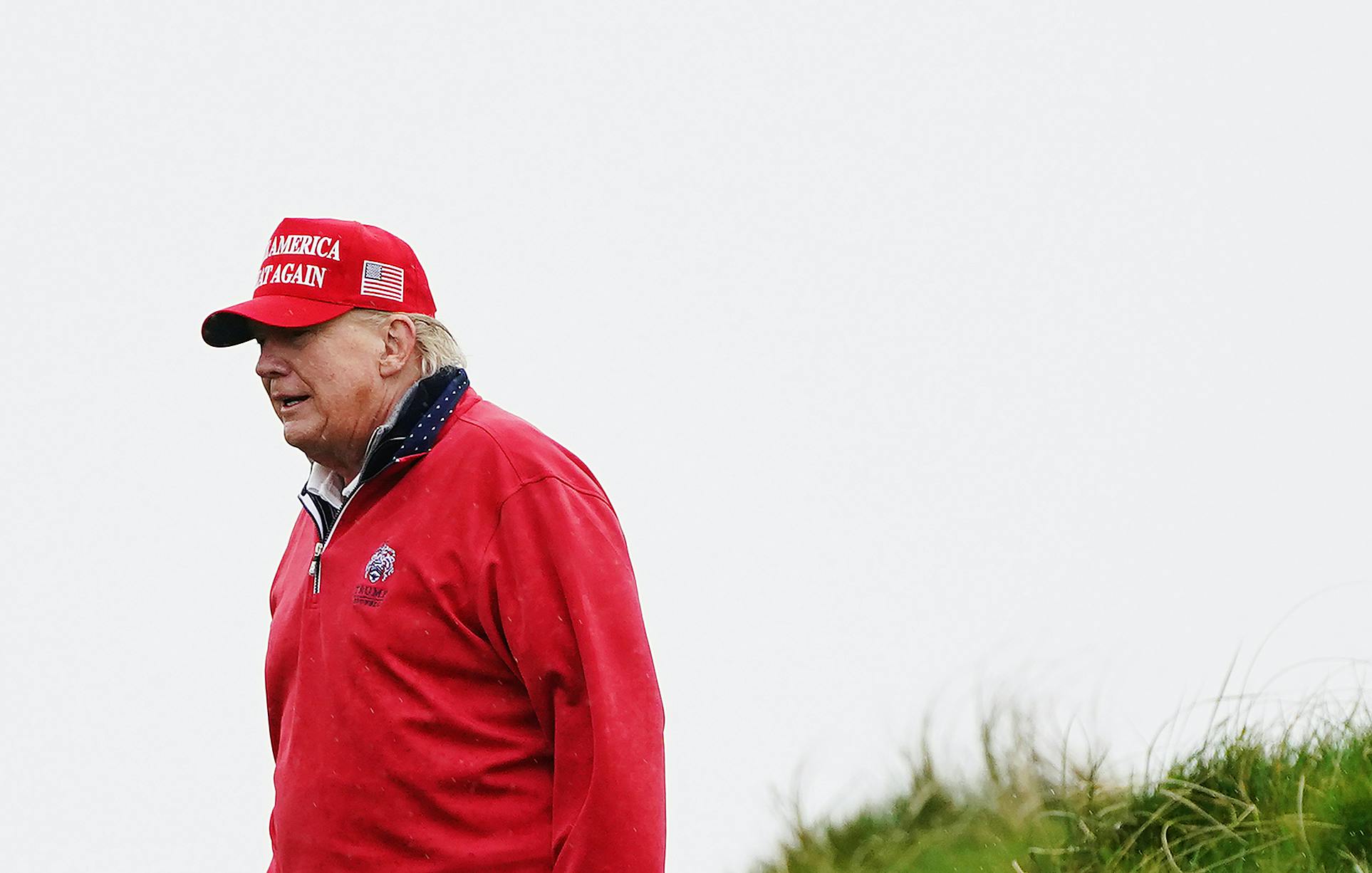 Donald Trump allegedly knew he was supposed to return every single classified document after he was subpoenaed for them, but he kept hundreds of papers anyway.
Federal prosecutors have about 50 pages of notes from Trump's lawyer Evan Corcoran, who apparently warned the former president about complying with the subpoena, The Guardian reported Monday. These notes could be significant in special counsel Jack Smith's investigation into Trump's handling of classified documents at Mar-a-Lago.
Corcoran found about 40 classified documents in the estate storage room last June and told the Department of Justice that that was all there was to be found. The FBI raided Mar-a-Lago two months later and seized 101 additional classified documents.
The notes reveal that Trump and his valet Walt Nauta knew exactly where and when Corcoran was planning to search for the documents at Mar-a-Lago. The Justice Department is paying particular attention to Nauta, according to The Guardian, who had previously testified that Trump asked him to move boxes out of the storage room both before and after the subpoena was issued.
The Guardian suggested that it is possible prosecutors are investigating whether Nauta knew exactly what was in the boxes he was moving. According to Corcoran's notes, Nauta had offered to help him look through the boxes in the storage room, which Corcoran declined. But he took breaks during the multi-day search, leaving the storage room unattended multiple times.
The grand jury hearing evidence in the case was able to see the notes after a judge ruled in March that some of Trump's attorney-client privileges could be "pierced." Prosecutors for Smith's team found that Trump intentionally misled his own lawyers, including Corcoran, about keeping classified materials when he left office.
U.S. Judge Beryl Howell ordered Corcoran to comply with a grand jury subpoena for testimony on six different lines of inquiry. She also ordered him to hand over records of Trump's alleged "criminal scheme," including handwritten notes, invoices, and transcriptions of personal audio recordings.
In addition to Smith's investigation into Trump's handling of classified documents and role in January 6, the former president is also under investigation in Georgia for his efforts to overturn the 2020 election, and he has been indicted on 34 felony counts of falsifying business records for paying hush money to porn actress Stormy Daniels.
Trump was found civilly liable for sexually abusing and defaming writer E. Jean Carroll—and on Monday, she sued him for defamation again over comments he made about her during a CNN town hall.
"Everywhere there's globes…and that's what they do to brainwash… For me, if it is not a conspiracy, if it is, you know, 'real,' why are you pushing so hard? Everywhere I go, every store, you buy a globe, there's globes everywhere—every movie, every TV show, news media, why?"
This is what Kandiss Taylor, former Republican Georgia gubernatorial candidate, and current GOP Chair in Georgia's 1st District, said on her program called "JESUS. GUNS. AND BABIES."
Taylor's comments came during a broader conversation focused on the flat-Earth conspiracy theory; the conversation featured "Flat Earth Dave," who manages a website with the same moniker.
Last year, Taylor boosted conspiracy theories and lies describing state GOP leaders as secret communists and Democrats as satanic pedophiles. And, of course, she was a big believer in the lie that twice impeached criminally indicted and liable for sexual abuse former President Donald Trump actually won the 2020 election.
She herself refused to concede her loss in the Republican primary, despite only receiving some 3 percent of the vote. She also promised to demolish the Georgia Guidestones, a mysterious granite monument of 16-foot-tall stones known as "America's Stonehenge," if elected. Curiously, months later, a large explosion destroyed significant parts of the granite monument.

Republicans are behaving so wildly off-base, so clearly uninterested in actually getting something done, even billionaire conservative media mogul Logan Roy would come out and say it: you are not serious people.
While America careens towards a debt crisis manufactured by Republican intransigence, Republicans are concurrently threatening to rob even their own voters of thousands of jobs and billions in investment. In return for agreeing to raise the debt ceiling, Republicans have set their sights on scrapping the Inflation Reduction Act.
But of all the major renewable energy, battery, and electric vehicle projects (worth tens of billions) announced after the passage of the IRA, two-thirds are in districts with Republican officials, according to a Politico analysis from January. Every single Republican in Congress voted against the IRA, maintaining their opposition to the act while also trying to boast of the benefits to their voters. Now, with the debt ceiling debacle, they're looking to get rid of those benefits entirely.
What cannot be understated is how divorced from reality Republicans' pouting is. They are going as far as to demand the government repeal already-passed infrastructure programs that are creating hundreds of thousands of jobs nationwide, while diversifying and strengthening the nation's energy sector.

As of March 31, the Inflation Reduction Act has spurred the creation of over 142,000 jobs, and $242.81 billion dollars invested into the American economy. Republicans position themselves as job creators and America-builders, but instead they are throwing a tantrum that, if successful, would leave thousands of hard-working people out of a job, and leave America all the more meek to competitors like China and reliant on foreign energy supply.
"'Let me kill over 100,000 manufacturing jobs – mostly in red states – or I'll force America to default on bills we racked up and trigger a recession,' is the opposite of a compelling message," Andrew Bates, White House deputy press secretary, summarized in a memo last month.
House Majority Leader Kevin McCarthy maintains that repealing provisions like tax credits for clean energy projects would "end the green giveaways for companies that distort the market and waste taxpayers' money." Meanwhile, he and other Republicans are not only trying to whittle away the IRA, but manipulate the already biased toward fossil fuels market even further. They've advanced provisions like mandating the administration approve of new fossil fuel projects and conduct more sales for federal land drilling. Republicans are also trying to accomplish "permitting reform" which, for them, means making it easier to skimp out on environmental regulation and push through fossil fuel projects easier. And of course, they are still concerned with keeping fossil fuel subsidies—even while big oil companies have reaped in massive profits while jacking up gas prices for everyone else.
Most fanatical is the assumption undergirding Republicans' targeting of the clean energy projects: that cutting them would lead to meaningful savings. Besides the hundreds of thousands of jobs and billions of dollars that clean energy initiatives have already brought to America, it also sets precedent for what it truly means to "save," and what we are trying to "save."
America, and the world, is facing a massive wildlife crisis; our food and water supplies are becoming more and more threatened with drought and deforestation; the air we breathe is making the spans of our lives shorter. On the count of fiscal, social, and existential responsibility, Republicans are failing. Big-time.
Nebraska Governor Jim Pillen signed a bill Monday banning abortion after 12 weeks and gender-affirming care for minors, a one-two punch of losing human rights.
The bill passed the state legislature last week. The chamber had failed last month to pass a six-week abortion ban after two typically anti-abortion senators voted "present." Republicans then successfully passed the 12-week ban by folding it into an anti-trans bill.
The measure is "the most significant win for the social conservative agenda in over a generation in Nebraska. I think that's something we need to clap and shout about," Pillen said at the signing ceremony.
The measure will ban abortion after 12 weeks. Exceptions would only be made for rape, incest, or to save the pregnant person's life. The bill would also prohibit people under 18 from receiving puberty blockers, hormone therapies, and genital or nongenital surgeries. Genital surgeries are not performed in Nebraska, but Republicans have banned them anyway.
The state's chief medical officer—who is simply an ear, nose, and throat specialist appointed by the Republican governor—would be able to set rules and regulations that would allow gender-affirming medications in certain situations. The bill's supporters say this is a compromise, but critics worry this authority could be used to create a blanket ban instead of more flexibility.
State Democrats, led by Senators Machaela Cavanaugh and Megan Hunt, had tried to block the anti-trans bill by filibustering every single measure that came up during the legislative session. One side effect of the filibuster was blocking the six-week abortion ban. But their efforts were finally defeated.
The ACLU of Nebraska said it was considering legal action to block the law. "The governor's decision to sign these sweeping restrictions into law betrays a total disregard for Nebraskans' freedom, health and well-being," interim executive director Mindy Rush Chipman said in a statement. "Remember that more than 1,000 local medical professionals warned senators that LB 574 would put lives at risk—officials should have listened."
"Every option is on the table to undo these regressive measures, including seeking justice through the courts."
The college student known for tracking Elon Musk's private jet on Twitter has now set his sights on Ron DeSantis, days after the Florida governor signed a bill blocking public access to his travel records.
Jack Sweeney ran the account called @ElonJet, which tracked the location of the billionaire's private plane using public information. At one point, Sweeney ran more than 30 accounts tracking celebrities' private jets. All of those accounts, as well as Sweeney's personal profile, were suspended in December.
Sweeney has since gotten back online and begun to rebuild his empire. He still tracks Musk's jet, posting public data with a 24-hour delay to abide by Twitter's updated privacy policy that prohibits sharing someone's live location. And on May 19, Sweeney posted the first tweet on @DeSantisJet.
The account tracks a jet owned by the Florida Department of Law Enforcement, again with a 24-hour delay. Sweeney tweeted on the account Monday that although that plane is used for official state-related travel, there is no guarantee that DeSantis is necessarily on it.
"As others have noted DeSantis also gets rides on political donors planes for personal matters. If we become aware of these flights, it will also be shared here," Sweeney added.
Sweeney told The New Republic he decided to set up @DeSantisJet because of the increasing attention on and interest in the Florida governor, who is expected to formally announce his 2024 presidential candidacy this week.
When his accounts were suspended in December, Sweeney told BuzzFeed News he felt it was "important to hold people accountable, no matter what side they're on."
The account's first tweet came one week after DeSantis signed a bill blocking reporters from accessing information about how and where DeSantis and other government officials travel, as well as who they travel with. Under the new law, the first of its kind, details about whether DeSantis used a state plane or a private plane will be retracted. The measure will also keep secret visitor logs to the governor's mansion and his office.
DeSantis has a bit of an ivory tower in Florida, as his Republican Party controls both chambers of the state legislature. The state GOP has pushed bills that shield DeSantis from media scrutiny and target people who could potentially write negative things about him. It hasn't worked out well in the grander scheme, as he continues to get slammed for being awkward or overly aggressive in front of the national press.
This post has been updated.

South Carolina Senator Tim Scott is running for president. The longtime South Carolina politician made his announcement Monday at a rally in his hometown of North Charleston, after officially filing last week with the Federal Election Commission.
"Joe Biden and the radical left are attacking every single rung of the ladder that helped me climb," Scott said Monday, as his party threatens either cutting social security and Medicare services for millions of poor people, or upending the American economy. "And that's why, I'm announcing today, that I am running for president of the United States of America."
Scott joins a notably diverse Republican primary field, including Vivek Ramaswamy, radio host and failed Gavin Newsom–recaller Larry Elder, and another South Carolina political veteran, Nikki Haley. This also means Scott, the only Black Republican in the Senate, joins a slate of candidates vying to lead a party that has no committed concern for people who look like them.
Scott has generated a good deal of support from his colleagues; Senators Joni Ernst, John Cornyn, John Barrasso, and Lindsey Graham have all expressed enthusiasm for his run. Senator Mike Rounds committed to backing Scott's run last week. And on Monday, while making his announcement, Scott was joined by Senator John Thune, the second-in-command of the Republican caucus.
Scott first began his political career serving on the Charleston County Council for 14 years. In 2009, Scott was elected to the state House, becoming the first Republican African American to do so in over 100 years. He then went on to become the representative for South Carolina's first congressional district, becoming the first African American Republican elected to Congress from South Carolina in 114 years. And in 2012, then-Governor Haley herself announced she would appoint Scott to the state's junior senator position; he became the first African American to be a southern senator since Reconstruction.
But aside from these milestones, Scott is offering virtually nothing new in the already crowded Republican primary.
He has refused to disavow Donald Trump, who since announcing his bid has vowed to destroy the constitution, become the first former president to be criminally indicted, and been found liable for sexual abuse. On abortion, too, he falls in line with some of the most radical in his party: endorsing the idea of a 20-week national ban.
Last month, Scott announced his exploratory committee for president in a video in which he looked back at the Civil War: "the defining moment" of whether the country would "truly be one nation under God, indivisible, with liberty and justice for all."

"America's soul was put to the test, and we prevailed," Scott claimed. His nod to the Civil War was fascinating, given the ensuing failure of Reconstruction, and the mass backlash to the African American South Carolina Republicans that made it so Scott became the first in over a century to join in their footsteps.
"I know America is a land of opportunity, not a land of oppression," Scott said. "I know it, because I've lived it."

Scott did indeed come from a working background. He grew up in a divorced household, in which his mother worked long days to support his family. Scott's claim about his family—repeated again during his announcement Monday—represents a common conservative belief: because one individual's luck and hard work aligned, that proves that all people have access to the same outcomes. A logic that only makes sense if you have no knowledge, or concern, for how broader systems operate.
Scott has at times tried to address these systems, but just barely. After the murder of George Floyd, for example, he introduced the "Justice Act," purported to address police reform and "systemic issues affecting people of color." Nevertheless, while drafting such legislation, Scott insisted, time and again, that America is not a racist country. The bill, which did not address qualified immunity, never moved forward.
It is great that Scott was able to lift himself out of tough conditions. It's a shame that he, alongside Haley and other Republicans of color, insists on America's greatness by citing his own success in spite of the slate of racial and economic struggles he has faced, while also pretending those struggles are not systemically hurting people who look just like him.
Eight more women joined a lawsuit against the state of Texas on Monday, arguing that the state's extreme abortion restrictions endangered their health or their lives when they experienced pregnancy-related medical emergencies.
Five women initially sued the Lone Star State in March. A total of 15 people—both patients and doctors—have now signed on to the suit, saying that the laws are unclear and put people's well-being at huge risk. Texas had implemented a near-total abortion ban in September 2021, even before Roe v. Wade was overturned.
State laws prohibit anyone from getting an abortion unless the pregnant person's life is at risk. There are no exceptions for a fetus developing an anomaly that would prevent it from surviving past birth, one of the major issues in the lawsuit. Texas doctors who conduct abortions could face life in prison and fines of up to $10,000, meaning that few are willing to discuss giving or referring someone for an abortion.
"Abortion bans are hindering or delaying necessary obstetrical care," the lawsuit states. "And, contrary to their stated purpose of furthering life, the bans are exposing pregnant people to risks of death, injury, and illness, including loss of fertility—making it less likely that every family who wants to bring children into the world will be able to do so and survive the experience."
"Medical professionals are now telling their patients that if they want to become pregnant, they should leave Texas."
One of the plaintiffs, Amanda Zurawski, testified before Congress in April about the toll her state's abortion laws took on her life. "I nearly died on their watch," she said of her senators, Ted Cruz and John Cornyn.
Zurawski's water broke less than halfway through her pregnancy, but she couldn't get an abortion because her fetus still had a heartbeat. She went into septic shock before she could get an abortion in the emergency room.
Another plaintiff, Kylie Beaton, learned that her baby's head was growing abnormally fast, but its brain was not developing properly and likely never would. Even though the baby was unlikely to survive past birth, she couldn't get an abortion in Texas. The law delayed her care, making it too late for her to seek an abortion out of state, and Beaton was forced to carry the pregnancy to term. She had to deliver via emergency C-section because of how big the baby's head was, and he died just a few days after he was born.
Some plaintiffs had their water break incredibly early. Others developed fatal fetal anomalies, and one developed Mirror syndrome, where both she and her fetus retained too much fluid and were both at risk of death. They were all denied abortions.
"What happened to these women is indefensible and is happening to countless pregnant people across the state," Molly Duane, an attorney for the Center for Reproductive rights, said in a statement. "The Texas government must answer for their laws that have nearly killed these women and that put more lives at risk every day."
The center of Democratic efficacy is not in New York or California—it's in the Midwest. Minnesota has spent its entire legislative session notching progressive win after win, from becoming the first state to codify abortion rights after the fall of Roe, to guaranteeing free meals for every Minnesota public and charter school student.
And now, Minnesota Governor Tim Walz is vowing to sign the marijuana legalization bill passed by the state legislature.
"I served on the Veterans Affairs Committee in Congress for a dozen years, and we passed the first piece of legislation on medicinal cannabis to help us move away from the opioid addictions that we saw with our returning soldiers. And we know that prohibition doesn't work," Walz reasoned on Sunday. "And with the issues of contamination of fentanyl, and xylazine and things we're seeing show up on street cannabis, it doesn't make any sense. And so we're gonna allow people to grow it at home."
Walz's answer was steeped not just in practical logic, but in convincing philosophical terms that embody what a winning case for the party is: emphasizing freedom to, and not just freedom from.
"I trust adults to make their own decisions. We're talking about freedoms. You make [your] own health care decisions in Minnesota. We're not going to tell you how to deal with your children. We're going to allow teachers to teach. We're not going to ban books," Walz said. "We'll have it legally—the regime will be in place to make sure that it's safe, the things that are being sold to folks, and we'll use the resources from the tax revenue to help educate people on addiction which we know is ravaging, you know, people across the country."
States like Florida and Texas have earned much-deserved scrutiny for their extremely oppressive legislative sessions. Minnesota and other midwestern states warrant their own contrasting recognition: of Democrats running on popular progressive policies, delivering on them, and bettering the lives of millions.
Representative Marjorie Taylor Greene, who has gone out of her way to attack drag queens, is now defending her drag-wearing boyfriend.
Greene has been dating Brian Glenn since late last year. Glenn currently works as a programming director for the conservative Right Side Broadcasting Network, but from 2013 to 2015, he was an anchor for a local Dallas, Texas, news station. A video posted to Twitter on Sunday shows him in drag for a morning segment. It is unclear when the segment originally aired.
"I'm kicking the shoes off," Glenn says in the clip, sporting a curly blonde wig, a pink dress, gloves, and a purse.
"I may keep the pantyhose on. It does feel kind of good, actually," he adds, which is blatantly untrue (just ask anyone who's had to wear pantyhose for an extended period of time).
Both Glenn and Greene have shared the video on social media, with Greene tweeting that she was "literally lol'ing."
Glenn "dressed in drag for morning news in Dallas years ago reporting on an upcoming local theatre production and the morons over at Patriot Takes think this is an attack," she said on Twitter. "The left is so stupid."
Greene has repeatedly attacked drag performances of any kind, at one point calling them "indoctrination" and saying it should be "illegal" for children to attend. She has likened supporting the LGBTQ community to grooming children, and even suggested that people who support drag queens should be considered "domestic terrorists." She and other far-right people seeking to ban drag in public insist that their efforts are to protect children.
Well, her boyfriend's news segment presumably did not include a warning for any minors who might be watching, so people under the age of 18 were likely able to see such obscene content.
The actual problem for Republicans does not seem to be drag, but who is dressed in drag. Tennessee Governor Bill Lee wore drag in high school, but he signed the country's first law banning drag performances in public (that law was blocked by a judge). Criminally indicted Representative George Santos dressed in drag in Brazil, but he has fully embraced the GOP's anti-LGBTQ stances. And now Glenn, who works for a far-right, openly Trump-supporting news network.
The issue actually at play is LGBTQ people who live their lives openly and do not fall in line with whatever Republicans deem acceptable.
The Nebraska state legislature passed a bill Friday banning abortion after 12 weeks and gender-affirming care for minors, a double-whammy of curbing human rights.
The anti-abortion, anti-trans bill passed the House by a vote of 33–15 and now heads to the desk of Governor Jim Pillen, who has said he will sign it. The measure initially passed the Senate on Tuesday, when lawmakers also voted 33–15 to add the abortion ban as an amendment to the existing gender-affirming care bill.
The rotunda and gallery were packed with people protesting against the bill, chanting so loudly that lawmakers struggled to hear each other. At one point, when Republican Senator Kathleen Krauth began speaking, protesters erupted so loudly that security cleared the gallery. Demonstrators threw tampons onto the chamber floor before they were escorted out.

"Nothing I say matters in this chamber, so I am going to say the unvarnished truth," Senator Machaela Cavanaugh said during the final debate. "This place is morally bankrupt, that you are playing political games with parents and children in this state to get something. It's gross. It's vile."
The Nebraska legislature failed last month to pass a six-week abortion ban, after two typically anti-abortion senators voted "present." Republicans then pushed the 12-week ban by folding it into the anti-trans bill.
The measure will ban abortion after 12 weeks. Exceptions would only be made for rape, incest, or to save the pregnant person's life. The bill would also prohibit people under 18 from receiving puberty blockers, hormone therapies, and genital or nongenital surgeries. Genital surgeries are not performed in Nebraska, but Republicans have banned them anyway.
The state's chief medical officer—who is simply an ear, nose, and throat specialist appointed by the Republican governor—would be able to set rules and regulations that would allow gender-affirming medications in certain situations. The bill's supporters say this is a compromise, but critics worry this authority could be used to create a blanket ban instead of more flexibility.
State Democrats, led by Cavanaugh and Senator Megan Hunt, have sought to block anti-trans legislation by filibustering every single bill that came up during the legislative session. But they were finally defeated on Friday.