Senator Chris Murphy said during a Meet the Press interview that lawmakers need to be "adults" rather than Democratic President Joe Biden invoking the 14th Amendment to bypass negotiations with House Republicans and raise the debt ceiling himself.
The Treasury Department said that lawmakers have until June 1 to reach an agreement that would raise the federal government's $31.5 trillion debt limit to avoid a default, which financial analysts say could have dire effects on the U.S. economy. Financial research firm Moody's Analytics cautioned that the country could face a recession and the loss of nearly 1 million jobs. Despite the looming deadline, negotiations between the nation's top Republicans and Democrats have been futile. However, Biden told reporters in Delaware on Sunday that he remains optimistic and that he plans to meet with congressional leaders on Tuesday to continue talks, according to Reuters.
Amid the partisan standoff, an increasing number of senators from both parties have been discussing the possibility of Biden invoking a clause in the 14th Amendment that some legal scholars say would allow the president to raise the debt limit without congressional approval. Biden told reporters that he was "considering" the untested theory.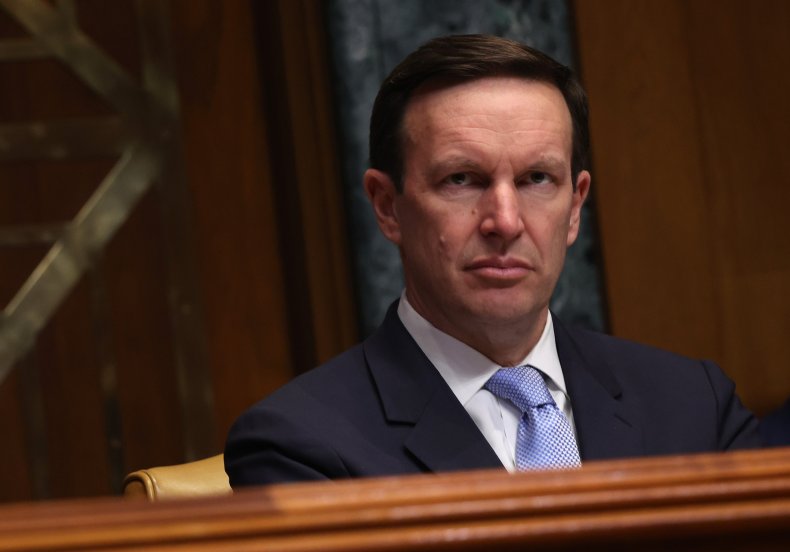 While Murphy weighed in on the discussion, he did not say if he would support Biden utilizing the Constitution to skip negotiations during an interview with NBC's Meet the Press host Chuck Todd on Sunday.
The Connecticut Democrat said he didn't want to give the president advice and called on Congress to do its job.
"I think we should do our job. I think that's a precedent to just absolve Congress from being adults," Murphy said in response to Todd asking if the senator would invoke the 14th Amendment if he was the president.
Newsweek reached out via email to representatives for Biden and Murphy.
Several Republicans mocked Biden for mulling whether to invoke the 14th Amendment, including Texas Senator John Cornyn who called the prospect of Biden doing so "beyond laughable." Senator Josh Hawley of Missouri said he viewed president's statement as a "negotiating tactic."
Biden and the Democratic leadership have held firm in their refusal to tie a debt limit increase to government spending, insisting that Congress act without preconditions as it has done in the past. Republicans, who control the House, say they will not agree to raise the debt limit without spending cuts. A GOP-backed bill to raise the ceiling but slash federal spending, including cuts to some of Biden's health and climate programs, faces unfavorable odds in the Democratic-led Senate. Majority Leader Chuck Schumer says the proposal is "dead on arrival."
Following last week's meeting that ended in a stalemate, Democrats have been urging the president to continue considering the 14th Amendment as a viable possibility should the two parties fail to strike a deal.
Murphy said he doesn't see that deal happening soon. During his Meet the Press appearance, he said if his colleagues want to "get serious" about deficit reduction it would be to put tax increases for corporations and billionaires "on the table."
"That's why I'm pretty skeptical that there's going to be an agreement in the next two weeks," Murphy said.