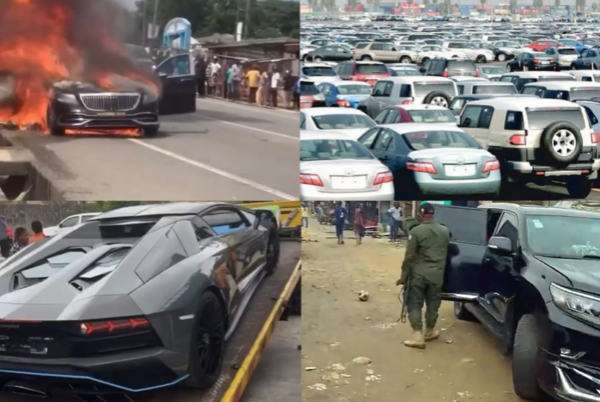 Maybach bursts into flames, Customs seize 3,491 smuggled cars between Q1 2021-2023, police to stop VIP protection, Lord Lamba's Lamborghini, news in the past week. 
3,491 Smuggled Cars Seized by Customs Between Q1 Of 2021-2023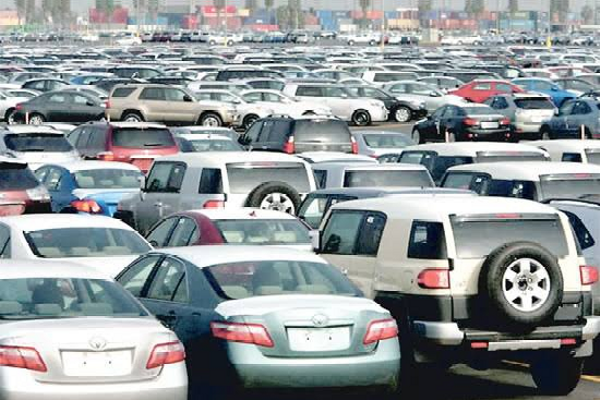 The Nigeria Customs Service (NCS) seized a total of 3,491 second-hand vehicles (Tokunbo) smuggled into the country between the first quarter of 2021 and the first quarter of 2023, according to a document obtained exclusively by Sunday PUNCH.
According to the document, the Duty Paid Value (DPV) for the seizures amounted to over ₦2 billion Naira, including a DPV of ₦501m for a total of 304 vehicles seized in Q1 2021.
The document also showed that Nigeria Customs Service seized 3,039 vehicles with DPV of ₦699m in the first quarter of 2022 while 148 vehicles with DPV of ₦863m were seized in the same period of 2023.
Police To Stop VIP Protection After An Officer Was Seen Opening Car Door For Singer Spyro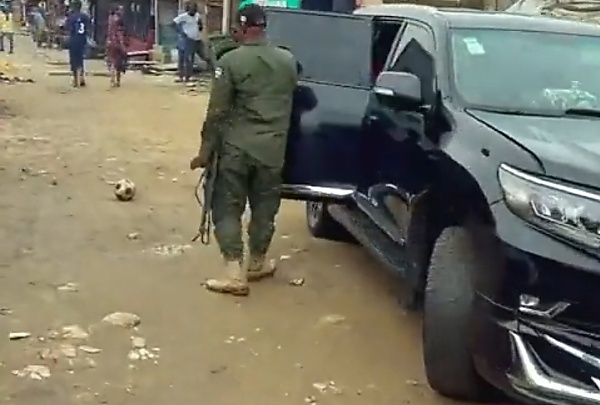 The Nigeria Police Force (NPF) has said that it will probe the officer seen in a viral video opening a car door for singer Oludipe Oluwasanmi David, popularly known as Spyro.
In the video, an armed policeman attached to the Spyro was seen opening the car door for the singer, who later alighted from the rear of his Toyota Prado SUV.
Reacting to the video, the Force spokesperson, Olumuyiwa Adejobi, described the act as unprofessional and ridiculous, adding that efforts are on to fish out the police officer. He further revealed that the force would stop some deployments or attachments immediately.
Lord Lamba Splashes ₦285m On Lamborghini Aventador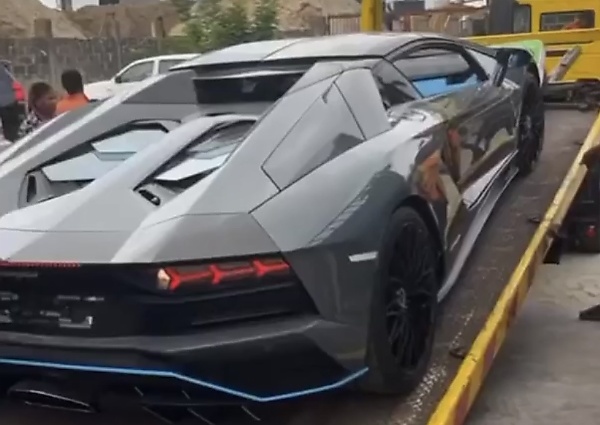 Nigerian comedian and content creator, Kelvin Anagbogu, popularly known as Lord Lamba, has splashed ₦285+ million on Lamborghini Aventador, joining a few that will ever own the sports car which the Italian brand discontinued last year.
Lord Lamba announced his latest acquisition on Instagram story, where he shared a short clip showing the jet fighter-inspired interior as well as the exterior features of his Aventador supercar.
The 28 year old joins a list of Nigerian celebrities that owns a Lamborghini Aventador in their car collection, including Man_Like_Chico, Burna Boy, Davido and Wizkid.
Mercedes-Maybach S-Class Burst Into Flames In Ghana
A video posted to sikaofficial1 Twitter page has captured few moments after a Mercedes-Maybach S-Class sedan burst into flames while the owner was reportedly on his way to bury his twin brother.
The incident happened on Saturday May 13th in Asamankese, a town in south Ghana, according to the caption of the video. Footage of the incident shows the Mercedes-Maybach completely engulfed by the flames.
Fortunately, no casualty was reported in the incident as the occupants the vehicle were lucky to escape unhurt on time.
See Also :

Australia, The Country With The Most Toyota Land Cruisers