Representative George Santos was indicted on more than a dozen criminal charges Wednesday, ranging from plots to defraud his campaign donors to unemployment fraud dating back to the COVID-19 pandemic.
The Republican from New York had once committed himself to strengthening federal penalties for those committing the same crime he stands accused of.
Shortly after news broke of Santos's indictment on Wednesday, Jamie Dupree, a longtime congressional correspondent, pointed out the freshman congressman had recently co-sponsored legislation up for a vote this week that, if passed, would have helped states recover fraudulent COVID unemployment payments.
Santos, according to the indictment filed in New York State District Court Wednesday, allegedly applied for and received nearly $25,000 in unemployment benefits intended for those impacted by the pandemic while he was employed and actively running for Congress in 2020.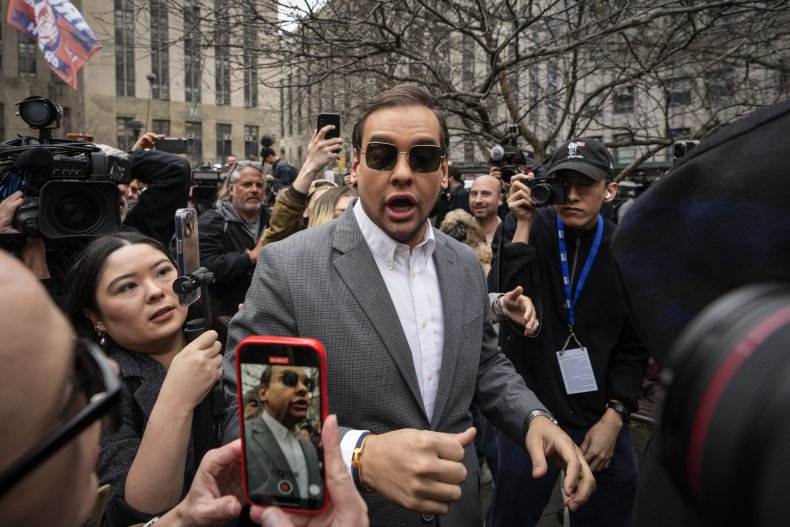 According to the indictment, at the time that Santos was allegedly unemployed, financial records showed him claiming to be a partner at an unnamed investment firm, where he was reportedly earning $120,000 in income as a regional director.
While he did not win that year—and avoided legal scrutiny in the process—the behavior apparently continued during his second run for Congress, when he allegedly pocketed campaign contributions to pay down personal debts and buy designer clothing, thereby defrauding his donors.
Further allegations in the indictment also say Santos knowingly inflated his income, a charge extending from his dubious work history and embellishments about his personal life that drew scrutiny from the press and members of Congress after his election.
Newsweek reached out to Santos's attorney, Joe Murray, via email for comment.
As a candidate, Santos railed against Democrats' alleged "soft-on-crime policies" he said, "emptied our jails, eliminated cash bail, and essentially given criminals a get-out-of-jail-free card."
"As your Congressman, I will ensure that criminals are sent to prison to do their time," he said in a tweet last October.
However, it looks like Santos will avoid immediate jail time. While New York's bail reform laws have long attracted the ire of conservatives in the state, Santos's charges are federal, with his fate largely up to the discretion of federal prosecutors. And at this point, the Department of Justice has no immediate intention of putting him behind bars.
"As these are federal charges, they're not related to New York state's bail reform laws," a DOJ spokesperson told Newsweek. "That being said, we're not seeking his detention today."
Santos is expected to be arraigned at 3 p.m. today. Meanwhile, some legal experts have already predicted he will plead guilty.