The moment a ginger cat completely lost his cool has been caught on camera this week, with Phineas the moggy having a seriously excited reaction to their tuna treat.
"Phin is very interested in food," owner Collin Anderson told Newsweek. "Even if it's something he won't like, he still meows at us quite a lot about wanting to smell and inspect it."
The 12-second video shows the food-loving feline springing into action as soon as he realizes his owner has a treat in hand, rushing to grab it as quickly as possible.
Phineas, aka "Phin," was born with cerebellar hypoplasia, which means his cerebellum never fully developed, leaving him without proper coordination.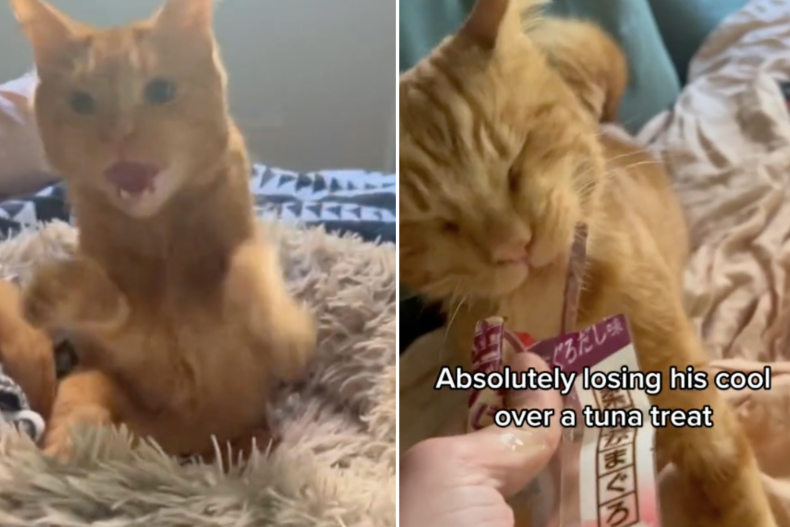 Now living in Australia with fellow feline Tyrion and their loving owners, Phin has over 680,000 followers on TikTok and a further 720,000 on Instagram.
The combination of his condition and his sheer excitement at the appearance of a tuna treat resulted in a hilarious reaction as he wobbled around to get hold of the seafood classic. His owner explained how he was "absolutely losing his cool over a tuna treat."
"The wobble cat cannot contain his excitement," joked one TikTok user after watching the viral video.
Another wrote: "This cat is in the top ten of all time cats of the internet."
"His cerebellum is underdeveloped. Most cases of cerebellar hypoplasia are caused by the pregnant mother being infected with the panleukopenia virus," explained Anderson. "This can attack the developing cerebellum and prevents it from fully developing. It's not a painful condition, but it affects Phin's coordination quite a bit because the cerebellum plays a major role in movement coordination."
"Give him more treats"
This isn't the first time six-year-old Phin has gained attention online. Phin previously went viral for a clip of him "murdering his breakfast" in similar excitement about food.
Happy-go-lucky Phin doesn't let his condition hold him back—especially where food is involved: "His favorites are tuna treats, Go-Gurt-type tube treats, bonito flakes, anything with dairy," said Anderson. "Basically anything with dairy or meat is a huge favorite."
"I love him," said one viewer of the TikTok video, while another added: "We love wobble cat. Give him more treats."
Phin's loving owners first started posting videos of him to show his foster mom, from whom they adopted him in the U.S. before moving to Australia. They quickly realized that Phin was gaining lots of attention and have even donated profits from Phineas-themed merchandise to social charities.
"We're looking forward to some future steps in expanding what we're able to give back to the world through Phin," Andreson said.
Do you have funny and adorable videos or pictures of your pet you want to share? Send them to [email protected] with some details about your best friend and they could appear in our Pet of the Week lineup.