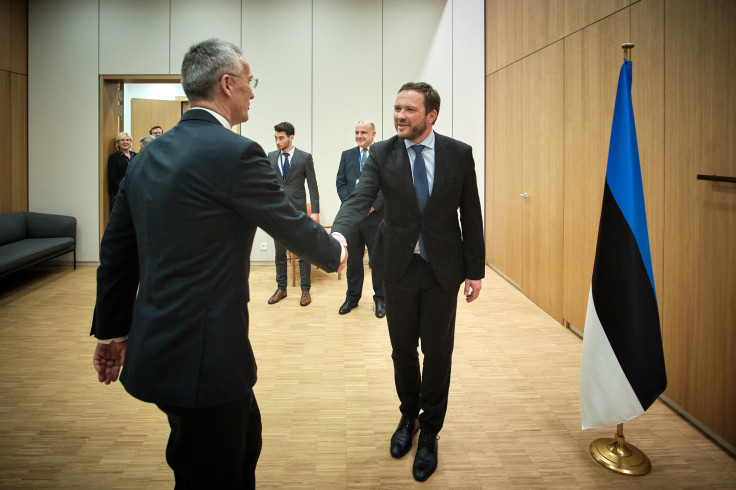 For those who live in Eastern European countries that border Russia, the ongoing Russo-Ukraine war can only be a source of great anxiety.
For Estonians, the reality of the security threat posed by Russia has been made ever more real by the staging of a major NATO military exercise around the Tapa Army Base which is located close to the border with Russia.
Estonia joined NATO back in 2004 alongside Bulgaria, Latvia, Lithuania, Romania, Slovakia and Slovenia. During the cold war, Estonia was under the control of the Soviet Union.
Yesterday the British government announced the involvement of military personnel spanning "all three services of the British Armed Forces" in Estonia as part of a NATO military exercise lasting two weeks.
Specifically, more than 1,500 British troops have been deployed as part of "Exercise Spring Storm" which constitutes the biggest annual military exercise to involve "the UK-led NATO enhanced Forward Presence Battlegroup." Exercise Spring Storm is "comprised of both UK and French forces," with the involvement of 14,000 personnel from 11 NATO member-states.
The Queen's Royal Hussars Commanding Officer Lt Col Steve Wilson has explained that Britain will be using "a wide range of hard-hitting capabilities," including "Main Battle Tanks (MBT), anti-tank, and artillery to snipers, mortars, engineers and tactical air controllers."
Wilson also explains that Exercise Spring Storm provides NATO with the opportunity to train on terrain that it might need to defend in the event of an attack on its territory, adding "gravitas" to the exercise.
As the Russo-Ukraine war rages on, Military exercises in Estonia follow the recent meeting of NATO Defence Chiefs in Brussels. Currently on the NATO agenda are new Regional Defense Plans which integrate the military plans of front-line NATO members with broader NATO plans.
Ahead of its victory day celebrations at home, Russia launched new attacks on Kyiv and across Ukraine. Moreover, as the conflict continues, NATO has also stressed its long-term commitment to supporting the new Ukraine.
Collective Defence
NATO's exercise in Estonia reflects an attempt to demonstrate collective preparedness for Russian military activity in Eastern Europe that infringes upon NATO territory.
Indeed, Chair of the NATO Military Committee Admiral Bauer has stated that given the chance, "Russia will not stop at Ukraine."
Article 5 of NATO's founding treaty enshrines the principle of collective defence at the heart of NATO's mission. Crucially, it stipulates that an armed attack on any one member-state shall be considered an armed attack on all members, meaning if any NATO member-state is attacked the rest of NATO is obliged to contribute to their defence.
Because Ukraine is not formally a part of NATO, it is not covered by the commitment to collective defence. However, it is a partner with NATO and has applied to join as a full member following Russia's invasion last year.
The British government explain that the "enhanced Forward Presence" delivers a "continuous NATO presence along its Eastern border," constituting a clear deterrent to any aggression towards NATO members.
Moreover, NATO's exercise in Estonia demonstrates the ability of NATO to act upon article five in the event of an attack on a NATO member. Given Russia's attempted invasion of Ukraine, demonstrating military resolve and capability across NATO territory, particularly in Eastern Europe, is a key strategic objective.
According to British Defense Secretary Ben Wallace, the NATO exercise demonstrates "the strength of our interoperability with partner nations." NATO defines interoperability as the capacity for members "to act together coherently, effectively and efficiently to achieve tactical, operational and strategic objectives."
Armed forces from different member-states need to be able to work together as a whole to defend NATO territory. Therefore, NATO interoperability covers technical, procedural, human and information-based dimensions.
However, there is more that binds NATO than a simple common interest in pushing back against the security threat posed by Russia.
In light of the NATO exercise, Wallace has said that "the UK and our allies will continue to support Ukraine and defend our shared values and freedom."
Arguably, this statement demonstrates the relevance of a commitment to a set of liberal-democratic values that motivates the cooperation of NATO members. The founding treaty of NATO articulates the values of members, with a common commitment to "the principles of democracy, individual liberty and the rule of law."
This article is copyrighted by International Business Times, the business news leader