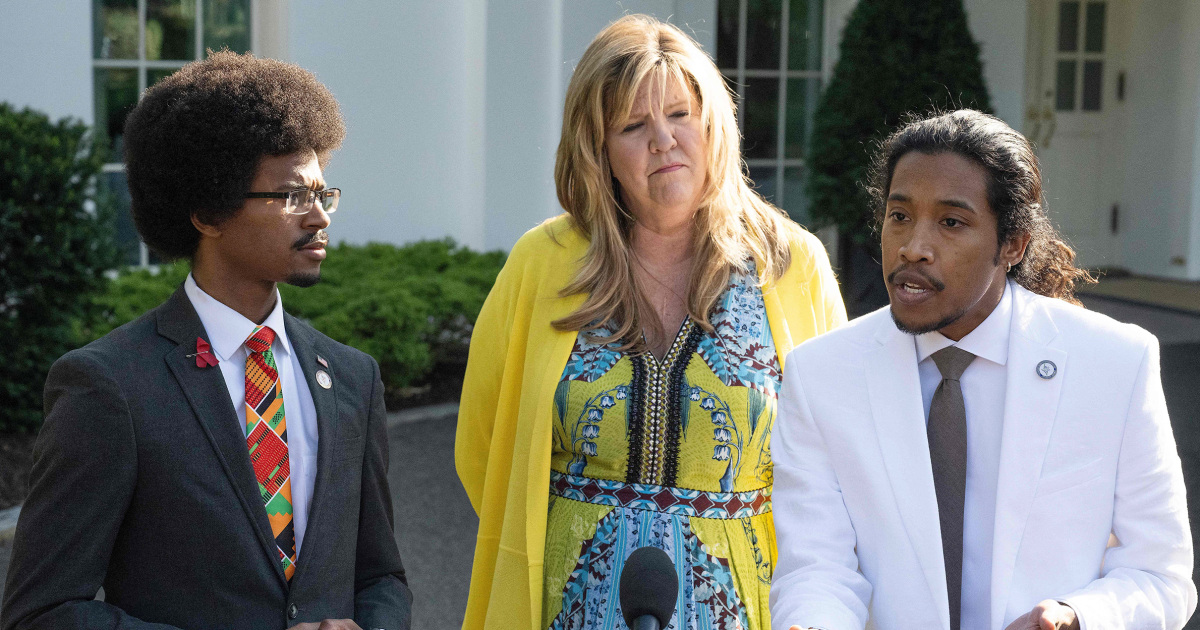 WASHINGTON — The three Tennessee Democratic legislators who faced expulsion over gun control protests visited the White House on Monday, elevating their push to overhaul firearm laws with a message that framed the fight as a larger struggle for justice.
Rep. Justin Jones said he and his colleagues had come to Washington "as representatives of a movement" fighting for firearm restrictions to put a stop to gun deaths after the March 27 shooting at a school in Nashville, Tennessee.
"A key message was that this is not a moment; it is a movement," Jones told reporters after the meeting in the Oval Office with Biden and Vice President Kamala Harris. "We have an NRA-endorsed governor organizing a special session on guns, something that's unheard of, because of people power."
"It's going to take us not seeing this as just a political inevitability," he said, adding, "This is our Selma moment."
Jones described sitting in the Oval Office moments earlier seeing busts of Martin Luther King Jr., Rosa Parks and Cesar Chavez — people who "acted outside of the political paradigm of what was possible, and they changed political realities."
"We talked about how Tennessee can be a model for the nation," he said. "We came as Tennessee lawmakers, but we didn't just come as legislators. We came as voices of moral dissent as to what happened in our state."
State Republicans voted to expel Jones and Justin J. Pearson, who are Black, for their roles leading gun control demonstrations from the House floor after the March shooting at The Covenant School in Nashville. Rep. Gloria Johnson, who is white, survived her vote. They were dubbed the "Tennessee Three."
Local leaders later reinstated Jones and Pearson.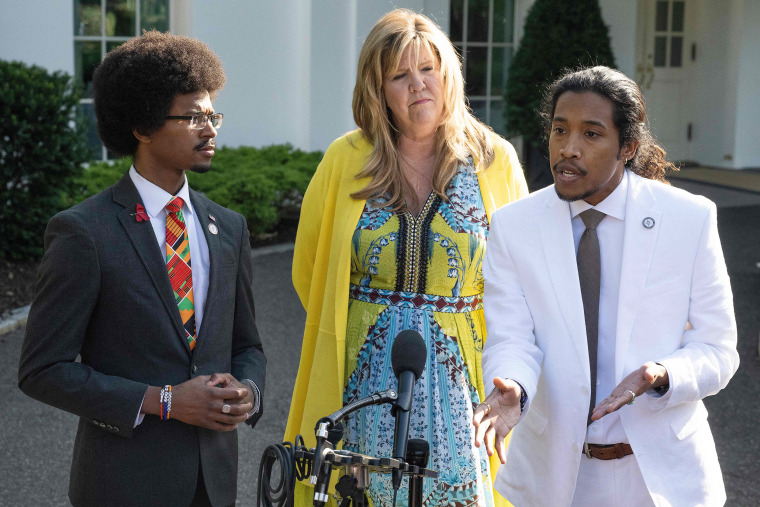 "It is about our schools not turning into war zones, and it's also about communities that are experiencing gun violence every single day," Pearson said outside the White House. He called on Congress to pass expanded background checks but said much of the work remained at the state level.
Johnson said bipartisan legislators galvanized by last month's school tragedy were pressing for change.
The shooting "lit a fire in Tennessee," she said. "They are literally saying we are tired of thoughts and prayers — we want to see action."
Johnson said that in the meeting with Biden and Harris, the group discussed new measures about assault-style weapons and more. "We talked about red flag laws. We talked about safe storage laws," she said.
In brief remarks before the meeting, Biden thanked Jones, Pearson and Johnson for their advocacy and called Republican efforts to expel them from the Legislature "undemocratic." 
"You're standing up for our kids. You're standing up for our communities," Biden said.
Katherine Doyle
Katherine Doyle is a White House reporter for NBC News.