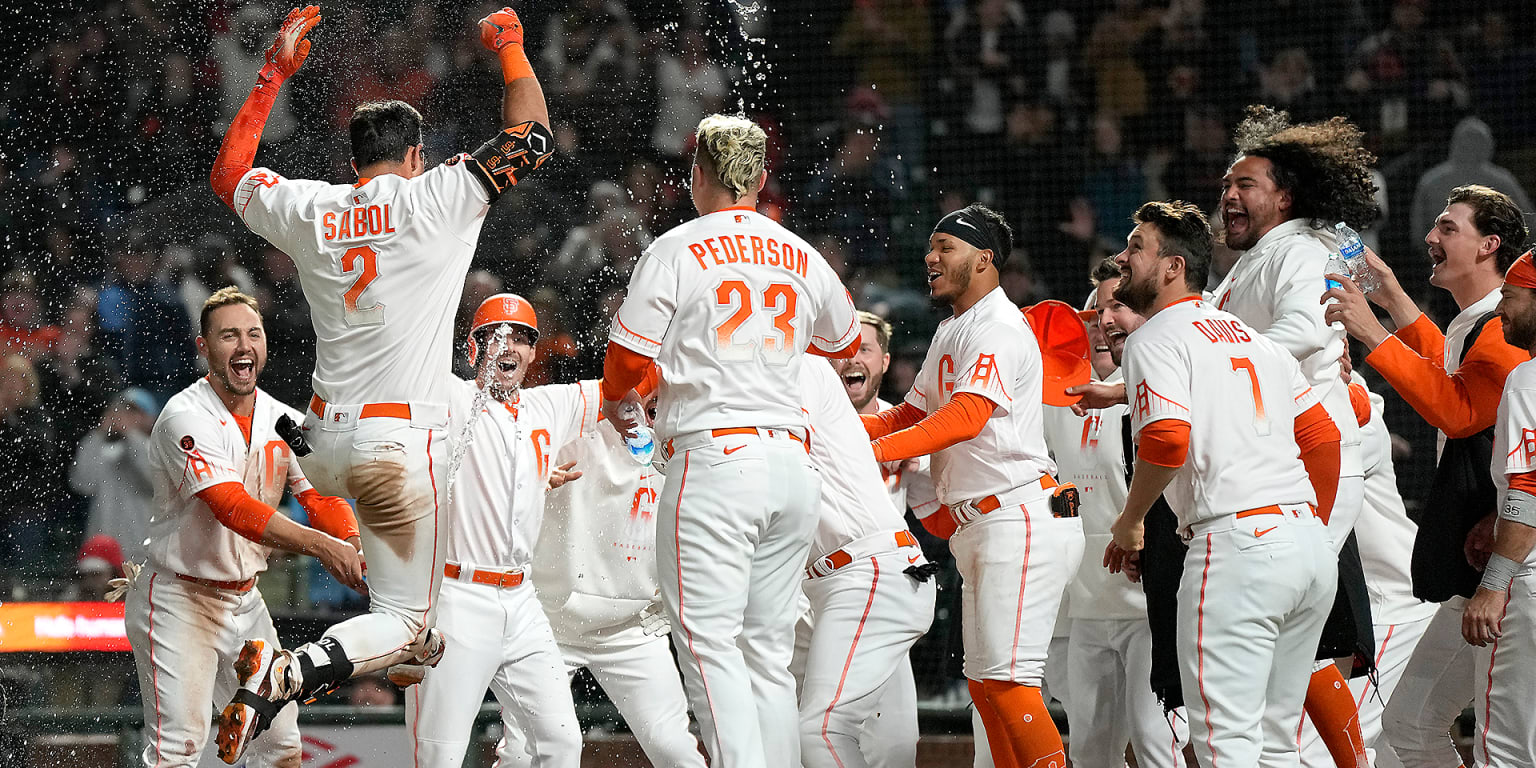 SAN FRANCISCO — It was hard to imagine a more challenging scenario for rookie catcher Blake Sabol.
After leading the Giants through their first bullpen game of the year, Sabol stepped up to the plate to face Cardinals closer Ryan Helsley with a runner on second base, two outs and the Giants trailing by one in the bottom of the ninth inning.
The moment didn't prove too big for Sabol, who promptly delivered the biggest hit of his young career, crushing a two-run homer to center field to lift the Giants to a dramatic 5-4 walk-off win on Tuesday night at Oracle Park.
Sabol's first career walk-off homer extended the Giants' winning streak to four games and set off a joyous celebration at home plate, where the 25-year-old was mobbed by his teammates.
"That was probably one of the best moments of my life," Sabol said. "I knew I got all of that one. As soon as I heard the sound off the bat, I felt it. I didn't even look. I don't even know where the ball went. I kind of bat flipped and started yelling and screaming. I kind of blacked out from that moment on. Just jumping up and down with my teammates. That was a lot of fun."
The Cardinals had been feeding Sabol a steady diet of offspeed pitches all night, so he decided to sit slider against Helsley, who got ahead 1-2 before hanging a breaking pitch that Sabol hammered out to center for the game-winning homer.
"That's about as tough a situation as you can dream up," manager Gabe Kapler said. "Nasty offspeed pitch, hits 101 [mph] and you're fighting for your life with two strikes. For him to get a swing off like that is pretty remarkable. It was a very, very unexpected outcome. Not because Blake isn't very talented, but because of the situation of the game and who was on the mound."
Sabol's 428-foot shot — his fourth homer of the year — helped pick up the Giants' bullpen, which blew a one-run lead in the eighth inning after the Cardinals rallied for three runs against left-hander Scott Alexander and Camilo Doval.
Tuesday was supposed to be left-hander Sean Manaea's scheduled turn in the rotation, but Kapler hinted that the Giants would go with a more unconventional approach against a St. Louis lineup that has posted an MLB-leading .938 OPS against southpaws this year.
The Giants' bullpen was well rested following Alex Cobb's shutout on Monday, giving Kapler more freedom to aggressively mix and match with his relievers. He used eight bullpen arms to cover nine innings on Tuesday, beginning with right-hander John Brebbia, who served as the opener and recorded the first four outs of the game.
Sabol, a Rule 5 Draft pick, entered Tuesday batting only .200 with a .650 OPS and 21 strikeouts over 45 at-bats, but he got the starting nod behind the plate due to the injury to Joey Bart, who is dealing with right groin tightness. While Sabol has had his ups and downs early this year, Kapler said he's been pleased with the progress the young backstop has shown on both sides of the ball.
"He's done a really nice job handling our pitching staff all the way through the year," Kapler said. "There have been some wild swings and some misses. But for the most part, he's managed fine at-bats. I think we've gotten a really good outcome from Blake Sabol so far."
Sabol has had to deal with unique pressures due to his Rule 5 Draft status — he must stick on the Giants' 26-man roster for the entire season or be offered back to the Pirates — but he said he's been working with the club's mental skills coaches and breathing specialist to try to learn how to be less hard on himself and not bring the baggage of previous failures into his next at-bat.
That mindset ultimately helped him maintain his poise and come through for the Giants when they needed him the most.
"I've kind of settled into my own and kind of realized it doesn't benefit me to dwell on the past and think, 'Oh, I'm not doing well,'" Sabol said. "But I think there was always that confidence of knowing I belong here."