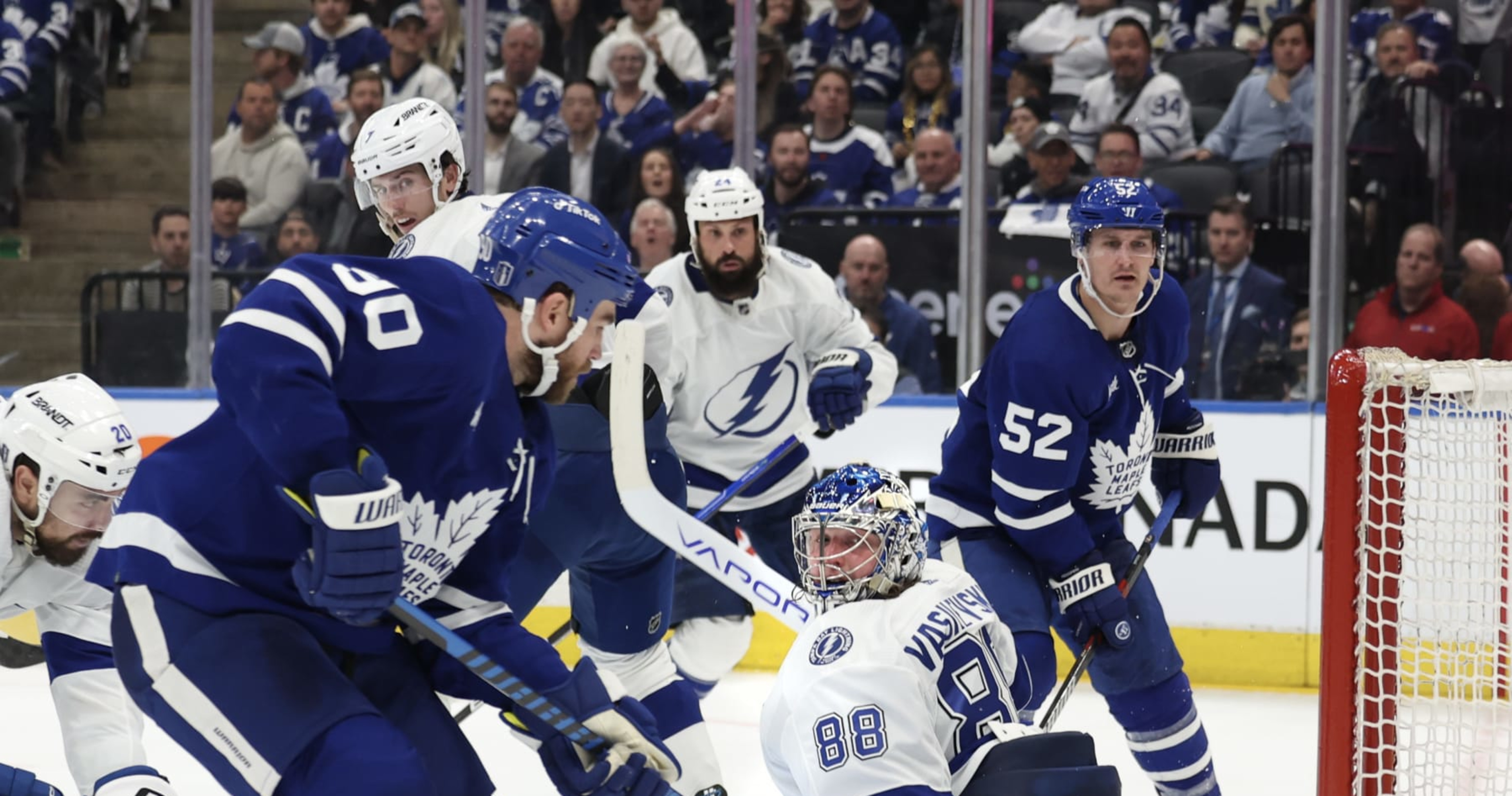 1 Thing We've Learned About Every NHL Playoff Team
0 of 4
Curtis Comeau/Icon Sportswire via Getty Images

The 2023 Stanley Cup Playoffs have yet to see a team advance to the second round with most series through their fifth games. That's just how we wanted things to go, unless you've got a vested rooting interest, of course.

But the playoffs are the second season for a reason. Games get tighter, players get hurt and sometimes how a team played for 82 games is wildly different than how they play in the postseason. That also means sometimes we have to unlearn what happened over the course of seven months and soak in the new norm the race for the Cup provides.

Every team is still in it, and that means we have 16 teams teaching us something brand new about themselves.

Whether it's a team that's got a little more fight in them than expected or a player seemingly coming out of the blue to give their team an advantage, there's something to be said for all of them. How these teams are performing in the face of pressure, adversity expectations or lack thereof is a big part of the fun and drama of it all. It's also the source of heartburn and sleepless nights for fans of the teams involved.

So, what have we learned? Let's take a look going division by division.
Atlantic Division
1 of 4
Mark Lomoglio/NHLI via Getty Images

Boston Bruins: They're Not Invincible

Boston clinched a spot in the playoffs with 18 games left in the season in early March and wrapped up the Presidents' Trophy with seven to go later that same month. After a stretch of games that didn't really matter, they're now dealing with a Panthers team that, ahem, scratched and clawed just to get into the postseason. Starting the playoffs without an injured Patrice Bergeron (he returned in Game 5) and David Krejci missing the past three games has made things a bit trickier, but that's what the playoffs are like. After such a long spell without games that really mattered, the Bruins are trying to turn things on while also hoping to keep Florida at bay.

---

Florida Panthers: They're Tough When They Score the First Goal

The Panthers have scored the game's first goal twice in this series and have won both of those games. Everyone wants to score first in the playoffs or in literally every game ever played, but as a severe underdog, the Panthers have no choice but to try to play while ahead. Florida is a much better team when they can play the game at their pace, and Boston's defensive play makes overcoming a deficit tough. The Panthers' Game 5 win in Boston showed how much it helps to have a lead, even one goal, to pad mistakes or tough goals against. Florida can't get into a boat race with Boston, but it can sneak across the finish line as long as they get ahead of the situation.

---

Tampa Bay Lightning: Lacking Depth in Their Defensive Core

Victor Hedman left Game 1 and didn't play in Game 2. Another Lightning defenseman, Erik Cernak, was knocked out of action in the series opener by an elbow to the head from Leafs forward Michael Bunting. Although Tampa Bay ran away with Game 1, Game 2 was a blowout win for Toronto. The Lightning could barely afford to lose anyone on defense, never mind a Norris Trophy winner and a guy who averaged more than 19 minutes per game. Without Cernak, the Lightning have lost three straight games, including two straight in which they blew third period leads (3-2 in Game 3; 4-1 in Game 4). Health is a factor for everyone in the postseason, but losing two of the top-four defensemen for any amount of time, never mind multiple games, is a recipe for disaster. Tampa has played a lot of hockey the past three years, and its record headed into the playoffs wasn't super (9-11-2 since the beginning of March), but the Leafs have been able to take full advantage of them in a weakened state.

---

Toronto Maple Leafs: They Can Handle Pressure?!?

Previous iterations of the team would've stared third-period deficits in the face and withered, allowing their opponents to break their spirit with even the slightest bit of luck. Their comeback wins in Games 3 and 4 have them a win away from winning a first-round series for the first time since 2004. Wins like the past two can give them the confidence they'll need to vanquish the team that's made the past three Stanley Cup Finals. The job is never done until it's finished, and a loss in Game 5 would assuredly change the conversation again, but this Toronto team is showing the gumption they haven't in the past.
Metropolitan Division
2 of 4
Joshua Sarner/Icon Sportswire via Getty Images

Carolina Hurricanes: The Playoffs Are a Different Story to the Regular Season

The Hurricanes are finding out what it's like to have to fight and claw for every inch of ice, never mind a goal. Carolina has a sneaky amount of pressure to make it to at least the Eastern Conference Final, and a first-round matchup with the Islanders is not the best way to ease into the playoffs. Carolina has piled up shots every game, and all it's got to show for it is the same number of goals as the Islanders. The Isles block shots like mad, and Ilya Sorokin is there to keep any that do get through out of the net. The Hurricanes are doing everything they've done all season long, and for the most part, they've had this series in control…but the Isles like it when the scores stay close, and Carolina should be having more success. Such is playoff life.

---

New Jersey Devils: Akira Schmid Has Been a Revelation

Who would've thought Akira Schmid would be the goaltending reassurance the Devils needed? Obviously, none of us did because we've learned he's unflappable. New Jersey was seemingly out of answers after Vitek Vanecek struggled at home in Games 1 and 2 and the Rangers stormed out to a 2-0 series lead. Schmid, a rookie, got the call on the road for Game 3 and shut down the Rangers in their house, and then did it again in Game 4. Scoring has been at a premium in this series, but the Devils went from allowing five goals in each of the first two games to one goal each in the next two. If Schmid continues to keep it cool and calm in goal, an already very good Devils team becomes that much more formidable. Schmid showed in a handful of games this season he has talent, but seeing him perform this well in this situation is attention-grabbing.

---

New York Islanders: The Key is Staying Out of the Penalty Box

What we've learned about the Isles is their penalty killing is really hurting them. They block tons of shots and have a goalie who can steal games. When they're on the penalty kill, however, life gets much more difficult. Of the 14 goals they've given up, five have been when they're shorthanded. Their PK cost them Game 1 because both Hurricanes goals were on the power play. Carolina's first two goals in their 5-2 Game 4 win came on the power play and allowed them to get out to a 4-0 lead. Carolina already does enough at 5-on-5 to create scoring chances and allowing them opportunities on the power play and doing little to stop them ultimately could cost them the series.

---

New York Rangers: Scoring Punch at 5-on-5 Has Dried Up

The Rangers showed in the first two games of the series they can do a lot of damage around the net with Chris Kreider on the power play. What we've learned about them, however, is they're not getting much more beyond that. Four of Kreider's five goals are power-play tallies, and his six points tie him with Patrick Kane and Adam Fox for the team lead. His five goals are also more than 40 percent of their offense. While the Devils' goaltending switch from Vanecek to Schmid has changed things dramatically, teams generally can't rely on all of their offense coming from special teams. The Rangers must generate more shots and chances at 5-on-5, and they'll need some of those classic greasy goals from Kreider to shake Schmid up. Getting him going at evens would certainly help. The Devils make life hard, but the Rangers offense can also force the issue.
Central Division
3 of 4
Glenn James/NHLI via Getty Images

Colorado Avalanche: Falling Behind Has Been The Avs' Biggest Problem

The Avalanche are teaching us a lesson in how making life more difficult for yourself has serious consequences. Colorado hasn't scored the first goal in any game of its series against Seattle, while a needlessly dangerous hit by Cale Makar earned him a suspension for Game 5, which Seattle won. They even blew a 3-1 lead in Game 4 before ultimately winning 6-4. Mikko Rantanen and Nathan MacKinnon have been typically great, and they've gotten solid work out of Devon Toews and Evan Rodrigues, but outside of them it's been quiet. Getting the first goal and remembering how to hold a lead would serve the Avs well.

---

Dallas Stars: The Power Play is Lethal

It appears the Dallas Stars' power play is an unstoppable force. Of the 17 goals Dallas has scored in the first five games against Minnesota, nine of them have been on the power play. Normally relying on the power play isn't really a winning idea, but when the Wild continues to hand out opportunities like candy on Halloween, it's definitely going to take care of business. Dallas hasn't played terribly at 5-on-5 but has been outscored 8-6. This series is close, and Jake Oettinger has given the Stars an edge because of his steadiness, but Dallas is sitting pretty so long as Minnesota continues to have a parade to the penalty box. And they've done most of this without Joe Pavelski in the lineup after he was injured in Game 1. If Pavelski returns for Game 6, it could be the beginning of the end for Minnesota.

---

Minnesota Wild: Gifting Goals Isn't a Key to Success

We've learned the Wild cannot help but give the Stars all kinds of help scoring goals. The Wild have been shorthanded 22 times against Dallas in this series and have given up nine goals (59.1 percent on the PK). What's amazing is it's not the worst PK in the playoffs, but that's because they've had more opportunities to kill other penalties. There's been a lot of ire around the officiating in the playoffs, and a lot of that heat has come from this series between the Stars and the Wild. Regardless of how good or bad the calls have been, Minnesota has not gotten the job done by killing them off. They had the 10th-best PK in the NHL in the regular season, and through five games the Stars have picked them apart. Games get heated and stuff is going to happen every other shift, but Minnesota must defend better on the PK. They have tasked Filip Gustavsson and Marc-Andre Fleury with a bit more than they'd like to see.

---

Winnipeg Jets: Scoring in the Playoffs Is a Lot Harder

The Jets have showed us that scoring in the playoffs is, indeed, difficult, especially at 5-on-5. Of the 13 goals Winnipeg has scored against Vegas, one was on an empty net, one was with the extra attacker with the goalie pulled and five have been on the power play. Scoring six times at 5-on-5 in four games is not going to get it done. The opportunity for Winnipeg to surprise the Golden Knights in this series is there, even from 3-1 down, but former Jets goalie Laurent Brossoit has done well to help keep their offense quiet. The Jets allowing 12 goals at 5-on-5, double what they've scored, and that's the bottom line for why Winnipeg is staring elimination in the eye. If Winnipeg can't start winning more at even strength, they might not get a chance to return home for Game 6.
Pacific Division
4 of 4
Curtis Comeau/Icon Sportswire via Getty Images

Edmonton Oilers: Connor McDavid and Leon Draisaitl Have Help on the Backline

It's pretty known that the Oilers' power play is outstanding, but what we're learning is defenseman Evan Bouchard is the guy helping to make it go harder than it did during the season. Bouchard leads the Oilers in power-play points with seven. Two of those seven are goals, and his five assists are most among everyone. More than Connor McDavid and Leon Draisaitl. It takes a good defenseman to really make a power play pop, and Bouchard's quarterbacking is a great complement to the rest of the group on the ice. It's impossible not to marvel at the sheer talent of McDavid and Draisaitl, but a defenseman who can get stuff done on the power play and in the rest of the game is something that's been uncommon in Edmonton since Paul Coffey left town decades ago.

---

Los Angeles Kings: The Penalty Kill is a Huge Weakness

What we've learned about the Kings is that their Achilles' heel from the regular season, the penalty kill, has only gotten worse against the Oilers. Los Angeles had the 24th-best penalty kill during the regular season, stopping 75.8 percent of opposing power plays. Having to deal with McDavid, Draisaitl and Bouchard game in and game out has reduced the Kings' PK to rubble. The Kings have given up eight power-play goals in the five games played, and Edmonton has only had 14 power-play opportunities. The Kings have 10 goals to the Oilers' 11 at 5-on-5. But when they're allowing the Oilers to score on every other power play, even with so few penalties called, it's a crushing turn of events. Stopping the Oilers' power-play circus is easier said than done, but the Kings have to either get a lot better at it real soon or just cut out the penalties completely.

---

Seattle Kraken: Regular-Season Performances Can Be Misleading

The Kraken had one of the NHL's worst penalty kills for the majority of the season. But it got better deeper into the season, and now they're showing why they've become so good so quickly, shutting down Nathan MacKinnon and Mikko Rantanen with a certain amount of ease. Through five games, the Kraken have allowed just one goal on 12 power plays and have even added a shorthanded goal of their own. Going into this series, it was likely accepted that Rantanen and MacKinnon would get their points. The key for the Kraken was to not make it any easier for them, and they are doing just that.

---

Vegas Golden Knights: They're Getting Healthy at the Right Time

He's never won a Selke Award, but Mark Stone is one of the best defensive forwards this side of Patrice Bergeron. The Vegas captain was limited for a good portion of the season due to a back injury, but his return has strengthened the lineup. The Golden Knights' offense comes in waves, and they play with three or four lines being scoring threats when they're on top of their business. Keeping that kind of pressure up all season is a test of patience and imagination.