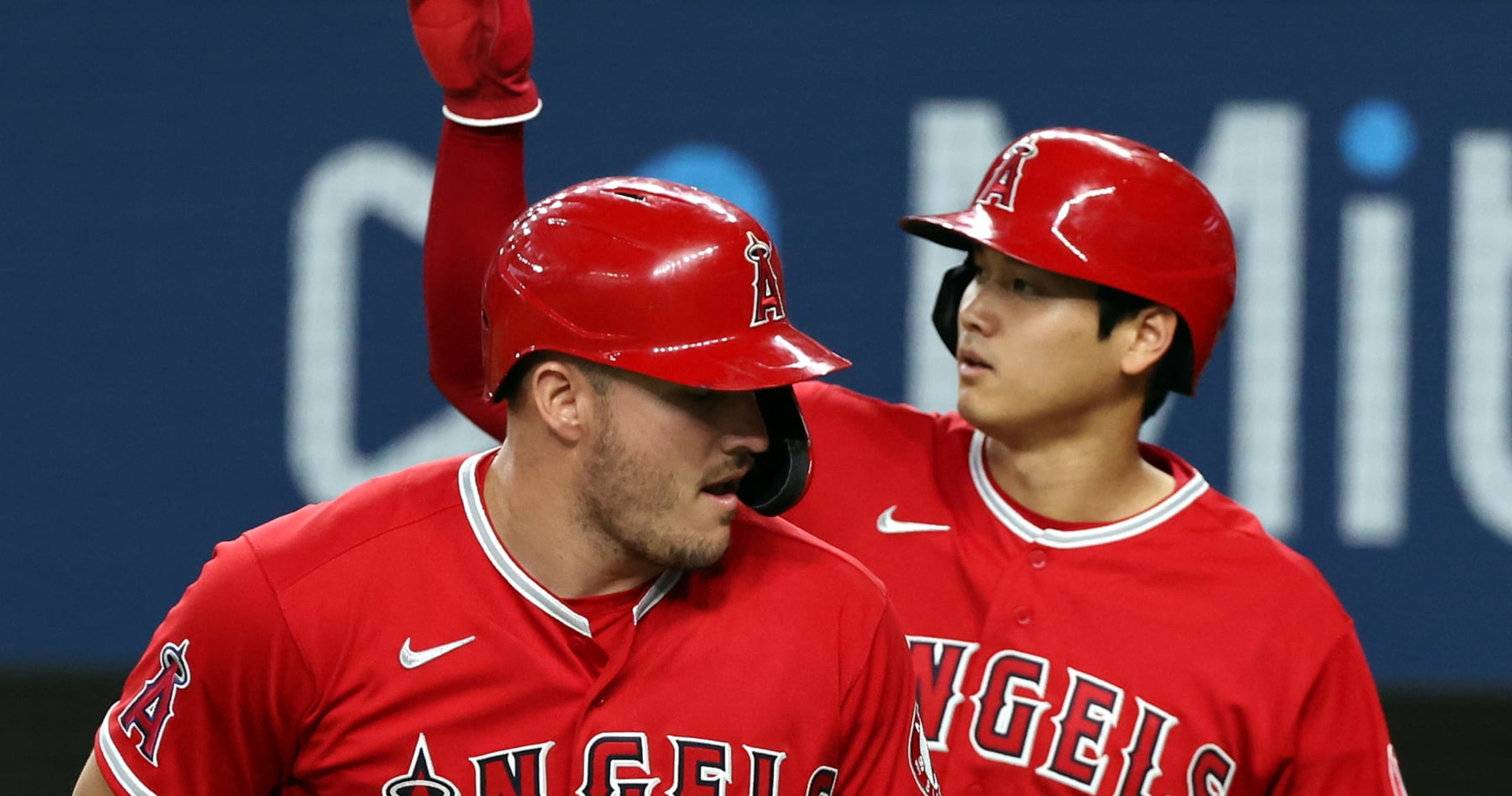 Zachary D. Rymer
March 6, 2023
Full 2023 World Baseball Classic Preview and Predictions for Every Round
0 of 8
Mike Trout and Shohei Ohtani are both aiming for international glory.Richard Rodriguez/Getty Images

For the first time in six years, the World Baseball Classic is back. The first thing to know is that this is baseball's answer to the FIFA World Cup.

After that, well, there's a lot to know.

For starters, this year's tournament—which was originally slated for 2021, but was delayed due to the COVID-19 pandemic—is quite literally bigger than it's ever been. Only 16 countries were represented in the first four World Baseball Classics in 2006, 2009, 2013 and 2017. For 2023, the field has grown to 20 countries.

Three of the participants are newcomers, so Great Britain, the Czech Republic and Nicaragua deserve props simply on those merits. The other 17 clubs are what you might call the usual suspects, headlined by the World Baseball Classic's three previous champions: Japan (2006 and 2009), the Dominican Republic (2013) and the United States (2017).

As for how the 2023 tournament will work, which are the teams to beat and who are the players to watch and, naturally, who will be crowned champion in the end, read on for our full preview and predictions.
Format and Rules
1 of 8
Shohei Ohtani (L) and Hideki Kuriyama (R)YUICHI YAMAZAKI/AFP via Getty Images

Format

The tournament will begin with five teams in four different pools (A, B, C and D), wherein round-robin, double-elimination tournaments will decide who moves on. Within each pool, all five teams will play each other once.

The teams with the two best records will advance to the next round. There's also a relegation system in play. The top four teams in each pool will automatically earn a spot in the next World Baseball Classic, while the team at the bottom will have to play in a qualifying tournament in order to earn its spot.

If two teams have the same record at the end of pool play, whoever won the head-to-head game between them will advance. If more than two teams have the same record, the following tiebreakers kick in:

Lowest quotient of runs allowed divided by the number of defensive outs recorded by in games between the tied teams.
Lowest quotient of earned runs allowed divided by the number of defensive outs recorded in games between the tied teams.
Highest batting average in games between the tied teams.
Drawing of lots.

The eight teams that survive pool play will slot into a single-elimination bracket. Win, and it's on to the next round. Lose, and it's over.

---

Rules

One major difference between Major League Baseball and the World Baseball Classic in 2023 is that the new regulations adopted by the former won't be used in the latter. That means no pitch timer, no regulations on defensive shifts and no bigger bases.

Otherwise, these rules apply:
MLB-style replay review
Automatic runner on second base in extra innings
Three-batter minimum for pitchers
Universal designated hitter
No limitations on mound visits
There are limitations on pitcher usage, including pitch counts for each of the rounds. The cap is 65 pitches in pool play, followed by 80 in the quarterfinals and 95 in the championship round.
There are also mercy rules in play for the first round of the tournament. If a team is up 15 or more runs after the fifth inning or 10 or more runs after the seventh inning, that team will be declared the winner then and there.
Preview and Predictions for Pool A
2 of 8
Yoán Moncada (L) and Luis Robert Jr. (R), CubaAP Photo/Tony Dejak

Dates: March 8-13

Location: Taichung, Taiwan

Teams: Cuba, Italy, Netherlands, Panama, Taiwan

---

Overview

This probably the weakest of the four pools, but don't tell that to the Netherlands.

They'll have Xander Bogaerts in the middle of their lineup, and he'll be flanked by Jonathan Schoop, Jurickson Profar, Andrelton Simmons, Didi Gregorius and Wladimir Balentien, who hit a record 60 home runs in Japan back in 2013. The Netherlands also has a few pitchers with major league experience, including ace closer Kenley Jansen.

Though it's notable that they won't have stars like Yordan Álvarez, José Abreu, Randy Arozarena or either Gurriel brother, Cuba is the next-best team in Pool A. Chicago White Sox teammates Yoán Moncada and Luis Robert Jr. will anchor the lineup alongside noted legends Yoenis Céspedes and Alfredo Despaigne, who holds the WBC record with seven home runs.

Further, whatever leads Cuba gets don't figure to be easy to reclaim. In their bullpen are Yariel Rodríguez, Raidel Martínez and Liván Moinelo, who allowed a combined total of nine earned runs over 163 innings in Japan last year.

For its part, Italy has a decent-looking lineup headed by Vinnie Pasquantino, David Fletcher, Nicky Lopez and Milwaukee Brewers prospect Sal Frelick, who MLB.com rates as a 70-grade hitter. Panama is probably stronger on the mound, where they'll have Jaime Barría, Justin Lawrence and Javy Guerra.

Taiwan, meanwhile, is the sleeper pick for Pool A. Fans of MLB will recognize the names of infielders Yu Chang and Tzu-Wei Lin. Otherwise, catcher Kungkuan Giljegiljaw, second baseman Li Lin, center fielder Chieh Hsien Chen have played starring roles in the Chinese Professional Baseball League.

---

Predicted Winners: Netherlands and Cuba
Preview and Predictions for Pool B
3 of 8
Yu Darvish, Japan.Sarah Stier/Getty Images

Dates: March 9-13

Location: Tokyo, Japan

Teams: Australia, China, Japan, South Korea, Czech Republic

---

Overview

As if having the home turf wasn't enough of an advantage for Japan in Pool B, it also helps to have Shohei Ohtani, who won't have any restrictions while he's away from the Los Angeles Angels.

Ohtani will line up his arm alongside those of Yu Darvish, Yoshinobu Yamamoto and Roki Sasaki—he of 19-strikeout perfect game fame—and his bat alongside those of major leaguers Masataka Yoshida and Lars Nootbaar and noted sluggers Hotaka Yamakawa, Kazuma Okamoto and Munetaka Murakami, who's fresh off a record-breaking 56-homer season.

The other big bad in Pool B is South Korea, though not so much because of major leaguers like Ha-Seong Kim and Tommy Edman.

Indeed, the real stars on their roster are slugging legends like Jeong Choi and ByungHo Park and up-and-comers such as first baseman Baekho Kang, second baseman Hyeseong Kim, center fielder Jung Hoo Lee and ace closer Woo Suk Go, who pitched to a 1.48 ERA with 80 strikeouts over 60.2 innings in Korea last season.

Australia, the Czech Republic and China otherwise comprise arguably the three weakest teams in the entire tournament, though the Czech Republic does have some Cinderella energy after its unlikely survival in last year's WBC qualifiers.

---

Predicted Winners: Japan and South Korea
Preview and Predictions for Pool C
4 of 8
Paul Goldschmidt (L) and Nolan Arenado (R), USARich Graessle/Icon Sportswire via Getty Images

Dates: March 11-15

Location: Phoenix, Arizona

Teams: Canada, Colombia, Mexico, United States, Great Britain

---

Overview

The United States does have at least one concern, as Clayton Kershaw's recent withdrawal further diminished the squad's starting pitching depth around Adam Wainwright. The squad will also be without Nestor Cortes.

It's a good thing, then, that the USA has a host of ace relievers highlighted Devin Williams and Ryan Pressly and that the offense is absolutely stacked. It boasts three former MVPs in Mike Trout, Mookie Betts and Paul Goldschmidt, as well as other established superstars like Nolan Arenado, Trea Turner, J.T. Realmuto, Pete Alonso and Tim Anderson.

Perhaps equal to the task of shutting down the USA's offense will be Mexico's pitching staff. It features a nasty foursome of starters in Julio Urías, Taijuan Walker, Patrick Sandoval and José Urquidy. The offense is less star-studded, but Randy Arozarena, Rowdy Tellez, Alex Verdugo and Isaac Paredes make for a solid core.

Canada will have Freddie Freeman anchoring its lineup with Tyler O'Neill, Abraham Toro and Bo Naylor, and Cal Quantrill's smarts and Matt Brash's electric stuff are assets on the pitching side of things. For its part, Colombia lost its best pitcher when José Quintana bowed out on Sunday due to tightness in his left side, but they'll still have Gio Urshela, Harold Ramírez, Oscar Mercado and Oakland Athletics prospect Jordan Diaz in their lineup.

This pretty much makes Great Britain the underdog of the pool, yet they'll have some hope if Trayce Thompson and Seattle Mariners prospect Harry "Not Harrison" Ford bring their best.

---

Predicted Winners: United States and Mexico
Preview and Predictions for Pool D
5 of 8
Julio Rodríguez, Dominican RepublicSteph Chambers/Getty Images

Dates: March 11-15

Location: Miami, Florida

Participants: Dominican Republic, Israel, Puerto Rico, Venezuela, Nicaragua

---

Overview

Welcome to the Group of Death for this year's World Baseball Classic, wherein the Dominican Republic in particular looks like a veritable grim reaper.

Sandy Alcantara and Cristian Javier are arguably the best 1-2 pitching punch in the entire tournament, and then there's what New York Mets right-handed Chris Bassitt alluded to as "the best lineup ever." Vladimir Guerrero Jr. did have to withdraw with a knee injury on Saturday, but there's still Juan Soto, Manny Machado, Julio Rodríguez, Rafael Devers, Wander Franco and Willy Adames.

As for who in Pool D could take down such a mighty team, Venezuela at least has the offense for the task. In addition to a fully healthy Ronald Acuña Jr., it'll have Jose Altuve, Luis Arraez, Eugenio Suárez, Gleyber Torres, Andrés Giménez and the legendary Miguel Cabrera.

Puerto Rico, meanwhile, won't have Carlos Correa, but will have Francisco Lindor and Javier Báez up the middle and excellent pitchers to bookend games: Marcus Stroman (formerly of Team USA) and José Berríos to start and brothers Edwin and Alexis Díaz to close.

Israel and Nicaragua have their work cut out for them in surviving this pool, but neither is entirely without merits. The former has Joc Pederson and Chicago Cubs prospect Matt Mervis to carry its offense, while the latter has Jonathan Loáisiga, Erasmo Ramírez and Brewers prospect Carlos Rodriguez to support a strong pitching staff.

---

Predicted Winners: Dominican Republic and Puerto Rico
Preview and Predictions for Quarterfinal Round
6 of 8
Francisco Lindor (L) and Javier Báez (R) at the 2017 WBC. Matt Brown/WBCI/MLB via Getty Images

March 15: South Korea vs. Netherlands

Between Bogaerts, Profar, Simmons, Gregorius and Jansen, the Honkballers would have the advantage in this matchup in terms of established major-league talent. But even despite that, we lean toward the Koreans as having the stronger overall roster.

That double play tandem of Kim and Edman is simply to die for, and the offensive trio of Choi, Park and Lee is not to be underestimated. The first two have 778 home runs between them in their KBO careers, while Lee has never hit lower than .324 in any of his six seasons.

Predicted Winner: South Korea

---

March 16: Cuba vs. Japan

This very same matchup was the one that ended the inaugural World Baseball Classic back in 2006, with Japan coming out on top in large part thanks to four one-run innings from tournament MVP Daisuke Matsuzaka. Can Cuba get revenge nearly two decades later?

We think not. If it's not No. 1 or No. 2, then Japan is at least the third-best team in this year's tournament. And unless Céspedes, who's 37, and Despaigne, who's 36, can turn back the clock, Cuba's relatively undermanned offense could be overmatched against Japan's vaunted pitching.

Predicted Winner: Japan

---

March 17: Mexico vs. Dominican Republic

If any team is going to take down the Dominican Republic, it might just be Mexico. Because as scary-looking as the D.R.'s lineup may be, that foursome of Urías, Walker, Sandoval and Urquidy combined for a 3.11 ERA and a 1.16 WHIP in the majors last season.

And yet…well, we just can't do it. We can't side against any team that, even sans Guerrero, has so many superstars all in the same lineup, much less with guys like Alcantara, Javier, Camilo Doval and Bryan Abreu available to take the bump.

Predicted Winner: Dominican Republic

---

March 18: Puerto Rico vs. USA

Speaking of scary-looking offenses, it's with no disrespect to Lindor and Báez that we would see a dramatic mismatch if Puerto Rico and the United States were to meet in the quarterfinals. Puerto Rico would simply have to pitch and defend its way to an upset.

But you know what? That's possible. A Lindor-Báez double play combination is as good as it gets, while guys like Christian Vázquez and Enrique Hernández are ace defenders in their own right. And especially if Stroman and the Díaz bothers all take the mound, it's easy to imagine Puerto Rico's pitching not giving USA hitters much to work with anyway.

Predicted Winner: Puerto Rico
Preview and Predictions for Semifinal Round
7 of 8
Munetaka MurakamiSteph Chambers/Getty Images

March 19: South Korea vs. Dominican Republic

That's a good lineup and bullpen that South Korea has there, and yet neither (and this is putting it kindly) stacks up against those of the Dominican Republic. The big question, then, is if South Korea has an ace who can quiet the D.R.'s lineup for a sizable chunk of innings.

That job would figure to fall to Kwang Hyun Kim, who some might remember from his two seasons with the St. Louis Cardinals. But he's not exactly the overpowering type, preferring instead to chase after ground balls with a fastball-light approach. That could work, but inviting the Dominican Republic's lineup to make contact just seems like a bad idea.

Predicted Winner: Dominican Republic

---

March 20: Japan vs. Puerto Rico

We said that pitching and defense would guide Puerto Rico over the United States, and we're sticking to it. But that same attack wouldn't necessarily work as well against Japan, which can respond in kind on the pitching front whether it's Ohtani, Darvish, Yamamoto or Sasaki taking the lead in a potential matchup in the semifinals.

The pressure, then, would revert to Puerto Rico's offense. And, alas, there's just not a whole lot there in terms of impact. Lindor is a terrific hitter, but the help he would need to allow Puerto Rico to go toe-to-toe with Ohtani, Yoshida, Nootbaar, Yamakawa, Okamoto and Murakami just doesn't seem to be there.

Predicted Winner: Japan
Preview and Predictions for Championship Game
8 of 8
Manny Machado at the 2017 WBCAlex Trautwig/WBCI/MLB via Getty Images

March 21: Dominican Republic vs. Japan

Holy smokes, would this be a good matchup. And one that's frankly overdue for the final of the World Baseball Classic, as these are arguably the two most baseball-obsessed nations in the world.

Getting down to brass tacks, Japan is yet another team whose offense would stand to be overmatched against that of the Dominican Republic. Some names we haven't even mentioned are Jeremy Peña, Ketel Marte, Teoscar Hernández, Eloy Jiménez and Nelson Cruz. Rodney Linares, D.R.'s manager, will also have them at his disposal.

If it's a question of whether Japan has a hurler who could silence even a Murderer's Row of this magnitude, well, there is Ohtani. He was a better pitcher than he was a hitter last season, racking up a 2.33 ERA and 11.9 strikeouts per nine innings. And lest anyone doubt his ability to pitch under pressure, he's trafficked in closer-level dominance in high-leverage spots over the last two seasons.

It is, of course, presumptuous to assume that Ohtani would take the ball for Japan. And even then, would even the best player in the world be enough to shut down what looks like the best team in the world?

We think not, so congratulations in advance to the Dominican Republic on winning the World Baseball Classic for a second time.

Predicted Winner: Dominican Republic

---

Stats courtesy of Baseball Reference, FanGraphs and Baseball Savant.