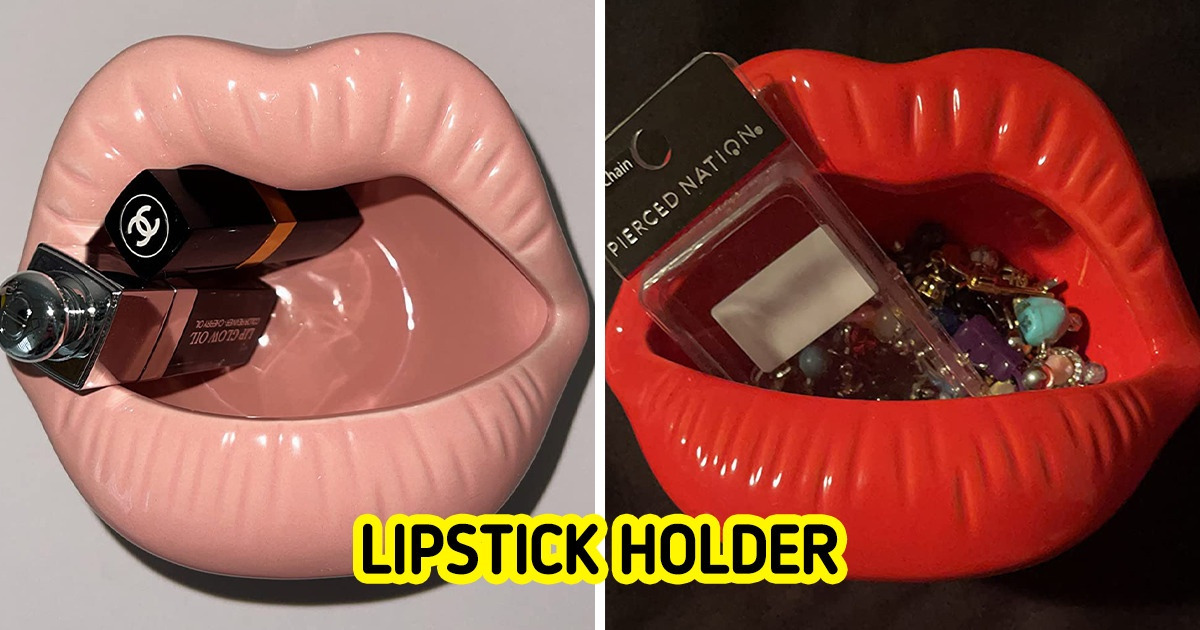 Lipstick used to be made with crushed gemstones. The ancient Sumerians were behind the idea and were possibly among the first to start using lipstick in the first place. A long time has passed, and different technology has taken a firm hold on the item. Modern lipsticks are created using beeswax or carnauba wax and oils (olive, mineral, petrolatum, and cocoa butter).
Nowadays, there are a lot of different things that have become part of our daily lives. Some are relatively new, and some have just changed with time. And we carefully selected the most interesting products that will, hopefully, make your self-care routine much more fun.
1. Store your cosmetics with great comfort in a double-layer case that will help keep your stuff neat and tidy. The surface of the bag is made of high-quality waterproof material, a feature that is a must if you take it on a trip. It's also very convenient to use due to the double zippers on each layer and the transparent top.
2. This Bastet cat set of 19 products includes a brush for every need. There are brushes for powder, foundation, blush, contour, highlight, concealer, shading, detail, eyebrow, eyeliner, and lip, 3 items for eyeshadow, 4 for blending, and a fan brush. These brushes are made of durable synthetic fiber and soft, silky nylon. They're suitable for the softest skin and are also vegan and cruelty-free.
3. This beautifully shaped holder is a perfect ceramic art piece. Put your makeup or jewelry in it or use it as a plant pot — that's your choice. It's a nice weight, not easily breakable, and easy to clean. It makes for the perfect present!
4. This makeup bag with a funny, corky joke makes an excellent, small yet useful gift. It has a durable handle and a sturdy zipper and is made of high-quality canvas. It also comes in a variety of fun designs.
5. This Lilo and Stitch plush makeup bag will impress you even if you've never seen the movie. It's very soft to the touch and can be used as a makeup bag or a pencil case. And the fluffy pom-pom zip pull is a nice bonus.
6. You can conveniently use this portable mirror with an adjustable stand anywhere. It doesn't take up much space and folds away quite nicely. The glass mirror reflects without distortion, and the faux leather on the frame looks very stylish.
7. Just by looking at these neon makeup tools, you can feel uplifted, and that's not even the best thing about them. The quality is also top-notch. The durable bristles are made of synthetic fiber. The package includes brushes for applying foundation, eyeshadow, powder, and eyebrow products, as well as for blending. The product is vegan and cruelty-free.
8. Treat your fingers to good nutrition. This cuticle oil with vitamin E, wheat germ, apricot kernel, aloe, and panthenol absorbs very quickly into the nails and cuticles and deeply hydrates them.
9. This is a cute box of trendy lipsticks. Each one has its own unique, delicious flavor, including Coca-Cola Classic, Coca-Cola Cherry, Coca-Cola Vanilla, Sprite, Fanta Orange, and Fanta Strawberry. These balms provide softening and smoothing effects. Different designs are also available.
10. Just "bee" happy with this compact yellow mirror. One side has normal magnification, and the other one has 2x magnification. It comes neatly gift-wrapped, so you can give it to somebody right away.
11. These patches can make your pimples disappear while leaving you looking super cute in the process. These stickers are suitable for all skin types and are waterproof and breathable. They can also reduce the urge to touch the blemish.
12. These crystal bath bombs are the perfect self-care product. If you or your loved ones are in urgent need of relaxation, pay attention to this set. It includes 3 kinds of aroma mixes in the form of beautiful stones: "relax," which smells like lavender and looks like amethyst; "energize," which smells like rose and is a perfect representation of quartz; and "balance," which has a jasmine scent and is a sapphire-looking bath bomb. The ingredients are simple and balanced, consisting of sea salt, cocoa butter, sunflower oil, shea butter, and essential oils. The product is completely organic, vegan, and non-toxic.
13. If you are looking for something more creative to put your makeup on with, this Nightmare Before Christmas makeup brush set might be a perfect choice. The good news is that it's also cruelty-free and vegan. The material of the brushes is synthetic hair.
Bright Side gets commissions for purchases made through the links in this post.
Bright Side/Shopping/You're Going to Love These 13 Products If You're a Cosmetics Fan