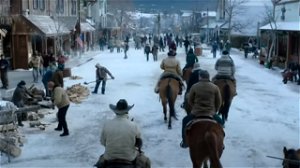 door Florian Callens
gepubliceerd op om •
3 min lezen

Ondanks de vele lovende kritieken en zeer goede kijkcijfers is er nu toch ook een klein puntje van kritiek opgedoken over The Last of Us. Kijkers hebben in de meest recente aflevering van de reeks namelijk een fout ontdekt in de montage. Zo kan je op een bepaald moment zeer duidelijke meerdere crewleden in beeld zien staan.
We overdrijven niet als we The Last of Us een van de beste series van het moment noemen. Week na week weet de HBO-reeks, die bij ons te zien is via Streamz, opnieuw te overtuigen met spannende verhaallijnen en indrukwekkende acteerprestaties van Pedro Pascal (Joel) en Bella Ramsey (Ellie).
Crewleden in beeld
Ook de meest recente aflevering, 'Kin', wordt opnieuw overladen met lovende kritieken. Maar toch is er in die aflevering een foutje geslopen. Ongeveer een kwartier ver in die aflevering zien we hoe Joel en Ellie in het verlaten en besneeuwde Wyoming een brug naderen die over een rivier gaat. Nadat ze gewaarschuwd waren over de de gevaren daar moet dat beeld een soort dreigende eenzaamheid oproepen.
Maar juist op dat moment kan je links in je beeld meerdere leden van de crew in beeld zien vlak naast de bomen. Op TikTok deelde ene Chase Osbourne het bewuste fragment. Meer specifiek kunnen we daarop twee groepen mensen zien staan omringd door apparatuur. Vermoedelijk zal HBO de fout snel aanpassen en de reeks opnieuw verspreiden zonder de fout.
Het is overigens niet de eerste keer dat HBO een opvallende fout maakt in de postproductie van de populaire reeks. Zo is er de beruchte Starbucks-beker die in het laatste seizoen van Game of Thrones in beeld was.
Bekijk de bewuste scène uit The Last of Us hier:
@domineo32 The Last of Us : Season 1, Episode 6. About 15 minutes in. They might have accidentally left a few of the film crew in the shot. #thelastofus #hbomax #filmcrew #accident ♬ The Last of Us Theme – Epic Version – L'Orchestra Cinematique
The Last of Us krijgt iedere maandag een nieuwe aflevering op Streamz.