Such a study must be set up by both levels of government agreeing together to let the experts do their work.
Published Feb 24, 2023  •  Last updated 1 hour ago  •  3 minute read
Join the conversation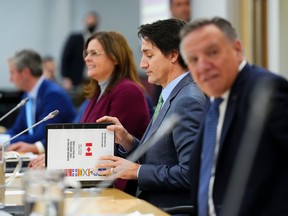 Canadian's attachment to our system of universal health care borders on the religious. It's tightly woven in our country's identity, and any attempt to threaten it is quickly met with the ire of Canadians.
REGISTER TO UNLOCK MORE ARTICLES
Create an account or sign in to continue with your reading experience.
Access articles from across Canada with one account
Share your thoughts and join the conversation in the comments
Enjoy additional articles per month
Get email updates from your favourite authors
Our approach has been lauded for its egalitarianism. All Canadians, including landed residents, regardless of the size of their wallets, are entitled to "free" medical services.
Sign up to receive daily headline news from Ottawa Citizen, a division of Postmedia Network Inc.
By clicking on the sign up button you consent to receive the above newsletter from Postmedia Network Inc. You may unsubscribe any time by clicking on the unsubscribe link at the bottom of our emails or any newsletter. Postmedia Network Inc. | 365 Bloor Street East, Toronto, Ontario, M4W 3L4 | 416-383-2300
Indeed, the foundation of our health-care system has been rock-solid for so long. But, if we are to be honest and concerned about its sustainability, we must admit that the ground has been shifting for some time. The foundation is weakening. Serious cracks are showing. As well, we now languish behind other countries when it comes to health innovation and efficiencies. Canada is no longer "best in class," if we ever were.
We are all too aware of our problems, from a chronic shortage of doctors, to congested emergency wards, to spiralling drug costs. The COVID-19 pandemic also revealed severe limitations and troublesome pressure points, notwithstanding the incredible efforts of our front-line health workers.
There is no denying that our health-care system is sick. That is precisely why the first ministers met recently. The prime minister tabled a new funding proposal, but most premiers dismissed it as not enough. Then, they predictably accepted the offer. They weren't about to leave $46 billion of new monies on the table. Some premiers framed it as a down payment.
Yet, how confident are most Canadians about this solution? Not very. Especially as we watch the constant financial haggling between politicians, as if that is the only issue that impacts the quality of health care.
I believe we should establish a joint federal-provincial commission to tackle all the issues that plague our health system. Have the first ministers meet again soon to agree on its membership and mandate, then hands off until the report is issued.
Yes, I know what you're thinking: not another commission! But despite past examinations such as the Hall, Romanow and Kirby reports, we are still facing a health-care crisis.
I get it. But we must face reality.
First, the landscape has changed dramatically since the Hall Commission 62 years ago. Second, the system has significantly deteriorated. Third, governments are not working together enough. And finally, if our national studies are only mandated by the feds, they will naturally be heavily focused on funding formulas, without a detailed examination of health-care management issues, which is provincial jurisdiction. It is indispensable that we address and resolve both. Otherwise, it's back to the future.
The examination must therefore be a holistic diagnosis. It also means that we should not protect any "sacred cows" before the first meeting is gavelled to order, something the previous investigations failed to do. Let's put all the issues on the table, just as other countries like Spain, France, Switzerland and Singapore have done, when it comes to a two-tier health system, for example. In those jurisdictions, people are not jumping the queue, as much as they are jumping out of the public queue.
By definition, commissions are independent of government, and have broad powers to hold public hearings, call witnesses under oath, and compel evidence. This is the very medicine we require. The discourse must go beyond the politicos and their fractured narrative.
That is why summoning our best health-care minds would be well worth the effort. Launching this joint initiative won't be easy, but I believe it would be the appropriate course of action. After all, a meaningful health fix requires more than one day's work by our first ministers. It requires substantive reform, not a 30- second sound byte. And it requires a long-term solution, not a mere political Band-Aid.
Grant these experts the time and space to do their work properly. Then, have them inspire our political leaders — federal and provincial — and Canadians, to usher in a vastly better, more robust health system that will serve our needs for many years to come.
Hon. Sergio Marchi served as an MP, cabinet minister and ambassador.
MacDougall: Liberals behaving stupidly over China's electoral meddling

Gurski: Who will decide what constitutes a national security threat in Canada?