A new surgery plan from the province would begin with an expansion of cataract surgeries by 14,000 a year in Ottawa, Windsor and Kitchener
Published Jan 17, 2023  •  3 minute read
Join the conversation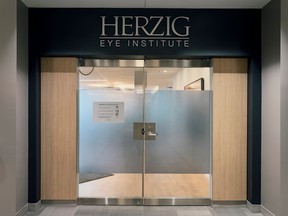 A private eye clinic in Ottawa says it has been awarded a licence by the province to perform an additional 5,000 cataract surgeries a year.
The news from Herzig Eye Institute came a day after Ontario Premier Doug Ford and Health Minister Sylvia Jones announced a plan to increase surgeries at private clinics in an effort to reduce backlogs that have grown during the pandemic.
Sign up to receive daily headline news from Ottawa Citizen, a division of Postmedia Network Inc.
By clicking on the sign up button you consent to receive the above newsletter from Postmedia Network Inc. You may unsubscribe any time by clicking on the unsubscribe link at the bottom of our emails or any newsletter. Postmedia Network Inc. | 365 Bloor Street East, Toronto, Ontario, M4W 3L4 | 416-383-2300
Ford and Jones said their three-step plan would begin with an expansion of cataract surgeries by 14,000 a year in Ottawa, Windsor and Kitchener. By 2024, they said, hip- and knee-replacement surgeries would be performed in clinics outside of hospitals. Cataract surgeries and other treatment and diagnostic procedures have long been performed outside of hospitals in Ontario, some at private clinics, but hip- and knee-replacements have not.
Provincial officials provided no other details about where the cataract surgery expansion would take place and which clinics would be involved. But Herzig issued a press release Tuesday morning saying it is part of the expansion of cataract surgeries.
"We are absolutely thrilled that the Ford government has recognized the severity of surgical backlogs for cataracts and has acted to address them. We at Herzig Eye Institute are extremely proud to be part of the solution," said the organization's CEO Cherry Tabb in the release.
Herzig operates two locations, in Ottawa and Toronto.
A representative of another private Ottawa eye clinic said this week they were in discussions with the province but couldn't say anything yet.
Ford said Monday that the expansion of cataract surgeries by 14,000 a year represents up to 25 per cent of the province's current waiting list.
Cataract surgery is among the most common surgical procedures in Canada. In Ontario, around 150,000 cataract surgeries are performed every year.
Across Ontario, about 87 per cent of patients get their first appointment within the target wait time, but only 73 per cent are within target wait times for surgery once they decide to go ahead, according to Ontario Health figures from November.
The Ottawa Hospital says more than half of all patients waiting for cataract surgery get the procedure within three months, which is within the provincial target of six months. Around nine out of 10 patients get their surgery within six months, according to information on The Ottawa Hospital's website. A "small number" may wait longer, the hospital said.
The hospital notes that waits are longer for some surgeons than others.
According to the hospital website, patients of Dr. Kashif Baig, a cornea, anterior segment and refractive surgeon who provides tertiary-level care at the University of Ottawa Eye Institute, have the longest wait times, possibly because he treats more complex cases. His patients can wait up to 1,402 days.
Baig is also medical director at Herzig Eye Institute Ottawa, which says it is part of the cataract surgery expansion.
In a statement, he thanked Ford and Jones for "allowing me and my colleagues to do what we were trained to do… restore vision in a timely way. "
The provincial announcement about expanded surgeries has been met with criticism from some other groups, including the Registered Nurses Association of Ontario, which said broadening the scope of for-profit facilities in Ontario's health-care system will "worsen wait times and expand a two-tier system where most Ontarians will lose."
Critics fear it will pull health workers away from the public system and that more patients will be exposed "upselling" of private services. In 2021, the auditor general reported that there is no provincial oversight to control the practice.
But many hospital CEOs, including in Ottawa, and health organizations have endorsed the plan.
Ontario announces 'bold' plan to expand private surgeries amid mounting concerns

Viral outbreak stabilized but CHEO still faces high demand for mental health services