Published Jan 19, 2023  •  4 minute read
Join the conversation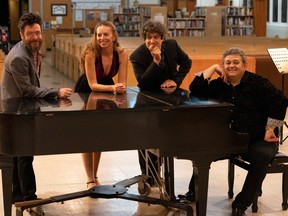 Silent Tears: The Last Yiddish Tango
Featuring the Payadoro Tango Ensemble with Lenka Lichtenberg
When & where: 7:30 p.m. Jan. 24, Fourth Stage, National Arts Centre
Tickets: ticketmaster.ca
From joyful love songs to mournful laments, the depth of emotion conveyed through music represents a vast range of human experience.
Sign up to receive daily headline news from Ottawa Citizen, a division of Postmedia Network Inc.
By clicking on the sign up button you consent to receive the above newsletter from Postmedia Network Inc. You may unsubscribe any time by clicking on the unsubscribe link at the bottom of our emails or any newsletter. Postmedia Network Inc. | 365 Bloor Street East, Toronto, Ontario, M4W 3L4 | 416-383-2300
But when it comes to depicting the long-term trauma of Holocaust survivors in a musical form, the challenge is formidable, says Dan Rosenberg, the executive producer of Silent Tears: The Last Yiddish Tango, a recent album of original songs based on the stories of Canadian women who survived the Holocaust.
"The emotions we're dealing with in this material are rarely sung about," said the Toronto-based producer, who brings the project to Ottawa next week for its first in-person public performance (Jan. 24 at the National Arts Centre's Fourth Stage). "When I listen to what the musicians and singers did to get these types of emotions into song, it's extremely powerful. It's hard not to be overcome with emotion."
To paint an emotional landscape of unimaginable loss and pain, Rosenberg turned to Toronto's Payadoro Tango Ensemble, a world-class contemporary chamber-music ensemble that specializes in Argentinian/Uruguayan tango, as well as folk music and original compositions inspired by that tradition. In the recording studio, the group was joined by four talented singers: Aviva Chernick, Lenka Lichtenberg, Olga Mieleszczuk and Marta Kosiorek (but just Lichtenberg is singing in next week's concert.)
Rosenberg was compelled to take on Silent Tears following the success of Yiddish Glory: The Lost Songs of World War II, an album of songs written during the Holocaust and all but lost until they were discovered and resurrected by Anna Shternshis, a professor of Yiddish studies at the University of Toronto. It was Rosenberg's job to help assemble the band and vocalists for that project, which was nominated for a Grammy Award in 2019 (check year).
After a Yiddish Glory concert, Rosenberg was approached by another U of T professor, gerontologist Dr. Paula David, who led a poetry project at Baycrest Centre, Canada's largest Jewish retirement home. Her research showed that elderly victims of PTSD had vivid memories of wartime trauma decades later, even when they developed cognitive issues and couldn't remember their grandchildren's names.
"We think of Holocaust education as a way to teach people what happens because of state-sponsored bigotry and xenophobia but I don't think enough attention is paid to the work that people like Dr. David are doing about the horrible suffering that goes on decades later," Rosenberg said. "So we wanted to tell the story of what women went through back then, and how it affects them later in life."
Three songs are based on the poetry written by the elders in Dr. David's care, while five more are based on the incredible story of Molly Applebaum, the 92-year-old Toronto woman who survived the Nazi occupation of Poland hidden in a box that was buried on the property of a family acquaintance. She was 12 when she and a cousin were confined underground. As detailed in Applebaum's diary, published in 2017 as part of her memoir, Buried Tears, the two girls spent the next two years there, let out once a day to perform bodily functions.
On the album, the Molly-inspired songs include Sabina's Letter: Some of Us Must Survive, based on a letter from Molly's best friend that urges her to do whatever she must to survive; Prayer for Rescue, a piece that shows she hasn't lost her faith despite the circumstances; and two songs that illustrate the horrific conditions – Bitter Winter and Don't Let Us Starve.
Meanwhile, the songs that evolved from the elders' poetry project include The Numbers on My Arm and Victim of Mengele, which deals with the lasting effects of sexual violence, forced sterilization and human experimentation. While most of the lyrics are Yiddish, the sentiment is clear in the haunting minor-key melodies played by the members of Payadoro. One of them, violinist Rebekah Wolkstein, also composed the music on four songs.
As for the decision to use tango – a form of dance music – to frame the difficult emotions, Rosenberg says they wanted to shine a light on the South American genre that sparked a worldwide dance craze in the 1920s and 30s, and was embraced by Jews.
"Poland was the capital of tango in Europe," observes Rosenberg. "It was all the rage at the time. Thousands of records were made and most of the composers were Jewish so part of (this project) was that we wanted to pay tribute to a genre that was essentially lost."
In the end, at a time when hate crimes, ranging from the war in Ukraine to the discovery of a swastika at an Ottawa high school, are showing up in our daily news feed, Rosenberg says the project offers an important reminder of the consequences.
"We're very sadly at a time when there are fewer and fewer survivors left to tell their stories," he said. "My kids are teenagers and they're probably among the last generation that will get to hear from survivors first hand. For the generations after that, it's going to be left to reading books or hearing something like this, a music project, to be able to share what happened, not just at that time, but also the long-term consequences.
"This project is a reminder of what happened, and a warning of what can happen if this hate is allowed to spread."
lsaxberg@postmedia.com