A GoFundMe campaign has been created for Shane Holley, who has had inflammatory bowel disease since he was 19, with cycles of remission and flare-ups
Published Jan 15, 2023  •  Last updated 4 hours ago  •  3 minute read
Join the conversation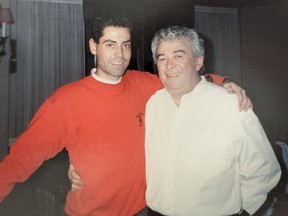 Shane Holley was a student at D. Roy Kennedy Elementary School more than 30 years ago when he first met Ottawa's storied television anchor and fundraiser Max Keeping.
Without so much as an appointment, the Grade 8 student marched into the CJOH-TV building on Merivale Road and asked for an interview for a school assignment about local heroes, recalls Holley's wife, Emily Cameron.
Sign up to receive daily headline news from Ottawa Citizen, a division of Postmedia Network Inc.
By clicking on the sign up button you consent to receive the above newsletter from Postmedia Network Inc. You may unsubscribe any time by clicking on the unsubscribe link at the bottom of our emails or any newsletter. Postmedia Network Inc. | 365 Bloor Street East, Toronto, Ontario, M4W 3L4 | 416-383-2300
Keeping, who spent years as the anchor of the suppertime news on CJOH-TV, which later became CTV Ottawa, was intrigued upon hearing from a security guard that there was a child who wanted to talk to him, so he went downstairs to do the interview.
Holley, 45, was eventually the third of five boys who became Keeping's adopted sons. He was by Keeping's side as the local legend grappled with a series of cancer diagnoses. Keeping died on Oct. 1, 2015, at the age of 73.
Now it's Holley who needs help, said Dan Champagne, a retired CHEO Foundation vice president and old friend of Keeping's.
Holley has had inflammatory bowel disease since he was 19, with cycles of remission and flare-ups, said his wife.
The couple has lived in the Kingston area since 2017. After a flare-up, Holley underwent surgery for ulcerative colitis in July at the Kingston General Hospital to improve his quality of life.
He was supposed to be in hospital for four to six months but had a second surgery and a series of complications, three bouts of sepsis, and COVID.
On several occasions, it appeared he might not survive, said Cameron. Holley is now in a medically induced coma.
Over the weekend, Champagne posted a GoFundMe campaign to help Holley and Cameron, who met as young students at Woodroffe High School.
"Everyone is just a few paycheques away from being in trouble," said Champagne. "There has been an inordinate amount of stress."
Cameron has been juggling work with being at the hospital and Holley's income comes from long-term sick benefits.
Things were looking up in December. Holley was discharged to the hospital rehabilitation centre because he would have to relearn how to walk after all the time he had spent in a bed. But his condition deteriorated and he had to return to the hospital, said Cameron.
"I thought he was on the mend. Then it got worse. It was so disappointing and frustrating for him."
While Holley was able to speak, he often reminded visitors of Keeping's motto: "Live life to the max," urging them to go out and have fun, said Cameron.
Keeping, a Newfoundland native who started in the news business at the age of 16, was a household name in Ottawa for decades, presiding over the city's most-watched newscast and making hundreds of appearances every year for service and community groups, schools and charities.
By one count, Keeping helped raise $100 million for local charities. CHEO named a wing after Keeping, and he was awarded the Order of Canada.
Keeping trimmed his appearance schedule back to 200 events a year only after prostate cancer surgery in 2003. He signed off the air after 38 years in 2010.
Two years later, in 2012, Keeping was diagnosed with colorectal cancer. He was diagnosed with inoperable lung cancer in March 2014 and with a brain tumour the following month.
Cameron said her husband was by Keeping's side for the last two years of his life.
"He didn't work. He took care of Max."
Champagne, who spent 25 years working with Keeping as the general sales manager at the news station, said Keeping was an example of selflessness, always ready to chip in.
Keeping referred to his five adopted sons — Shane, George, Ted, Josh and Abby  — as his "family of choice," said Champagne.
"Max used to say 'When you adopt, you get to choose your family.'"
Obituary: Max Keeping was Ottawa's 'close and comfortable' news anchor

Egan: The many families of singular Max say goodbye