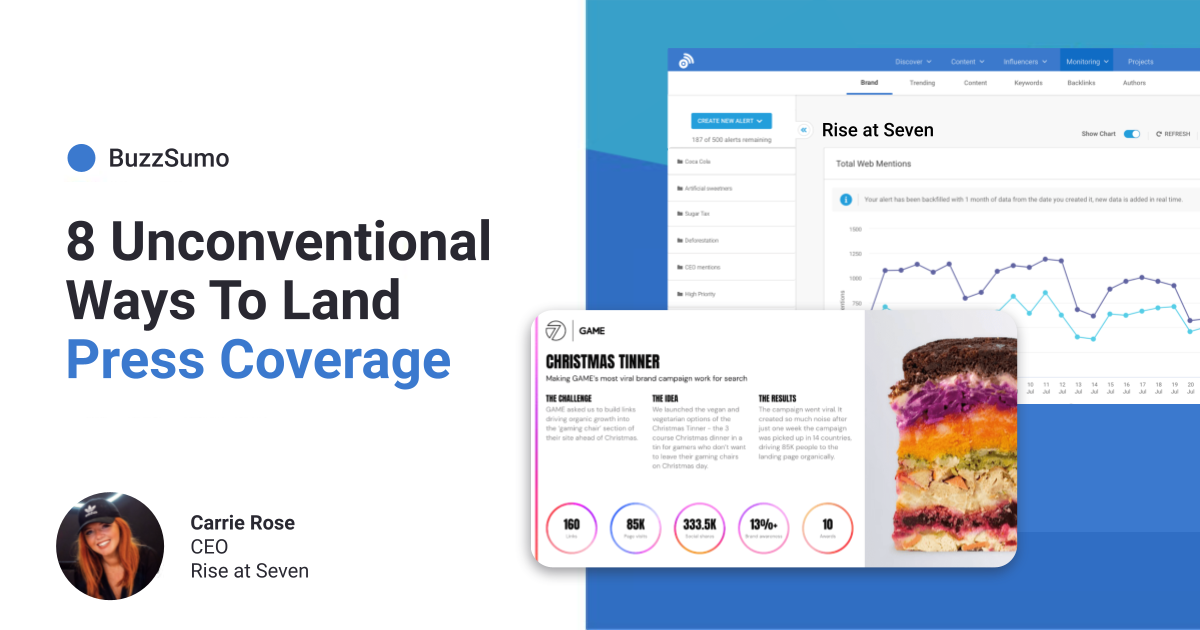 It's no secret that securing coverage for clients is getting harder and harder.
It can be a mission to get attention from journalists when they get an average of 600 emails a day!  
Having a story or news angle that cuts through is the holy grail to landing coverage quickly, so how do we do it?
As well as working in a fast-paced reactive newsjacking style, (like our Rise Live offering), getting media coverage now requires thinking out of the box.
To reach journalists and deliver results, here are some unconventional ways to secure coverage:
Community marketing: Find out where your customers hang, and seed your story there
Paid ads to target journalists
React instantly to breaking news 
Create trending assets 
Pitch the results of Twitter polls 
Customer behavior insights
The "Hunt": Identify an audience ambassador 
The publicity "Stunt"
1. Community marketing: Find out where your customers hang, and seed your story there
Knowing where customers hang is one of the most important things in marketing. But also knowing where journalists get their stories is just as valuable too.
We spoke to gaming journalists for our client GAME, to understand where they get their breaking news stories and viral content from most of the time. There was a common denominator. Reddit.
Gamers specifically head to Reddit for latest releases, gaming gossip, news, and launches. Because of that, journalists head there to be in the know and get the stories faster than anyone else.
As journalists' emails are swamped by gaming launch after gaming launch during the Christmas period, we had to find a way to get the cut through at one of the busiest and competitive times of the year.
So, instead of sending a release to national press journalists, we seeded the story via Reddit.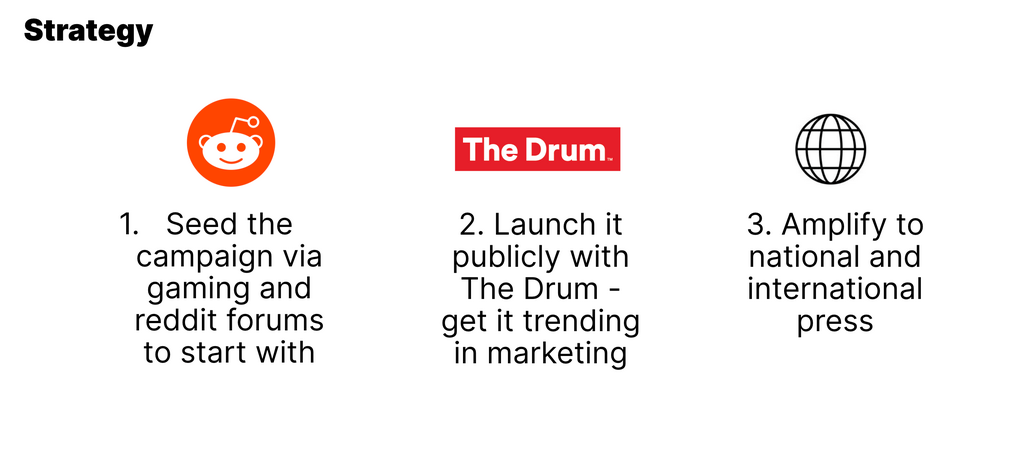 We created several gamer Reddit profiles, and engaged with gaming news for several weeks to build trust in the community before we promoted our own story.
We got it trending on the most influential social platform, where our customers hang, and where journalists get their updates.
We then sent it to the marketing press and the communities did the rest for us.
The results were incredible. This reduced the outreach time needed and the story got picked up naturally.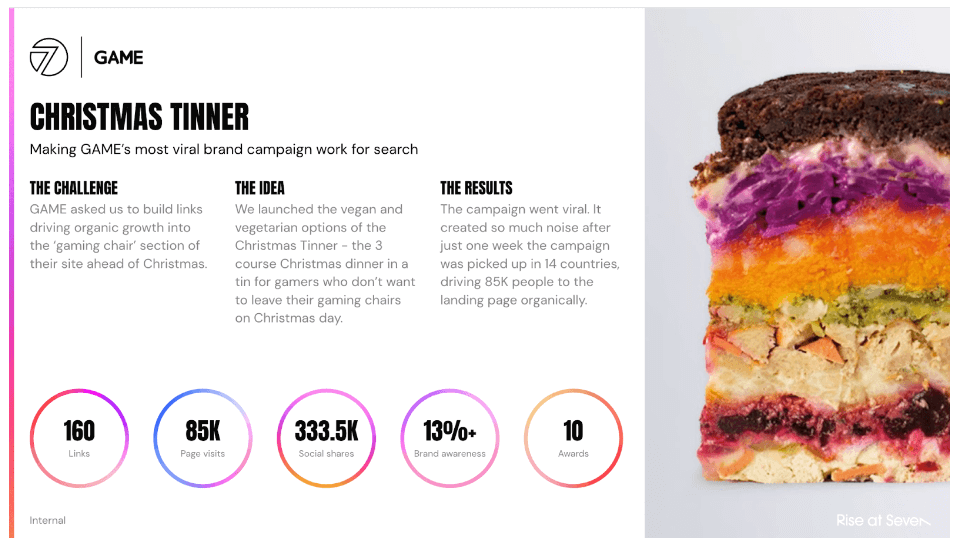 2. Paid ads to target journalists
We don't just use paid ads to drive campaigns and content engagement, but to actually get journalists to see the story in the first place.
For example, we launched a gaming influencer campaign for Game and Xbox.
Some journalists receive up to 600 emails on average per day, and to cut through the noise, we decided to move away from emails and over to social.
We used paid social targeting to get our story in front of journalists at the biggest most influential media platforms in the world.
By advertising the campaign launch, and encouraging form fills, we got journalists to come to us instead.
We used targeted social ads on Facebook and Instagram to place the campaign in front of gaming and tech writers.
Those interested in the story would share their details with us to receive the press release.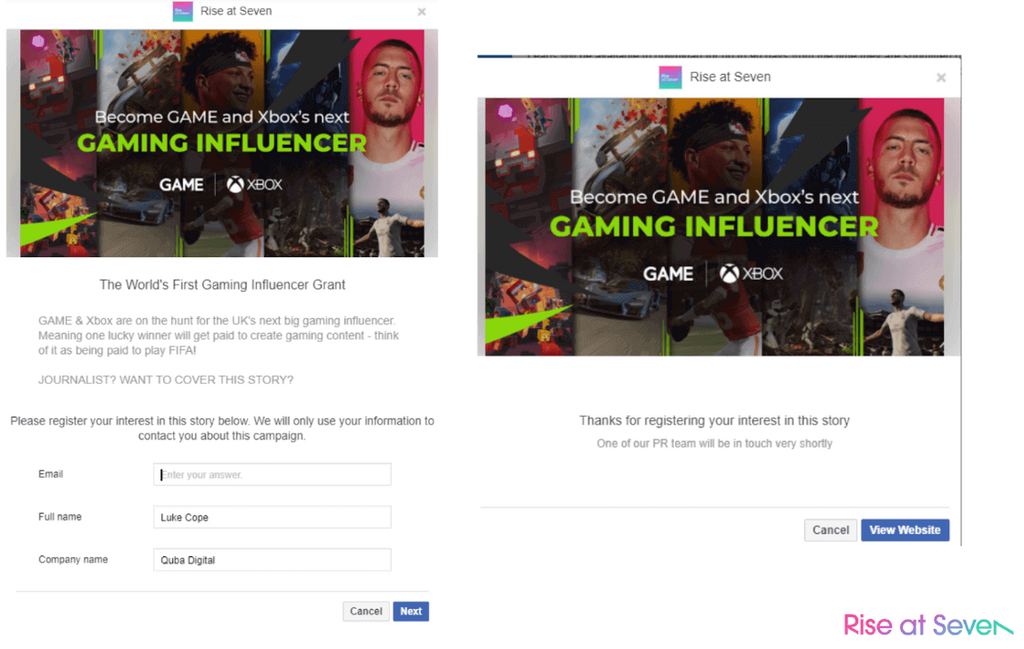 It captured Fox News and CNN, and resulted in over 30 placements via the biggest media outlets we could imagine.
Oh, and it earned a cool 1.4m social impressions too.
3. React instantly to breaking news
Journalists want relevancy, data, resources, and information. But they also want creativity.
They are KPId on speed, traffic, shares, and time on page, and to achieve big results in all those areas, you have to be creative.
Being reactive to big media moments is key for this.
Using BuzzSumo, you can track big media and trending moments across every industry, and comment on break out stories that have been published as little as 15 minutes ago.
If we look at trending stories in Tech in the last 24 hours, we can see news on Elon Musk buying Twitter and making those blue tick profilers pay, as well as Instagram suffering an outage.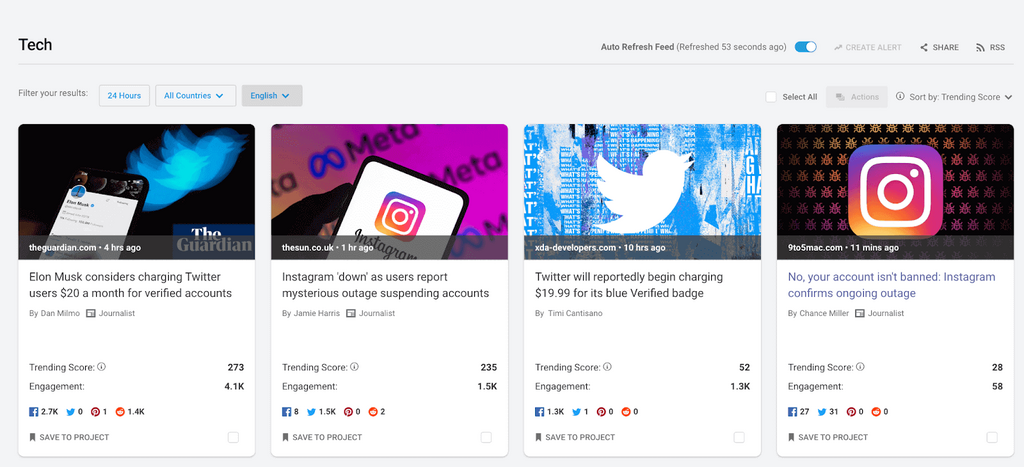 By looking at not only tech news, but celebrity, health, finance, fashion, beauty – and even food – we are able to react to the media's biggest moments of the day, and make sure our clients benefit.
One of the most recent examples is around Lurpak butter.
Using BuzzSumo, we spotted Lurpak butter trending. It was the story of the day – why?
Because a pack of Lurpak skyrocketed as a result of the cost of living crisis, making it £9 in some stores! 
As you can imagine, It caused media carnage.
And because we were the first to know about it, we reacted.
Our grocery delivery client, Getir, responded to the news by giving away a free pack of Lurpak butter, to help customers out during the cost of living crisis.
As a result, 28K people downloaded the app to redeem the deal, it landed in 27 national media, and reached 281m people.
Oh, and people spent more money with Getir!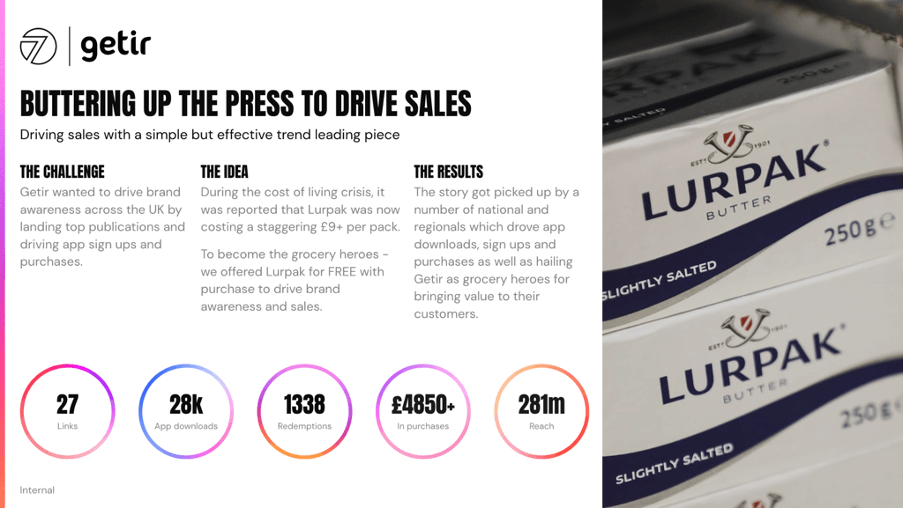 Typically, press coverage can take days or weeks to secure. With BuzzSumo's Trending Feed, this whole piece took just 2 hours to deliver.
While newsjacking isn't necessarily an "unconventional" way to land press coverage, reacting instantly to breaking news is.
4. Create trending assets
Journalists always need assets to go with their stories; images, videos, data, and case studies alike.
Creating assets on the cusp of popularity is a great way to create a bank of unique content journalists will want to use (and credit you for).
For example, say you have a food client: Mushroom coffee has been a popular new alternative to coffee over the last few years but has seen a huge 125% uplift in search:
When you Google "mushroom coffee", there's a limited selection of images in the search results.
If you had a food client that either sells or can talk about mushroom coffee, you could create a bank of original lifestyle images that journalists could use.
The selection of images will need to have a mix of branded and generic options they could choose from in high res.
That way, you can secure coverage and links by creating popular assets they'll need.
The same can be said for video content, gifs, niche stats, and search volume data.
The main goal is to be the first to produce these assets first, and get ahead of the curve.
5. Pitch the results of Twitter polls
Yes we are going there. Twitter polls can get you coverage.
If you/your client has a significant Twitter following, creating quick, reactive Twitter polls/call outs are a great way to collate audience data.
We did this with Missguided around chat up lines and used our audience responses to land coverage.
6. Customer behavior insights
Website, search, and engagement behavior is a fantastic way to gather data that aligns with topical trends.
How much do you want to bet that searches and sales for lettuce skyrocketed during the Liz Truss era?
Social media engagement alone shot up by 6.5K% from the start of the year, according to BuzzSumo's Content Analysis Report.
Looking at what your audience are doing and searching for provides key insights that may interest journalists.
What products are flying off the virtual shelves?
What are the emerging queries coming from customers?
What searches have peaked during a particular period or season?
What topics are your customers engaging with?
Not only will this data provide interesting insights, it will position you/your client as an expert in the industry.
After all, you're reporting on live customer data. Case in point for one of our clients Paymentsense.
They analyzed card transaction data between March and September in 2020, and discovered where the use of contactless had increased the most in cities across the UK.
This revealed which UK cities were on their way to a cashless future, and landed Paymentsense a healthy amount of media coverage.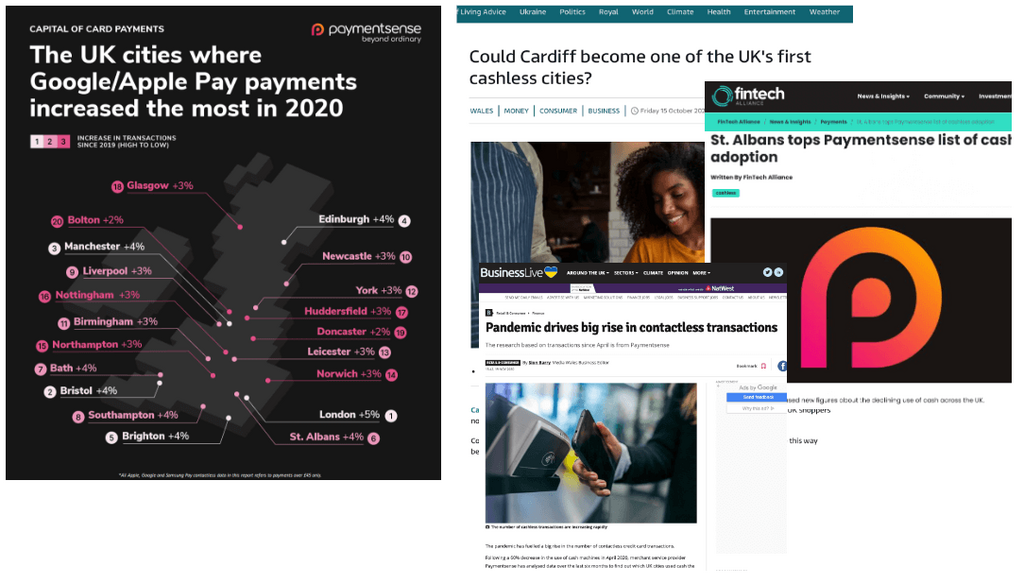 7. The "Hunt": Identify an audience ambassador
Working with clients to find an ambassador, model, content creator, or employee is a wonderful way for audiences to be part of a PR story.
As long as what we call the "hunt" is done in an authentic, transparent, and ethical way, it's a great news angle that will pique journalists' interests; particularly if they think the "hunt" will be of interest to their readers.
One of our most successful campaigns using this method was with Cath Kidston and the "next dog model" search: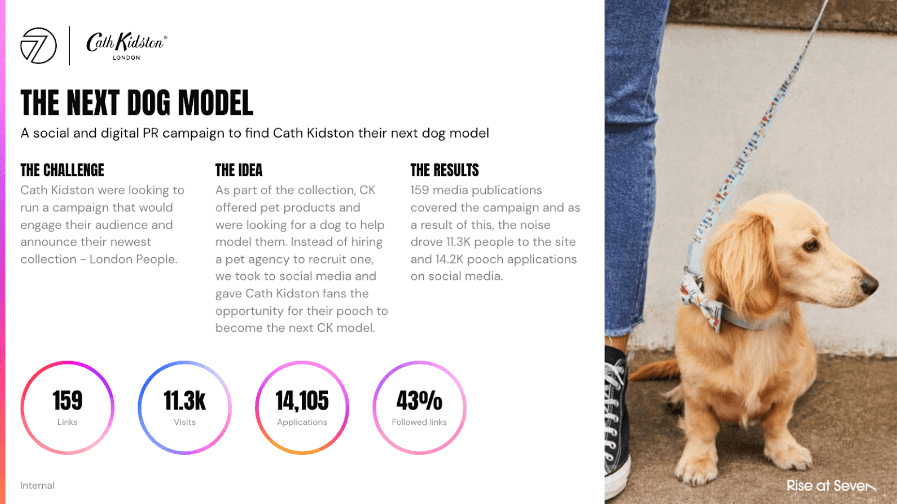 8. The publicity "Stunt"
Stunts aren't exactly everyday campaigns we would do for every client.
They take a lot of planning, logistics, research and, of course, budget.
But the payoff for stunts is that they make a lot of noise and generate coverage.
At Rise, we love to get our clients to step out of their comfort zones and be bold.
It's the only way they can cut through the noise against competitors in saturated spaces.
Stunts can be anything from a limited edition product, service, or flash mob, to a hotel room or event.
For optimum relevance, they should piggyback a trending topic, season, or news story, while being emotive, relatable, or fun!
Our campaign with Taylor and Hart, based on the Haribo ring, is a case in point.