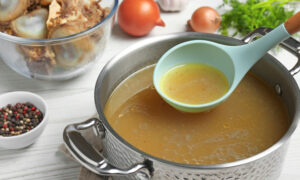 The love that nutritionist Jill Sheppard Davenport has for the ancient, savory chicken topper "Mole Negro Wisdom Sauce" grew from a cultural experience that emphasized the deliciousness of health-promoting and healing foods based on broths. 
Davenport lived as a student for a year in Oaxaca, Mexico, with a family in which the woman of the household was a brilliant chef, as was her mother.
"They published a cookbook about the most amazing Mexican, Oaxacan recipes, and so I experienced this absolutely magical sauce Mole Negro ('black mole')," Davenport told The Epoch Times. "It's a sauce that can be used on everything–grains, veggies, meat dishes, everything— and it's spicy and it's chocolaty. It's got some chocolate in there, but not like our sweet candy chocolate, like good, earthy chocolate." 
The recipe for "Mole Negro Wisdom Sauce" has five cups of broth and enough spices, nuts, seeds, fruit, and vegetables to make up 28 health-promoting nutrients that are listed in a chart in the new cookbook "Better Broths & Healing Tonics" that Davenport co-authored with naturopathic doctor and functional medicine expert Dr. Kara N. Fitzgerald.
"Better Broths & Healing Tonics," promoted as a "food-as-medicine" cookbook, offers "75 bone broth and vegetarian broth-based recipes for everyone." The recipe development team tested over 900 broth recipe combinations to determine the flavors that work best.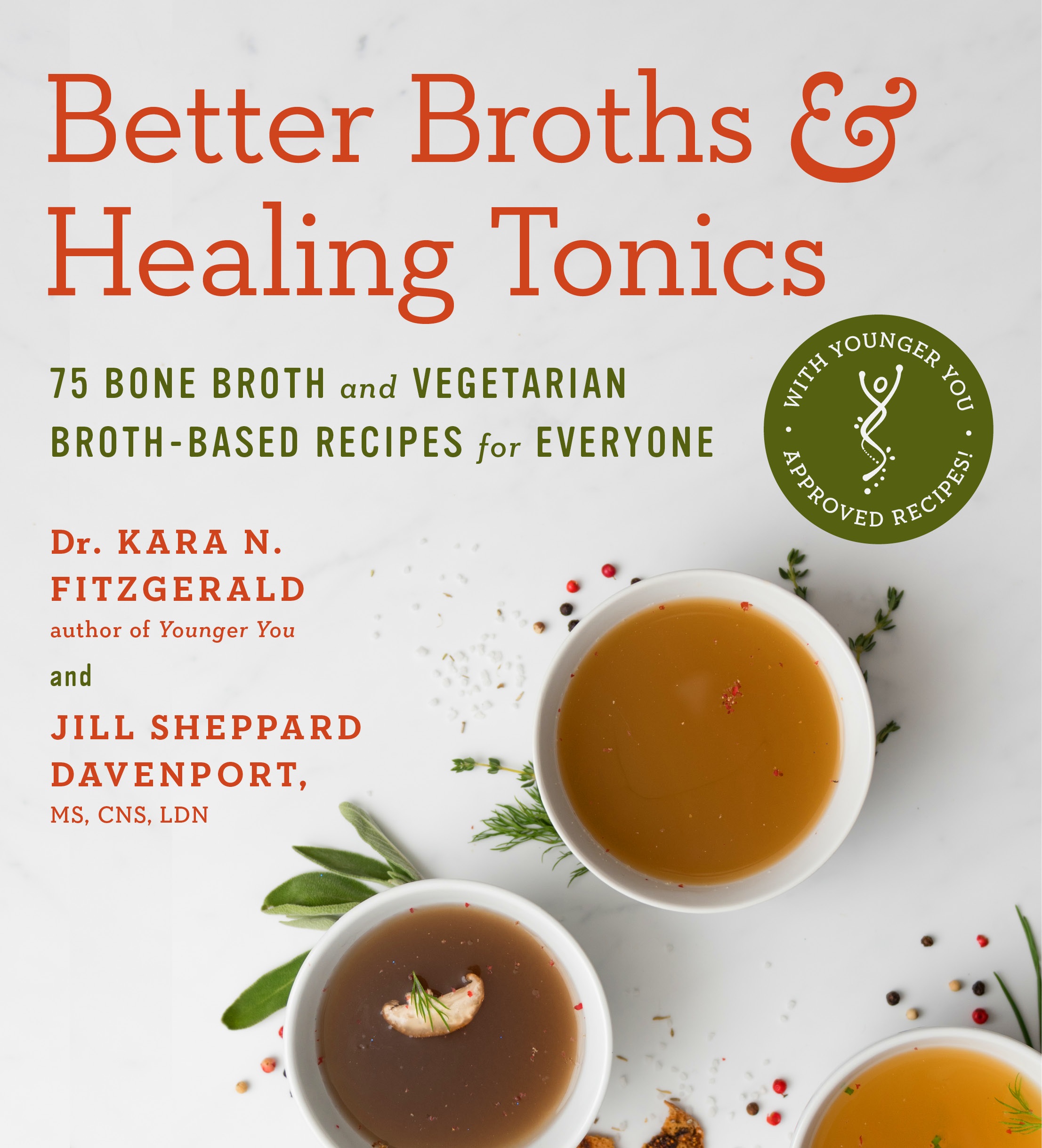 In the cookbook, Fitzgerald described broths as "versatile, delicious, medicinal, and nourishing for body and soul." The broths, tonics, and meals can be built together for individual health needs and goals.
Fitzgerald and Davenport wanted to ensure that the recipe for "Mole Negro Wisdom Sauce"—which among several benefits includes ingredients that promote anti-inflammatory, gut health, pain relief, cardiovascular health, and more—was included in a gluten-free form "so that it could be accessible for everybody who can't eat gluten as well," Davenport said.
"So, this absolutely delicious sauce, now I know … is one of the healthiest kinds of toppers out there, in terms of providing health benefits," Davenport told The Epoch Times.
Bone Broth Benefits
Naturally high in the protein known as collagen, bone broth is a clear soup cooked from animal bones with connective tissue and some meat, the Food Network states.
"Better Broths" lists some benefits of bone broth and collagen, including that the food has several minerals such as potassium, chromium, molybdenum, selenium, and magnesium. Bone broth and collagen are anti-inflammatory and have connective tissue- and bone-building nutrients, such as minerals, glucosamine, chondroitin, and amino acids.
Bone broth has "immune system-supporting amino acids such as arginine, which helps protect against infection." Broth helps address insomnia and sleep because it contains glycine, which "balances blood sugar by improving insulin sensitivity."
This is important for sleep because stable glucose levels guard against nighttime waking by keeping what is known as the 'cortisol awakening response' at bay, the authors said in the cookbook. Glycine is also calming to the central nervous system, making broth a great choice for improving mood.
Glycine is one of three amino acids making up the antioxidant glutathione that is anti-cancer and supports longevity, in addition to having detoxification and anti-inflammatory properties. The glycosaminoglycan polysaccharides (little carbohydrates) in bone broth helps repair joint tissue and gut lining.
"It's really excellent for gut health," Davenport told The Epoch Times about her favorite benefit of bone broth. "All the benefits are great, depending upon what's going on for somebody, and of course, we would use bone broth as part of an overall food-as-medicine approach, so one thing among others. … It's super easily digestible. It's just this wonderful way to transfer nutrients to your gut and to your body."
Bio Age Reversal
"Better Broths" is designed to be used by everyone, even though it is a companion cookbook to Fitzgerald's "Younger You" program. 
Younger You shows participants how to use nutrition and lifestyle to drive away the diseases of aging and shave three years from biological age (how old the cells and tissues are). 
Fitzgerald, author of "Younger You: Reduce Your Bio Age and Live Longer, Better," conducted a clinical trial that found that food and lifestyle practices can positively influence genetic expression (a process that allows a cell to respond to its changing environment, according to your genome), lowering biological age.
Recipes in "Better Broths" include "Younger You" spotlights that point out which ingredients are "epi-nutrients," which help turn on processes that benefit health and lifespan. 
The "Mole Negro Wisdom Sauce" recipe, for example, includes the "Younger You" spotlight ingredient cocoa which has nutrients that make it beneficial for health, such as being anti-inflammatory and an antioxidant as well as being good for blood pressure, blood sugar, cardiovascular health, cholesterol, and longevity.
"[The] special thing about [Better Broths] is that we point out all these wonderful epi-nutrients, qualities in the ingredients that we steep into all of the broths and recipes that are just so helpful for genetic expression and helping someone's current and future health improve and kind of be their healthiest self," Davenport told The Epoch Times. "That piece really came out of all of Dr. Fitzgerald's focus on her 'Younger You' program project and the scientific study that supported how we can use epi-nutrients to actually turn back our biological clock."
Back From Square One
As a naturopathic doctor who promotes self-healing mechanisms, Fitzgerald "brought the healing broths tradition" with her when she started her functional medicine clinic in Newtown, Connecticut, she said in "Better Broths." Broths are part of the nutrition prescription at the clinic.
But the nutritional value of bone broth was questioned a few years ago when Fitzgerald and Davenport attended a nutrition conference. A concern was posed at the conference about the potential for bone broth to contain toxic metals such as lead, because lead deposits in bone, displacing calcium.
Fitzgerald and Davenport launched a study to see whether bones harbor toxins.
"The 19 toxic metals we tested, including lead, all were nonexistent or just far below our concern threshold based on an extensive analysis of scientific standards," Davenport said. "So, coming out of that… we kind of assuaged our concerns, and … that was part of the origin story for the thrust of this project."
Old-fashioned bone broth is being accepted as mainstream, part of an overall trend of people trying to make healthier choices that work, Davenport said.
"And bone broth is pretty darn convenient, as we show in the book, you can use it in all sorts of ways," said Davenport. We can use broth as a useful delivery mechanism, and deliver food as medicine by transforming all kinds of meals into nutritional and healing powerhouses, she mentioned. 
Savory Meat Broth Base Recipe
Hands-on time: 10 minutes / Total time: 2.5 to 20 hours, depending on method.
Younger You spotlight:
Methyl donors: bay leaf (folate), beef (choline, B12, folate), chicken (B12), garlic (sulfur), kombu (choline, B12, folate), onions (sulfur)
DNA methylation adaptogens: bay leaf (anthocyanin), carrot (luteolin), celery (luteolin), onions (fisetin, quercetin)
This is basic bone broth at its best. Make with any type of bones: beef, chicken, turkey, goat, lamb, pork (or a combo!). It's balanced by the classics—carrot, celery, onion, and seasonings—and pairs best with savory dishes, including mains, sides, soups, and many of our blends and infusions. The proportions are spot-on for creating rich, gelatinous broth. The optional chicken feet support your skin, bones, and joints. Along with cancer-fighting and immune health–promoting garlic, we could drink it every day (and we nearly do!).
This recipe is designed for a 6-quart pot.
2 to 3 pounds organic beef or chicken bones (raw, previously cooked, or roasted)
2 to 2 ½ quarts filtered water (8 to 10 cups)
2 tablespoons organic, raw apple cider vinegar (optional)
2 medium carrots, cut into thirds, unpeeled
2 celery stalks, cut into thirds
1 medium onion, quartered, skin on
2 cloves garlic, unpeeled 2 bay leaves
2 teaspoons salt (Celtic, Himalayan, sea)
10 peppercorns, or ½ teaspoon black pepper
2 chicken feet (optional, for a more gelatinous broth)
Put bones in a large stockpot with a thick bottom (such as stainless steel or Dutch oven), slow cooker, pressure cooker, or multicooker. Pack bones well to minimize space between them and add water to cover the bones.
Source: Excerpted from Better Broths & Healing Tonics: 75 Bone Broth and Vegetarian Broth-Based Recipes for Everyone by Kara N. Fitzgerald & Jill Davenport. Copyright © 2022. Available from Hachette Books, an imprint of Hachette Book Group, Inc. 

Follow