Daily News
CNN anchor Jake Tapper confronted prominent Democrats, who self-identify as strong union supporters, over their support for legislation passed by Congress last week that blocks railroad union workers from going on strike.
President Joe Biden, who vowed to be the "most pro-union president ever," signed the bill on Friday, contending that a rail strike would "devastate our economy." The president said that signing the bill "spared the country that catastrophe."
A number of union workers have publicly disagreed, describing the legislation as a betrayal that failed to meet their needs. Democrats who backed the bill point to a separate amendment, which would have guaranteed rail workers seven days of paid sick leave. That amendment failed in the Senate, although nearly all Democrats voted to approve it.
Tapper pressed Senator Sherrod Brown, an Ohio Democrat, who voted for both bills, during a Sunday interview on State of the Union. The CNN host pointed to rail union members criticism of Biden and Democrats for approving the legislation to block the strike. He played a clip of union member Reece Murtagh saying Biden had "turned his back" on rail workers.
"Now you senator, you voted to add the seven days of paid leave, but after that amendment failed, you still voted for the final deal," Tapper said. "How do you explain this to a union worker like Reece? It doesn't seem Democrats were truly standing up with all of their force against these billion dollar rail companies."
Brown responded by saying that "every Democrat but one" voted in support of adding the seven paid sick days. He blamed Republicans for the amendment's failure, noting that only six GOP lawmakers voted in support of it. "We couldn't get to 60 votes," he said.
Senator Joe Manchin, a West Virginia Democrat, voted with the majority of Republicans against the amendment. Most legislation requires a three-fifths majority (or 60 votes) to pass through the currently evenly-split Senate.
Brown also told Tapper that he takes "a backseat to nobody in fighting for workers and fighting for union members." The Democratic senator argued that the president and Congress "have to keep the economy going," adding that he would continue to work with Congress and the White House to "eventually" get the rail workers the paid sick days.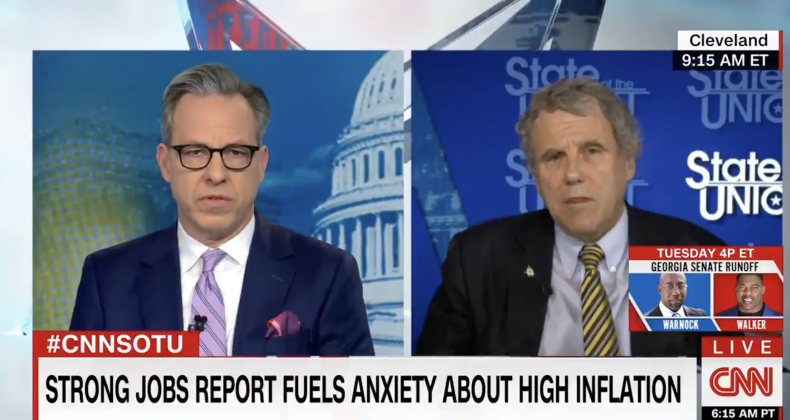 On Thursday, Tapper confronted Biden's Transportation Secretary Pete Buttigieg in a similar manner. "Why are you okay passing a deal that does not guarantee paid sick leave for these union workers?" the CNN anchor asked.
"The importance of this deal is that the rail shutdown is being avoided. If that were to happen, we would have seen hundreds of thousands of American workers laid off, energy prices shooting up once refineries were unable to continue operating, issues getting chlorine to water treatment plants, auto industry factories shutting down within hours if not days of that happening," Buttigieg responded.
He continued: "What we've been able to avoid is a major blow to workers, farms, families across the country. Not everybody got what they wanted in this deal, but what was enacted is something that mirrors what was reached in the tentative agreement at the negotiating table between union leaders and railroad companies."
Tapper then pressed further, saying: "I think everybody out there is glad that [the strike has] been avoided. But the question is, these rail lines are making billions of dollars, profits are up for all of them, quite a lot, in some cases."
"You and I have paid sick leave. My crew has paid sick leave. Why don't these railway workers deserve paid sick leave?" he asked.
Buttigieg contended that the White House believes every worker should get paid sick leave, saying the administration would continue to fight to make that a reality. "We are going to continue to press for that. Again, not just picking and choosing one sector over another, but based on the basic idea that every single American worker ought to have paid leave," he said.
"But saying that they ought to have paid sick leave, and then getting in there and saying to the Warren Buffett's of the world, give these guys paid sick leave or the White House is going to make you guys out to be bad guys, and you're going to be the ones that are going to force to blink after your reputations take a number of hits, that's a different matter," Tapper replied.
Some union supporters praised the CNN host for pushing the prominent Democrat on the issue.
"Shout out to @jaketapper for epically owning the McKinsey guy in this must-watch clip. This is so rare — but exactly what all television journalism should be," David Sirota, a former adviser to Senator Bernie Sanders 2020 presidential campaign and the writer and co-producer of Academy Award-winning film Don't Look Up, tweeted, sharing a clip of the interview. Buttigieg previously worked for McKinsey & Company, a fact that drew scrutiny during his unsuccessful 2020 presidential run.
Sirota has been outspoken in his criticism of Democrats when it comes to their response to the threatened rail strike. He contends that it would have been in the union workers favor if Democrats simply did nothing.
"To help workers, all Democrats had to do was do nothing. Rail barons needed Congress to intervene and pass strike-breaking legislation. Dems could've just said no, boosting workers' power," Sirota wrote in a Sunday morning tweet. "Instead, they chose to help their donors crush the workers."
Newsweek reached out to the White House for comment.