Daily News | Online News
Nearly two thirds of British people say embattled Prime Minister Liz Truss should resign after firing her top finance minister over the fallout of the Conservative Party's so-called mini-budget.
On Friday, Truss confirmed that she had fired Chancellor Kwasi Kwarteng just 38 days after she appointed him for the British equivalent of treasury secretary. He was replaced by former foreign secretary Jeremy Hunt.
During a press conference on Friday, Truss said that there will be a number of U-turns on tax cuts and economic plans which were announced in Kwarteng's mini budget in September, which at the time sent the markets into turmoil and crashed the value of the pound. The press conference was panned by many of her own party.
In the wake of Truss' conference, a Find Out Now survey for Channel 4 News consisting of 2,661 people found that 64 percent of U.K adults believe Truss should resign, with just 12 percent stating they do not think Truss should quit.
The poll also found that just 8 percent think she should remain as Prime Minister, with 61 percent stating the U.K. now needs another general election.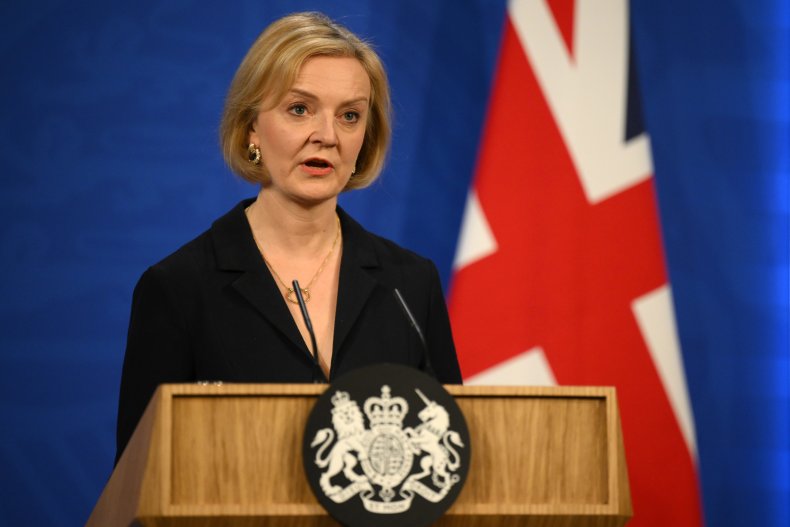 During Friday's conference, Truss was asked why she herself should not have to resign alongside Kwarteng, given she would have approved the controversial budget announced by the chancellor, as well as facing questions on what credibility she had left.
"My priority is making sure we deliver the economic stability that our country needs," Truss said. "That's why I had to take the difficult decisions I've taken today."
The uncosted tax cuts and abandoning of the independent budgetary body forecasts were seen as reckless by Truss and Kwarteng, and both have been under extreme pressure to reverse much of their strategy. With Hunt replacing Kwarteng, it remains to be seen how much of the mini-budget policies will remain.
Among the key promises from Truss during her eight minute press conference in order to stabilize the financial markets was to reverse the planned cuts to business tax; she had already reversed the removal of a 45 percent top rate of income tax for high earners at the Conservative party conference earlier in October.
Truss, who herself has only been leading the country for 39 days as of Saturday, was elected to the role in a vote of just 80,000 members of the Conservative Party, beating former chancellor Rishi Sunak.
Truss replaced Boris Johnson as leader of the Conservative Party (and therefore as prime minister) after he resigned following a string of scandals, including being fined by the police for breaking lockdown rules and mishandling a sexual assault allegation made against a Tory MP.
Keir Starmer, leader of the main opposition party Labour, said the U.K. now needs a general election, noting there have been four Conservative Prime ministers in six years and Truss currently has the "worst reputational ratings" of any PM in history.
"Their party is completely exhausted and clapped out," Starmer told The Guardian.
"It has got no ideas, it can't face the future and it has left the UK in a defensive crouch where we are not facing the challenges of the future because we haven't got a government that could lead us to the future. For the good of the country we need a general election."