Daily News | Online News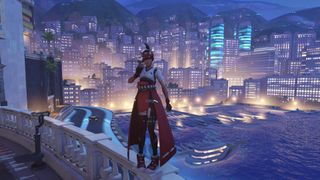 (Image credit: Activision)

Overwatch 2 fans were already fearful of giant queue times ahead of launch, and those fears have quickly come true.
For those unaware, the Overwatch 2 launch time just hit, as the shooter sequel has launched as a free-to-play game on all platforms. Blizzard's servers are already taking an absolute beating at launch, as one (opens in new tab) quick (opens in new tab) scroll (opens in new tab) through social media discussion of the game will tell you.
Mostly, players are just seeing massive queue numbers in the tens of thousands, though some are seeing messages telling them there are '0 players ahead of you.' Others are hitting messages like 'Unexpected Server Error,' which is something Blizzard already says it's working on.
"We're aware that some players are encountering an Unexpected Server Error message when attempting to sign in," the company says in a tweet (opens in new tab). "This is actively being worked on. Thank you for your patience!" That's the only official communication from the company as of the time of this post.
Concerningly, players have also been reporting issues with missing skins (opens in new tab) after the transfer process. There's no word yet on what's causing this issue.
Of course, launch issues for any big online game are common, and that even goes for platforms as long-running as Overwatch. Games like Final Fantasy 14 for example, have faced massive queue times and servers woes in the past – so much so that Square Enix even halted sales of Final Fantasy 14 late last year in December to allow the beleaguered game time to recover. 
If you're preparing to sign in, you should check out our guide on how to set up Overwatch 2 SMS protection as part of Defense Matrix to make sure you've got everything ready to go.