Online News Magazine
Every content marketer knows that new content helps your site generate more traffic and diversify its rankings.
But few of us do a good job at regularly refreshing what we already have on our sites.
And that's unfortunate because refreshing your existing content means relying on your existing data and tapping into your page acquired link equity.
Here's the ultimate guide on why and how to refresh your old content.
Online News Magazine Why You Should Refresh Old Content
Better Rankings and Organic Traffic
As you keep adding new content to your blog, the old content moves down the archive.
This means less link equity flowing to those pages, which consequently results in declining rankings.
Refreshing content (and especially republishing it to a new date) moves it back to the top of the archives, closer to the homepage, which is normally the most linked part of the site.
This improves rankings.
Doing it regularly you can avoid organic traffic losses.
This is why, instead of trying to always add a lot of new content, make content updates part of your editorial calendar.
More Diverse Rankings
One of the often-missed benefits of going back to your old content is the ability to rely on your existing data.
You can see the keywords that are generating traffic for a page (on Google Search Console, for example) and can spot keywords that might have been bringing in clicks if you had covered them more in your content.
Refreshing old content can therefore help you diversify rankings, by expanding your content to include those keywords that were underperforming but had potential for growth.
Better User Experience
Older content often has broken links and outdated data, which results in poor user experience and often misinformation.
This also results in a higher bounce rate and fewer on-page engagements.
Keeping your content refreshed means making the most of those clicks and not losing subscribers.
Better Information & Promotion
Digital marketing is constantly evolving, making way for new marketing channels and tools.
Your own experience is also growing, so you'll have new knowledge to share, and new promotion tactics to try.
Refreshing your old content gives you the opportunity to put all of this into practice.
Online News Magazine How to Identify Content That Requires Refreshing
Identify Pages Losing Traffic
The easiest tool to find pages that start losing clicks is Google Search Console.
Click "Full report" in the "Performance" section of Search Console
Click date on top of the graph and select "Compare" section
Select your timeframe (feel free to play with a few options, depending on how often you run this report)
Next, click the "Pages" tab and sort by "Clicks Difference" to see the content URLs experiencing a negative trend.
You can export the whole report (which will remove your sorting settings, which you can reapply in Excel) or copy-paste these URLs into a spreadsheet as you see them.
The only disadvantage of the tool is that it only stores 16 month's worth of data, so you won't find content that lost rankings two or more years ago.
To find your oldest content, you can use Google Analytics year-over-year option. 
In Google Analytics 4 (GA4):
Navigate: Reports > Engagement > Pages and screens
In the date range window, activate "Compare" and select "Same period last year"
In Google Analytics Universal:
Go Acquisition > All Traffic > Channels (and, optionally, click "Organic traffic")
Click "Landing page" tab
Select "Last month" in the date range drop-down Check "Compare to" box and select "Previous year" option
Now look for pages with a negative trend:
Find Old Pages with Ranking Potential
Not all rankings bring traffic, obviously.
If your content ranks #8 – #10 or lower, you will barely see any clicks.
But if it's old content ranking, there's an opportunity: You can improve its positions by updating and interlinking the page.
SE Ranking's Position Tracking tool saves a snapshot of the SERPs every day, allowing you to spot its dynamics and identify which pages seem to maintain consistent rankings, and which ones recently gained rankings.
This insight will help you identify competing pages to analyze and learn from: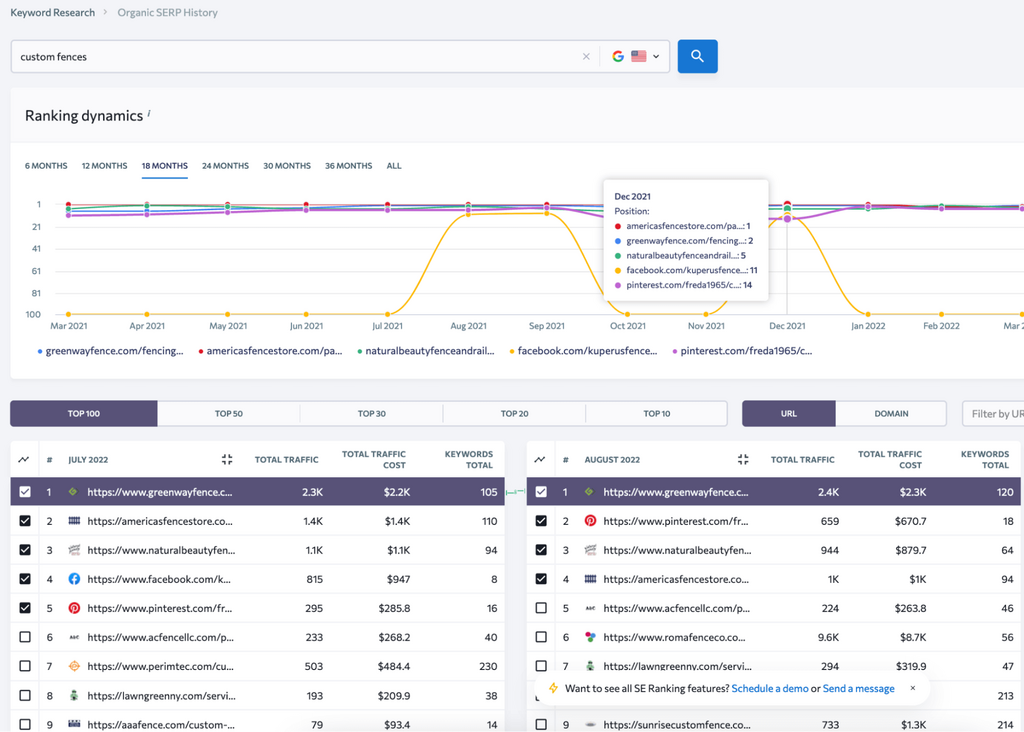 Refresh Your Content When Competitors Do
Unless you have a huge site, you are likely focusing on a few keywords that are especially important to your site's income.
These keywords deserve more attention.
I always make sure I am monitoring my key competing pages to be notified when they are refreshed.
This is a good signal for me to evaluate their change, reverse-engineer their SEO strategy, and often refresh mine.
Visualping is a page monitoring tool that is perfect for the task. It will email you any time there's any change on pages you are monitoring: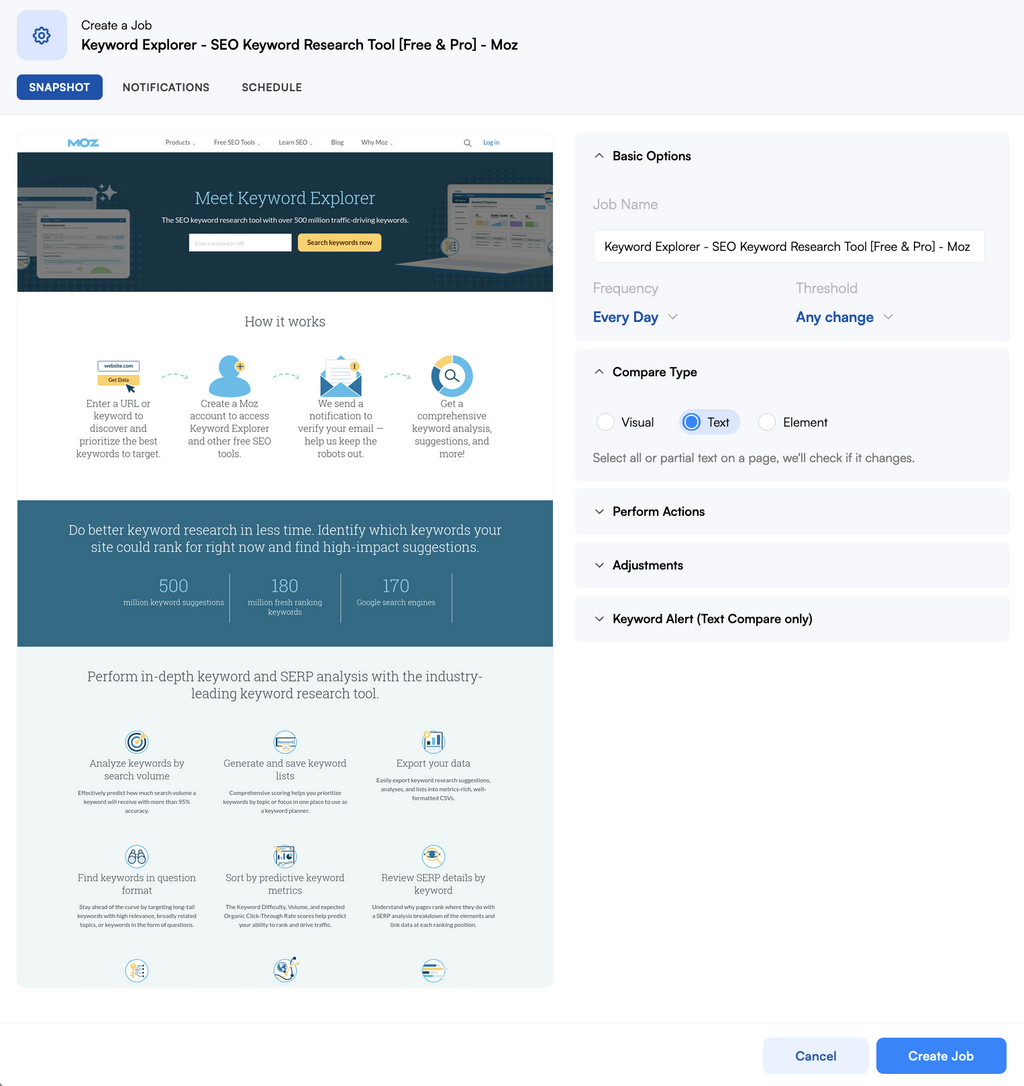 Refresh Your Old Content That Once Went Viral
Unless your site is BuzzFeed, you probably have just a couple of pieces that really spread, in terms of shares and links.
These could be:
Old (tool) lists
Old trends
Old statistics
Old infographics, etc.
Here's one great thing about this content: It has backlinks.
And you can benefit from that link equity by refreshing (and possibly re-optimizing) this page.
So when you are looking for content to refresh, check your most linked-to pages.
BuzzSumo let's you do this quickly and easily in the Content Analyzer.
All you need to do is drop in your domain, or that of a competitors', and sort by "links"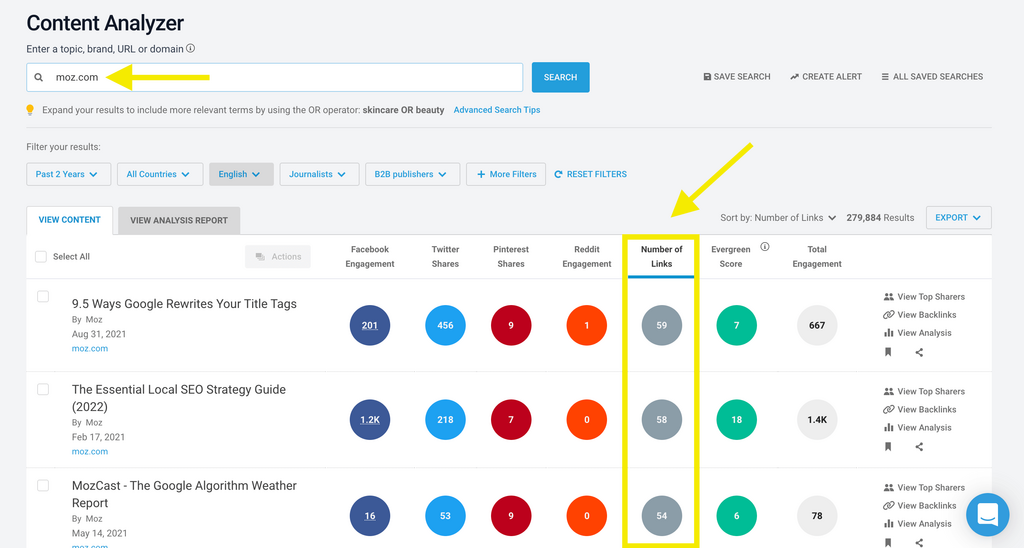 Online News Magazine Steps to Take for Refreshing Content
1. Research Newer Content On The Topic
This is the most important step: You need to know what has been recently published on your topic, including:
Pages that are now outranking you for your main keyword
Related research, interviews, videos, and podcasts on the topic (this may also be something you reference in your refreshed content)
Simply searching for your query in Google is a solid first step.
Start clicking top results and note what makes these resources worthy of higher rankings than yours.
Next, use Buzzsumo Content Analyzer to find more popular content on the topic.
Depending on your keyword, spend some time playing with multiple filters and features of the tool: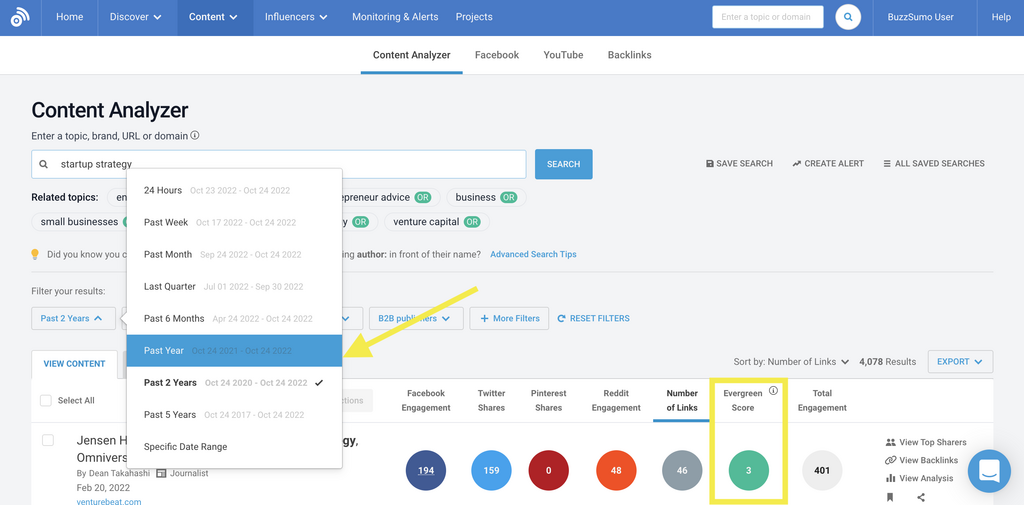 Play with the date range filter to discover more recent content
BuzzSumo often shows original publish dates – look out for top headlines containing recent dates, but with older publish dates, and click-through to analyze their refresh strategy
Sort results by "Evergreen" score to find and analyze content that seems to consistently attract shares and links. Is there anything you can do to make your own content more evergreen?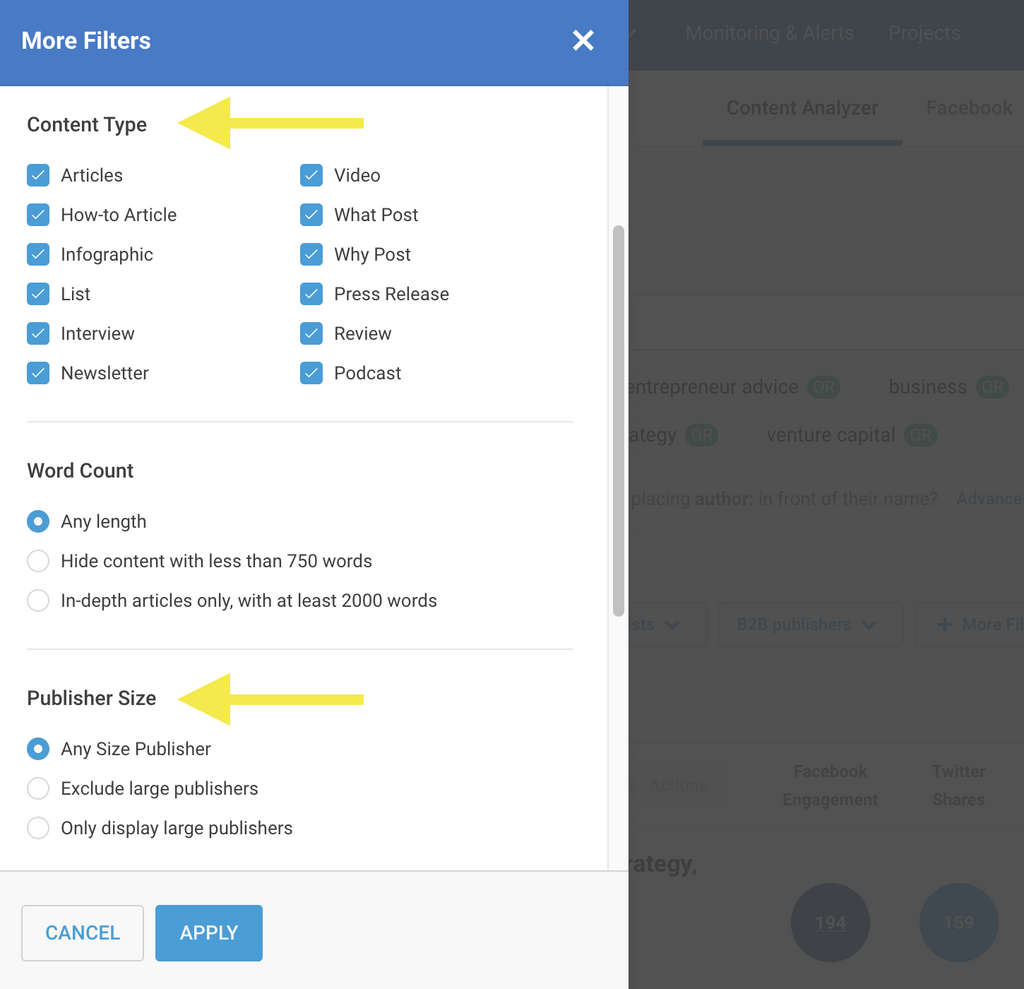 Filter by content type: You can set the tool to search only for videos, infographics, podcasts, reviews, etc. to get ideas from the most popular content types to work into your own content
Search by publication size: If you're a smaller brand, and need to cut through the noise of big publications, filter them out and hone in on more relevant competitors, to inform your refresh strategy
You can also search Google's Date Search for more recent content by using Google's "Date" search.
This is a good way to find recent research studies which did not necessarily go viral, but can still provide lots of data for your refresh:
2. Identify Keywords Losing Traffic
If you're tracking your rankings, you already know the keywords that have started dropping in Google SERPs.
Ahrefs can help you identify your page losses:
When figuring out what to do to optimize your old content better, try WebCEO's SEO content analysis tool which gives you a clear roadmap of what to change where to optimize content better:
3. Steal Your Competitor's Ideas
Yes, stealing may be a harsh word but that's what competitive intelligence is for: We learn from each other, pushing everyone to try harder and become better.
Take a close look at your higher-ranking competitors and see what you can learn from their content.
BuzzSumo's URL Analysis Tool can help here. It gives you a detailed overview of any individual piece of content, including:
Publication date
Details about the author
Top shares of the article
Evergreen scores
Pages linking to that content, etc.
This is a great way to come up with your future marketing strategy, by quickly evaluating who (and why) helped to promote that article, and how your competitors have approached their own content refresh strategy: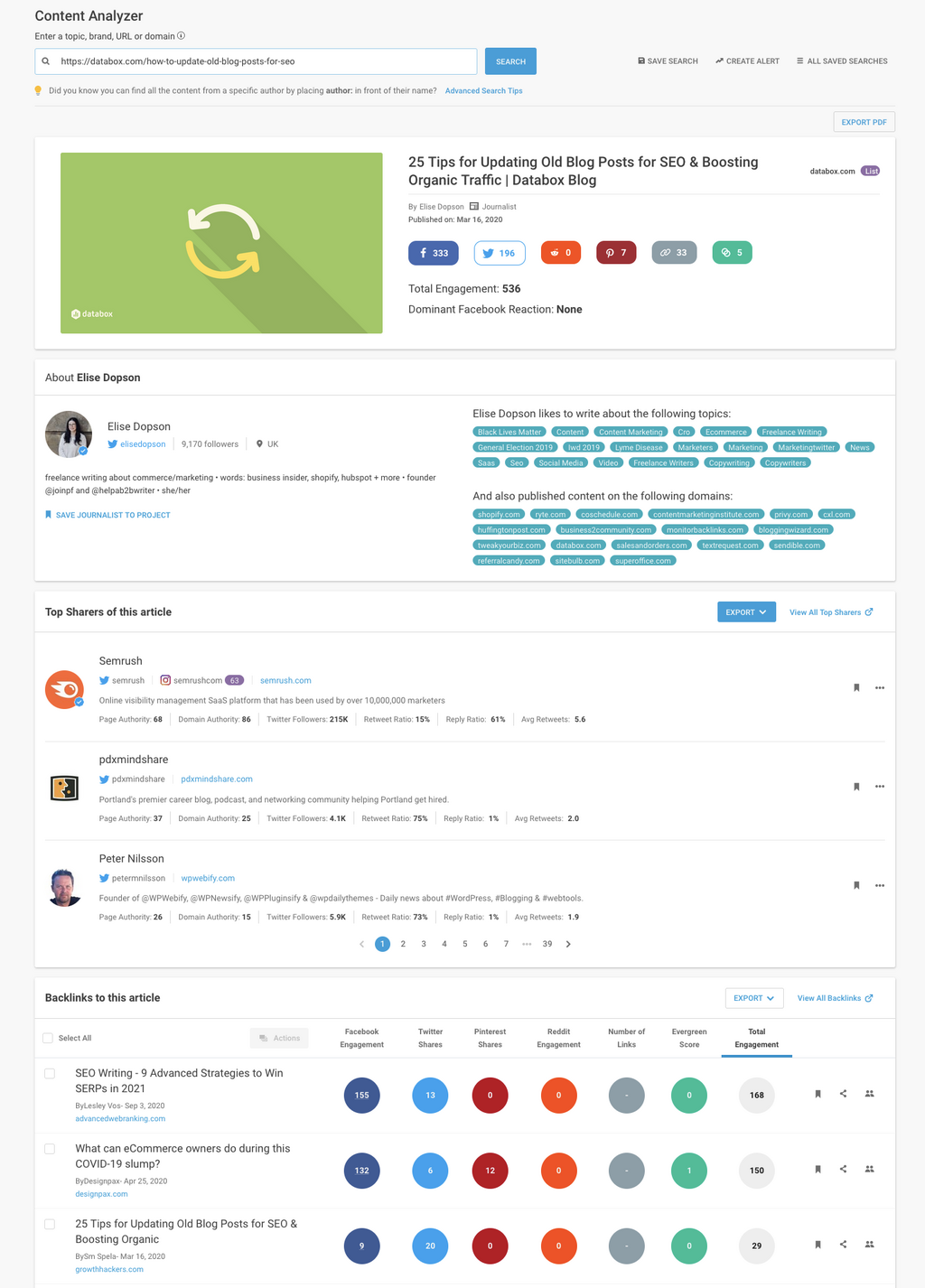 When comparing your old page to overranking competing pages, try this side-by-side comparison tool that gives you a quick look at where your competitors are doing a better job (e.g. content length, content structure, keyword usages, etc.)
Or use BuzzSumo's Content Analysis tab to analyze the content of all your competitors at scale…
4. Expand Your Keywords
This is an important step that is often skipped: Find keywords you may improve or add to your strategy, to diversify each page rankings. 
Google Search Console gives you a solid insight into any page rankings.
Look for queries with average position below 5, especially if those queries are still sending a few clicks
This means that searchers are not satisfied with the top results, so your content has a huge opportunity to give them what they are looking for:
When searching Google for your current and potential keywords, take note of People Also Ask boxes to see if there are any questions that may be worth covering in your refresh.
BuzzSumo's Question Analyzer can give you even more ideas on which question you need to answer in your content when refreshing it:
It's also a good idea to take note of rich snippets your competitors are generating.
Structured data doesn't impact rankings, but it does help click-through, so make sure to steal those optimization ideas where you can.
Text Optimizer is another great way to discover new topics and concepts to cover in your content when updating it.
The tool uses semantic analysis to extract underlying concepts from Google's search snippets for your target keyword.
This gives you a cool birds-eye view of the topic and uncovers many angles to cover: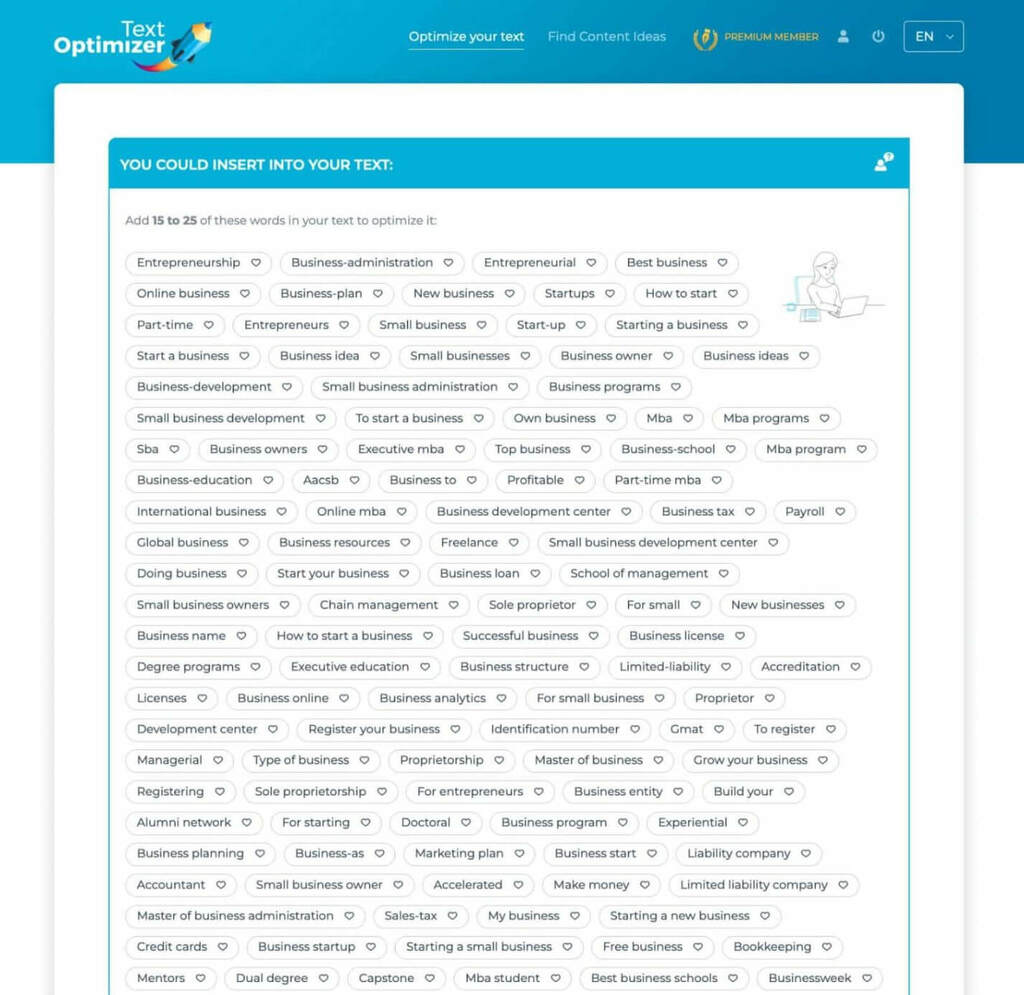 5. Refreshing Links and Screenshots
Broken links usually pose a huge challenge to user experience.
They don't just drive people away from your site, they also leave those people disappointed.
But it's not just broken links that need fixing when you refresh your content.
It's also outdated links that send your readers to old data.
You've already collected newer resources in Step 1 of this section.
Now add these to your content and remove your old links.
It is a good idea to run this Chrome extension, to ensure all links on the page are now working and not redirecting:
Finally, make sure to refresh your screenshots and add more images.
These days content tends to be much more visual than it used to be ten or even 5 years ago.
6. If Applicable, Cover Recent Trends
Finally, have there been any trends that may have impacted the topic of your old content?
If so, include a new section dedicated to that.
Covid, for example, has impacted just about all areas of our lives, including healthcare, working habits, and more.
So this is often something to use when refreshing content.
This part has nothing to do with SEO but it is essential for content "helpfulness" and relevance.
Online News Magazine So What Is "Refreshing" Content?
In its guide on creating article pages, Google states that you can only republish your old content to a new page only if it has been "substantially changed."
What a substantial change really is, Google won't reveal, but I am confident if you follow the steps below, you will see a pretty substantial uplift:
Finding new resources to reference in your piece
Researching competitors' content to identify what yours is missing
Identifying keywords losing rankings and doing a better job optimizing for them
Identifying keywords that have potential to rank and creating new sections to address them
Answering popular niche questions
Fixing broken and replacing outdated links
Refreshing screenshots and adding more images
Covering recent studies and trends
Finally, update your forms and CTAs to feature your newest lead magnets, products or offers.
Bonus: Explore New Repackaging and Marketing Opportunities
Finally, refreshing content gives it new life and opens up new opportunities that did not exist when it was initially published.
For example, these days we have tools to turn text into infographics, tools to easily create video ads, tools to convert content into podcasts, and more.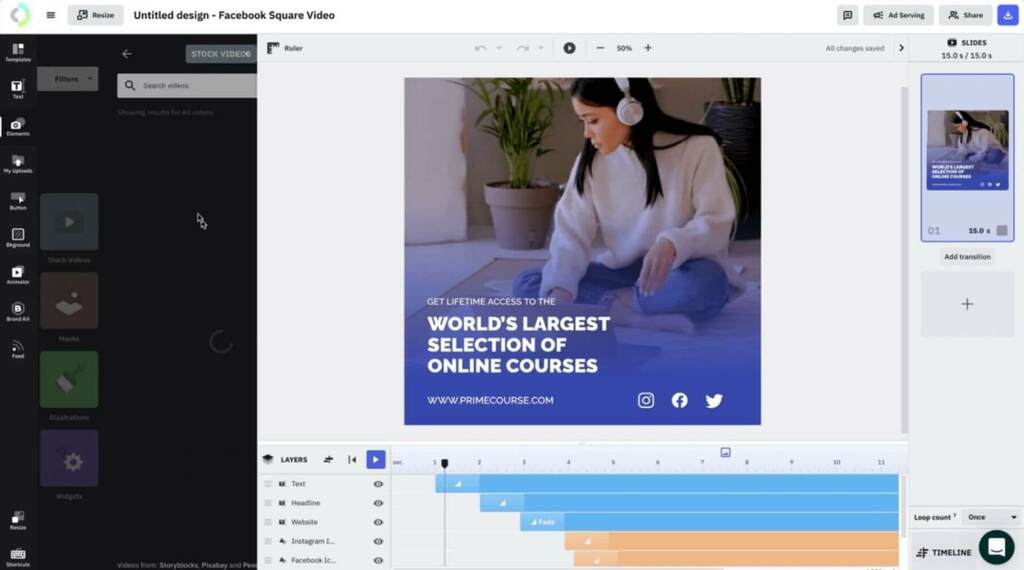 Online News Magazine How Often You Should Refresh Content?
There's no set number here. The frequency and amount of your content updates rely on:
How much content your site has
How evergreen your content generally is
How frequently you add new content to your site, etc.
Generally, if you add four new articles a month, I recommend making at least one of them a content refresh instead of a new piece.
In other words ¼ of the content on top of your archive should be thoroughly refreshed content.
You can find out more about updating evergreen content in BuzzSumo's mega evergreen study, including:
Top examples of evergreen headlines

Ways to research competitor content refresh strategies with BuzzSumo

Different ways the top publishers of evergreen content refresh their content
Online News Magazine Wrapping up
Whether you're using WordPress or alternatives, your old content will gradually get buried behind the new articles you publish.
To prevent it from losing traffic, and ensure a smooth user experience, you need to consistently refresh and surface your old content.
This way you will not only keep it relevant, you will also benefit from already acquired data and link equity: something your new content doesn't yet have.
If you approach your content refresh strategy with as much effort as creating new content, you will soon see amazing results. Good luck!