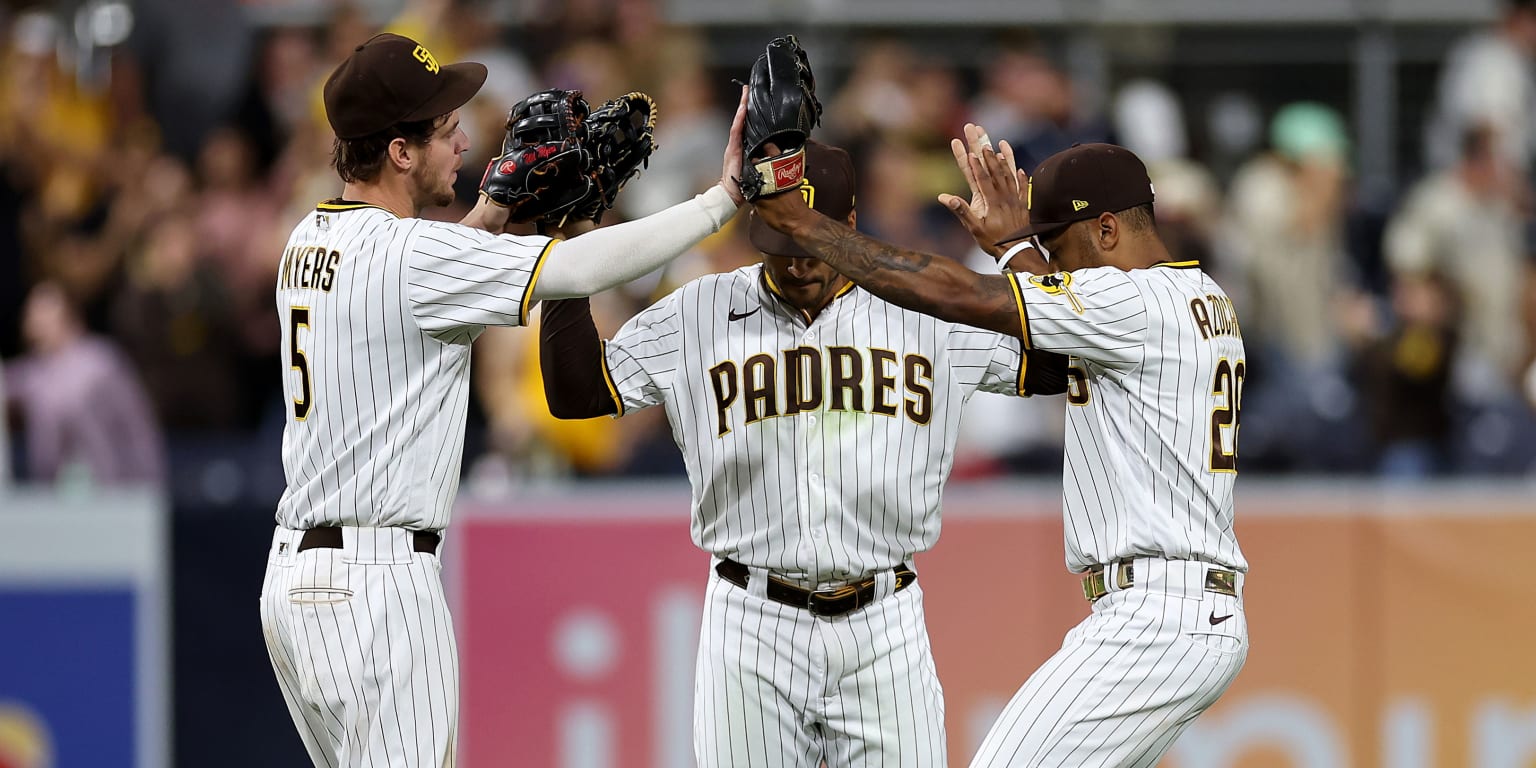 Daily News | Online News
SAN DIEGO — Having clinched and celebrated on Sunday, the Padres sure didn't look like a team with nothing left to play for on Monday night. And, to be fair, there are still playoff implications on this week's three-game series against the Giants at Petco Park.
The Phillies officially joined the Padres in the postseason with their win in Houston on Monday. Now, those two teams will spend the final few days jockeying for position in the National League playoff picture.
With their 7-4 victory over the Giants on Monday night, the Padres retained their one-game lead over Philadelphia with two to play (though if the two teams were to end up tied, the Phillies would finish ahead of San Diego, by virtue of their head-to-head tiebreaker).
Put another way, the Padres will be playing Game 1 of the NL Wild Card Series on Friday night in one of three places:
• If they finish ahead of Philadelphia, they'd travel to the East Coast to face either the Mets or Braves (whichever of those two fails to win the NL East).
• If they finish tied with or behind Philadelphia, the Padres would travel to St. Louis to face the NL Central-champion Cardinals.
Not that the Padres seem all that concerned with the different possibilities.
"I don't mind," said Juan Soto. "I will take anyone."
Added manager Bob Melvin: "It'll get all wrapped up here in the next day or so; it's just about getting our guys ready."
Ultimately, that's the important part. Here's a look at what the Padres are really playing for in the final series of the regular season:
1. Line up the pitching
Joe Musgrove, 24 hours after he was front and center in the clubhouse clinch celebration, pitched six brilliant innings against the Giants. In the process, he lowered his ERA to 2.93. (Quite a year for Joe Musgrove, who posted a sub-3 ERA in 30 starts and signed a $100 million contract extension in the process.)
With Musgrove's final start out of the way, the Padres can now finalize their rotation plans for next weekend. They will almost certainly start Yu Darvish, Blake Snell and Musgrove, in that order.
"I don't know that we've confirmed everything yet," Melvin said. "But you can speculate, and you'd probably be right."
As for the bullpen, Melvin noted the Padres would likely script their relief plans to maximize their pitchers' freshness for this weekend. On Monday, Adrian Morejon pitched two scoreless innings, though Tim Hill struggled in the ninth, allowing four runs and prompting Melvin to call for closer Josh Hader, who escaped a bases-loaded jam.
2. Solve some playoff roster questions
The playoff roster is mostly set, but there are at least two places still to be settled.
Right now, it would seem Brandon Dixon and Luis Campusano are vying for the final place on the Padres' bench — both righty pinch-hit bats. Dixon helped his cause on Monday with a two-run double that broke a scoreless tie in the eighth.
"Try and help the team in any way I can," Dixon said. "Obviously, the goal is to prove that I can be a bat off the bench. We'll see what happens."
There's also the possibility the Padres keep both and — with only three games to cover — opt for 12 pitchers instead of 13. That would likely see Steven Wilson, Craig Stammen and Sean Manaea vying for one spot instead of two.
3. Figure out center field
Nice night for Trent Grisham. He hasn't had many of those lately.
Grisham was hitless in his previous 25 at-bats when he lined a leadoff double down the right-field line in the eighth. He also made an outstanding all-out diving catch in center field for Musgrove's final out of the night.
The defense has never been at issue. Grisham is a Gold Glover. But offensively, he'd been so poor lately that the Padres had begun starting the righty-hitting José Azocar against right-handed pitching. That would leave them with a serious conundrum for a potential Wild Card Series in which they might face three right-handers.
Ideally, Grisham would get hot and make that decision for them. Perhaps Monday was the jump-start he needed.
"He's going to get some at-bats here," Melvin said. "Sometimes it only takes a hit or two to jog a memory."
4. R&R
The playoff race was a grind. Manny Machado, for instance, sustained a gruesome-looking left ankle injury in late June and mostly played through it. But on Monday, with the clinch in hand, Machado received his first day off since July 1.
Jurickson Profar and Austin Nola also got the day off. Melvin indicated that he would use the series to get pretty much every regular at least one rest day.
"There isn't a game that you don't lace your shoes up and go out there and expect to win," Melvin said. "But there will be cycling some guys in, getting guys some days off. … There's a balance."