Online News Magazine
Creating great content is not an innate skill. It takes a lot of practice and preparation.
It's scarily easy to write a thousand words without giving much – if any – thought to the components that actually make your content a success.
And that's why we need ✨CONTENT BRIEFS ✨
A content brief is a recipe of recommendations for a creator, to help them produce relevant and engaging content. It might also be known as a content outline or content guideline.
Whether you manage writers or put your own figurative pen-to-paper, this document will guide you to create successful blogs, reports, case studies, webinars, videos – and more.
Here's how you know if you need a content brief:
You're stuck in a never-ending rewrite/feedback loop with writers
When you scale content you slack on quality – and vice versa
You feel like you can't trust anyone to create good content, but yourself
The key here is to stick to a set content recipe, create a reusable resource pack, and automate your briefs to the nth degree.
Here's how to do just that…
Online News Magazine 1. Make sure your content brief has a clear goal
Start off by defining the goal of your content. Your goals will ideally trickle down from your top-level OKRs.
Here are some goal examples:
To assert the brand as an authority on a subject matter. Measured through links acquired.
To entice readers to give their contact information in return for exclusive content. Measured by MQL signups.
To persuade readers to test-drive a product. Measured by free trial count.
To educate and engage readers in the awareness stage. Measured through time on page.
The creator needs to know what action their content should inspire. And it's good for you to know, up-front, which metrics you're going to measure.
Online News Magazine 2. Define the target audience
Your writer also needs to know who they're writing for.
Here's an example of some intel it would be good to share with them:
What is the audience's role? E.g. startup founders.
What is their ultimate goal? E.g. to double down on content marketing as part of a growth strategy.
What problems do they need to solve? E.g how to bootstrap content marketing, and build time-saving processes.
If you've already created personas, then share those documents to save reinventing the wheel.
Based on the information above, a writer might consider their readers' expertise level.
For example, startup founders might need introductions to marketing concepts, and an extra level of explanation than, say, an in-house marketer.
This kind of information helps the writer to gauge how to connect with the audience, and even understand their search intent.
It will come in handy in the next step, when they're finding secondary keywords and subtopics to target.
Online News Magazine 3. Outline your focus keyword and subtopics
Creating search-ready content is not so much a nice-to-have, as a prerequisite.
But for your writer to make your content a search success, they need to know how to theme it.
Outlining the main topic and focus keyword of the content is crucial here.
That said, it's easy to get lost down the research rabbithole, finding intent-appropriate keyword ideas to feature in your brief.
To avoid over-investigating, try BuzzSumo's Brief Generator (available on Plus and Large plans.)
It generates a data-backed brief around your focus keyword, complete with a few choice volume-and-CPC-informed keyword ideas.
All you have to do to generate it is search your topic in the Content Ideas Generator, and hit the button to copy the brief to your clipboard.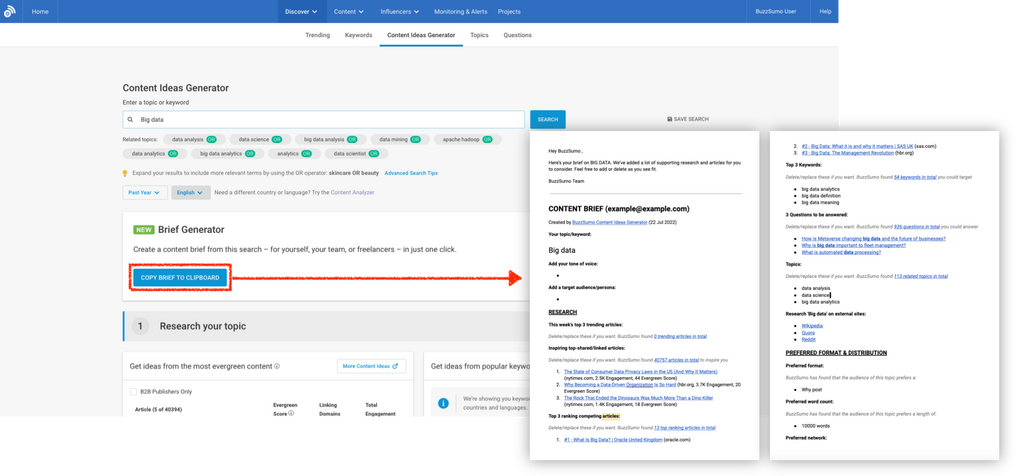 The keywords you find here are a great starting point for your writer to use in their content.
Then, if they want to, they can jump back into BuzzSumo's Keyword Tool from the brief, and find more keyword opportunities.
This will help you strike the right balance between providing inspiration, and allowing the writer creative freedom to find subtopics and other intent-appropriate opportunities.
Pro Tip 💡
Point your writer to the Top 3 ranking competing articles section, where they can explore the SERP to better understand the intent of the searcher, and pick up more relevant keyword and topic ideas.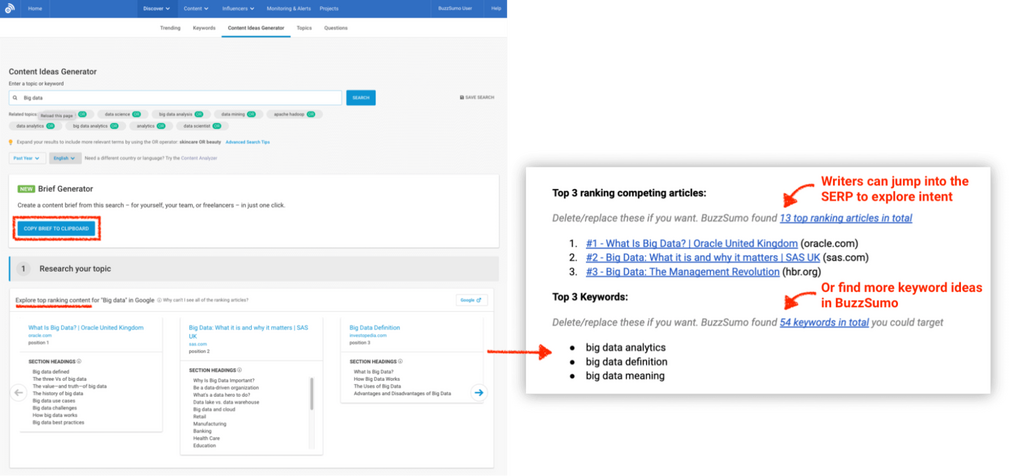 Online News Magazine 4. Give your writer some data-backed content #inspo
You want your writer to learn from the very best. Normally that means referring them to articles ranking on page one of the SERPs.
But don't forget that engagement comes in many forms. Make sure you don't neglect content that drives significant shares and links in your brief – especially if this matches your content goal.
Giving your freelancer access to content that drives engagement in all areas makes for a great swipe-file of inspiration. From this they can analyze what success looks like in:
Content types
Blog structure
Subheadings and subtopic choice
SEO
Search intent optimization
Headline composition
The Brief Generator auto-exports the "Top 3 inspiring shared/linked articles" and the "Top 3 ranking competing articles" to give your writer that added inspiration. This will help them craft top-notch content.
But remember: be clear that these resources are only for inspiration, not replication.
You want to encourage your writer to showcase their unique voice and perspective – not to rehash the same ideas.
If you have to, then state this explicitly in your brief.
Online News Magazine 5. Include questions that the content needs to answer
Your audience is looking for answers. There's no better way to brief-in your writer than to give them real life reader questions.
This will help them match the intent of the reader, and pick up a bunch of long-tail traffic.
You can lift these questions straight from Google's People Also Ask carousel.
Or you can download BuzzSumo's Brief Generator for your chosen topic, and give your writer access to questions that have been asked across hundreds of thousands of forums.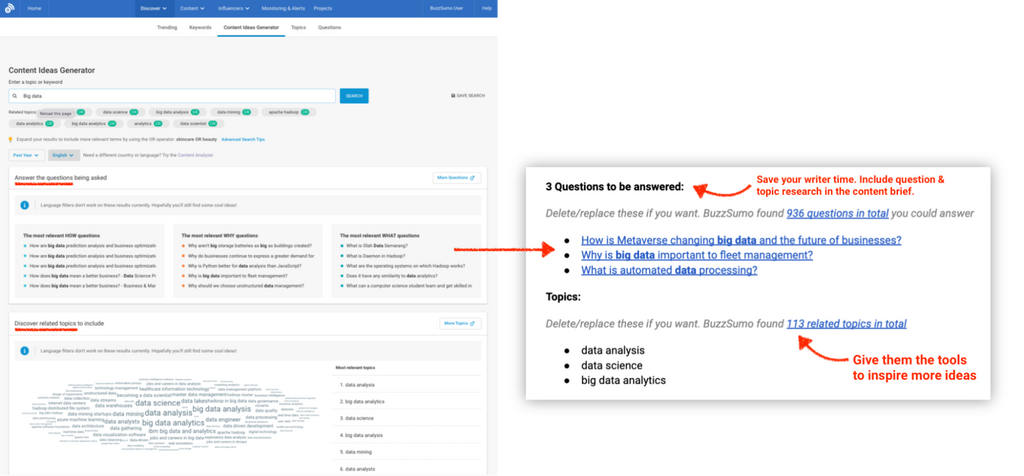 Online News Magazine 6. State your structure & subheading demands
As readers, we skim through article subheadings and intro sentences, to check whether they're worth our time.
In fact, according to Hubspot, nearly half (43%) of us skim blog posts instead of reading them.
It's true. Subheadings and structure are crucial to engagement.
Reinforce this in your brief, and make sure to ask for actionable, memorable, and search optimized subheadings.
Along with a headline, subheadings are basically a sales pitch for your content. You want to Support-The-Skim with engaging, specific, and search-optimized TL;DR subheadings.
Curating structure and subheading inspiration for your freelancer takes time. Using an automated outline tool like BuzzSumo's Brief Generator can help.
And if you have any other key rules on structure, add them here (even if you're also including them via an attached style guide).
An example structure outline to include in your content brief:
Intro: Keep your intro short – no more than two sentences.
Table of contents: Include for scannability.
Subheadings: Include throughout for scannability, optimize for search engines, and give the gold up-front by making them specific, actionable, and unique.
CTAs: Include up to three throughout.
Internal/External links: Feature 3-5 throughout. Link to content in "X" cluster.
Sentence and paragraph structure: Write in sentence paragraphs, and keep each one to the point.
Conclusion: Recap bullet points and write summary statement – no more than two sentences.
Online News Magazine 7. Request relevant internal & external links
More and more studies are springing up around the importance of internal linking for driving traffic.
Your writers need to connect the content they create to your relevant, existing blogs to boost your sites' overall search visibility.
But since they don't know your content library like you do, you have to give them a helping hand.
If you intend for this new piece of content to belong to a specific blog category or topic cluster, then include a link in your brief to the pillar or category page.
This way your writer can track down relevant internal link opps autonomously.
You can also include a linked example of a Google Search Operator in your brief, and encourage your writer to search your site for related content to reference.
Cyrus Shepard researched the optimum amount of internal links per URL, and found that between 40-44 was the catalyst for driving the most search clicks.
What's more, links to URLs stop being crawled by search engines once they exceed 150, according to Moz.
Most sites recommend between 3 – 5 internal links per blog, but it would be great to see more research in this area.
Consider this intel when briefing the number of internal links a writer should include.
For external links, ask your writers to reference content they've already been using for inspiration – especially if that content is driving big links, shares, and traffic.
It's all about who you know 😎 and some of this authority can be passed on to your content.
Just be clear that writers should avoid linking to competitors. You can give them a list of your top rivals to prevent this.
Online News Magazine 8. Remember to request CTAs in your content brief
Content CTAs, more often than not, are tied directly to your content goal.
To save yourself time retroactively adding them in, ask the writer to do so in your brief.
This way they can work in natural segways, and make a more compelling case for your audience to do said action.
Online News Magazine 9. Leave room for meta titles, descriptions, & alt text
Save some space in your content brief to allow your writer to craft an optimized page title and meta description.
To make life easier, provide guidance on the word and character limits.
You should also instruct your writer to provide alt text along with any images.
You may even want to supply some best practice advice on writing search and people-friendly image descriptions, in your resource pack (more on that in point 13).
Online News Magazine 10. Set the right word count
You want to give a word count guide based on top-tier, skyscraper content.
The Brief Generator will tell you the optimum length that the content needs to be to drive shares, comments, likes, pins, and upvotes.
All you need to do is share that with your writer.
Online News Magazine 11. Give intel on format & distribution
Different topics and audiences demand different content types. Make sure you feature only the most engaging and highest ranking formats in your brief.
In BuzzSumo's Brief Generator, you can dive into the SERP to observe the top headline formations and content types, and then feed that knowledge back into the brief.
Or, if you're briefing a freelancer, you can hand over this information and let them make the call.
Luckily, BuzzSumo auto-identifies the content types creating the most social buzz, to help speed up this part of the process.
The method of distribution is another important factor to include in your content brief.
A writer might tweak their tone of voice for audiences across different platforms,
In your brief, make sure you highlight the most engaging platform for your focus topic.
Online News Magazine 12. Tell your writer which products & features to push
If a primary or secondary goal of your content is to showcase a specific product/feature, don't expect your writer to work that out all by themselves.
Tell them which tool is worthy of a mention, and show them how to use it.
I get it. It's tricky to strike the right balance.
There's a fine line between wanting to provide enough information upfront so that your writer aces it off the bat, and spending so long explaining that may as well have written the piece yourself 🥵 *breathe*
In this instance you can do one of three things:
Hire writers who know your product: If you know a lot of your content is going to be product-centered, then make sure you work with writers who really get what you do. Consider commissioning mega fans and customers with great product knowledge to guest post.
Create shareable product training resources: This is a heavy initial lift, but once created, these guides or videos can be useful to multiple people. From freelancers, to sales, CRM, and new starters.
Accept that you'll have to dedicate time to editing in product mentions: This is the least ideal option. A good piece of content will weave in the most tantalizing features of a product, and make the reader want to use them, without them even noticing. On the flip side, if you're shoe-horning in product mentions, they can tend to feel out of place or inauthentic. But if you can't achieve #1 or #2, then overlaying your own product knowledge is better than nothing!
Ask writers to supply images via zip files
Tell them to include their images in a Google Doc, then simply head to
File > Download > Webpage
This will export all their images in a zip file, for easy submission.
Online News Magazine 13. Give your writer the resources to succeed
While it might seem like a big ask, adding a resource pack to your content brief will save you a huge amount of time in the long-run.
Having this instantly accessible information for your writers is one way to ensure you're not going back and forth sharing info via email, or working through copious rounds of revisions.
The more information you provide upfront, the more seamless the process, the more engaging the content ✨
Here are some things your resource pack could include:
Tone of voice and editorial guidelines
Grammar and style guidelines
SEO guidelines
Primary data and statistics (if you have an existing blog curating these, share it!)
Case studies and use cases
Product / feature training materials
Reading level or expertise level information
General dos and don'ts: (ie. do: create rich and varied blog content, do: apply effective on-page SEO, do: supply images in a zip file, don't: link to competitors, don't: duplicate content etc.)
Personas and audience information
Brand's point of view on key topics
Research and opinion sources (to support this, BuzzSumo's Brief Generator ✨automagically✨ runs searches for you on Wikipedia, Quora, and Reddit, based on your focus topic)
Subject matter expert insights (videos, quotes, testimonials)
Screenshot, annotation, and illustration instructions
Awards information
A menu of your blog components (ie. quote blocks, pro tip boxes, contents, multisliders, html blocks etc.)
Online News Magazine Content brief must-haves
Let's recap
Here's what you need to do to create a successful content brief:
Set a clear goal and audience so the writer knows who to address, what they want to achieve, and what action to inspire – and also so that you know what success KPI to measure.
Automate research of keywords, subtopics, and questions, to scale your briefing and content creation. Give your writer the tools to find intent-driven keywords and topics to shape their story.
Generate examples of successful content for your writers, to inspire them to create content that stands out in all areas (ie. links, shares, and rankings).
Outline your preferred structure, and don't forgot to reinforce the importance of subheadings!
Ask for internal and external links, but offer support. Link to relevant content clusters/pillar pages, or include an example site search.
Ask for meta data, but give advice on best practice, and how a writer should supply this information.
Auto-brief optimum word counts, content types, and preferred networks based on skyscraper content for your topic.
Be clear about which products to include and provide some form of training, OR be prepared to add product mentions and use cases in the edit.
Save yourself time by creating resources-you-prepared-earlier especially if you're in the business of briefing content. The more your writer knows, the better their content will be!
Creating great content takes a lot of practice and preparation. That's why you need a content brief – a recipe that helps you produce engaging content.
If you want help automating your brief, check out an example of how BuzzSumo's Brief Generator could help you create briefs at scale. Get your 30-day free trial, or upgrade to our Plus or Large plans to get instant access to this feature.