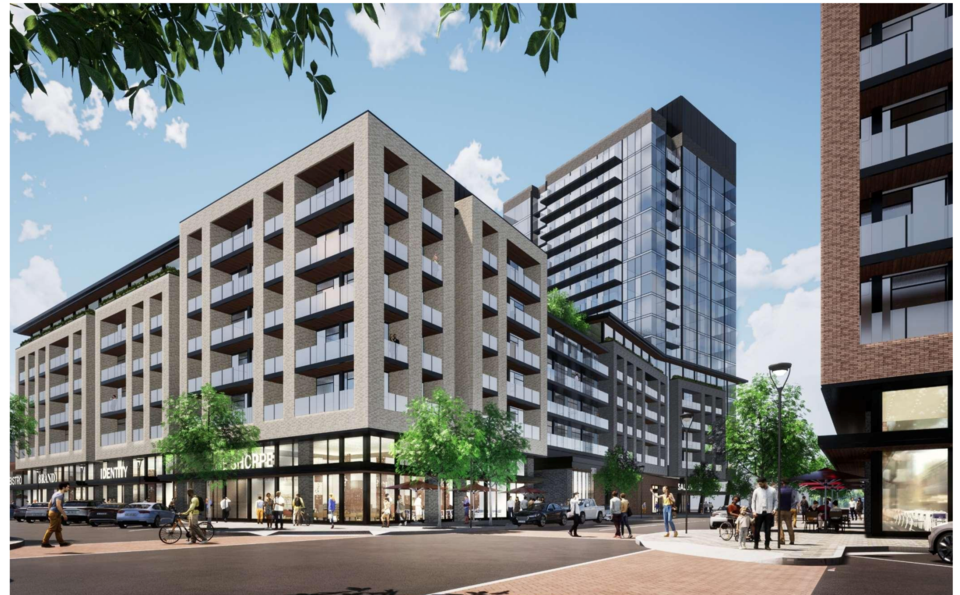 Daily News | Online News
Tuesday night's public meeting will look at Official Plan and rezoning applications needed to allow 16- and 12-storey towers, with 475 residential units and ground-floor commercial
Park Place could one day attract potential shoppers from the immediate neighbourhood in south Barrie.
A public meeting will be held Tuesday night on Official Plan (OP) and rezoning applications needed to allow 16- and 12-storey towers, with 475 residential units and ground-floor commercial, and six-storey podiums with each building, at 109 Park Place Blvd.
The applications, from North American Development Corp., are to change the special provisions in the general commercial zoning to allow residential development.
North American officials say residential growth will allow Park Place — located at Bayview Drive and Mapleview Drive East — to evolve as a mixed-use area that will support the longevity of what it calls an existing regional shopping destination.
This application proposal accommodates residential intensification, tall buildings and higher density for a pedestrian-friendly, transit-supported community, North American officials say. 
This property, which is within Park Place, is 4.9 acres and fronts onto three private roads. It's approximately 200 metres along Park Place Boulevard, about 110 metres along South Village Way and 200 metres along Live Eight Way.
The development's first phase would be 16 storeys in height, with a six-storey podium, ground-floor commercial, 296 residential units and approximately 388 commercial and residential parking spaces.
Its second phase would be 12 storeys, also with a six-storey podium, ground-floor commercial, 179 residential units  and about 251 commercial and residential parking spaces.
A neighbourhood meeting on these plans was held last February, with approximately twenty-three 23 people attending – including the Ward 8 councillor, planning staff, North American officials and consultants.
There were questions and comments regarding integration of residential uses into this area, the potential increase in traffic on Mapleview Drive East, the type of units and timeline for their construction.
A public meeting is one of the first stages of Barrie's planning process.
Once held, a staff report to city council's planning committee is anticipated to be brought forward in early 2023 for consideration of the proposed OP amendment and rezoning.
Should council approve these changes, site plan applications would also be required to facilitate the development.
Tuesday's planning committee meeting is scheduled to begin at 7 p.m. and Park Place is the first public meeting on the agenda.
https://newscharotar.com/2022/09/residential-towers-could-be-coming-to-the-heart-of-park-place/