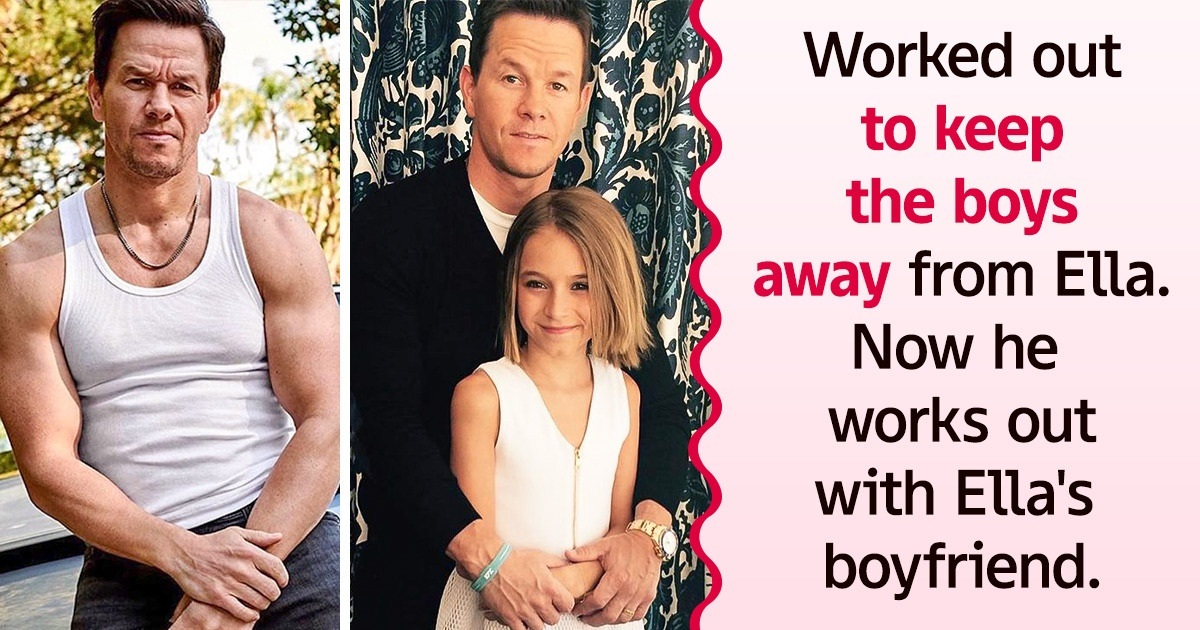 Daily News | Online News
Being a parent isn't always fun and games. People who have kids in their teens usually brace for another critical period in their child's development. The teenage years are considered to be especially difficult, as our dear offspring may behave like adults one minute and small kids the next. An actor, producer, and businessman, Mark Wahlberg knows the struggles of parenting, as he's a father of 4. He eagerly shares his tips on how to deal with the whims of kids at a certain age.
Here at Bright Side, we were amazed by some tricks that Mark and his wife Rhea use while dealing with their 19-year-old daughter, Ella. We'd love for you to take a look at their relationship advice and maybe borrow some for your own family.
The challenge started when Ella was 14.
Mark Wahlberg was 47 years old when he spoke about his life as a father of 4 in an interview with People. He first admitted that parenting his 14-year-old daughter, Ella Rae, was "a challenge" in a lot of ways. Ella demonstrated a typical attitude, but this really fired up her dad.
The first thought that Mark had at that time was, "It's tough, but people say that they pass through it, and they come back to you." He added, "She wants to go be off and doing her thing. There's a lot of attitude, a lot of aggression, a lot of, 'You're the worst, you ruin everything!'"
At that period of time, Mark chose to treat his daughter, who was testing the limits of her father's patience, with a ton of calmness and optimism. He concentrated on spending more time with the kids, particularly with Ella, and was excited about their family vacation.
Now the actor chooses a partnership position with his daughter.
Now, as Ella turns 19, Mark is choosing to be more like a best friend rather than a mentor to his now all-grown-up daughter. In his recent interview, Mark said, "My 18-year-old, now I literally have no authority over her until she realizes she needs me financially," he joked. "She's doing tattoos and all this stuff, but she's now really focused on academics, which is great. It took her a while to get there."
Mark is absolutely tolerant of Ella's choices. After she graduates, he plans on touring colleges with her. "She's going to graduate mid-year, and then we're going on tour," he said. "She's picking the most random places — San Diego State, Clemson — so we're going to go to all these places."
Mark also prefers to speak less and argue less. While receiving a piece of advice from Kelly Ripa, who said, "Don't say a word. Do you hear me? You don't say a word," Mark replied, "That's the motto with my oldest daughter and my wife!"
Mark's most prominent parenting strength is loving and accepting his daughter's choices.
Mark Wahlberg proved to be a doting dad as he wrote a post on Instagram to congratulate his daughter, Ella, on her relationship anniversary. Mark celebrated the occasion by posting a lovely photo of the 19-year-old Ella hugging her boyfriend, James.
"Happy 1-year Anniversary Ella and James," the actor captioned this sweet shot, adding, "I'm so happy for you guys!"
Mark never gets tired of praising his daughter's boyfriend. In his interview with Ellen DeGeneres, he opened up about how he's more concerned for the boyfriend in their relationship than he is for his 19-year-old daughter. He sincerely confessed his daughter is "tough."
"I think he's more scared of my daughter than he is of me," Wahlberg said. "I pray more for him than I pray for her in that relationship." Mark also works out with Ella's boyfriend and captioned a video of their workout with some lovely words. He wrote, "Ella is a lucky girl, and I'm a lucky dad! He is a great young man."
"I used to work out to keep the boys away from my girls, and now I'm working out with the boyfriend. Imagine that," Mark said in the video.
What is your know-how for dealing with turbulent teenagers? Which of Mark Wahlberg's strategies would you try with your own kids?
Bright Side/Family & kids/Mark Wahlberg, a Father of 4, Shares Tips on How He Deals With His Teenage Daughter and Keeps His Sanity