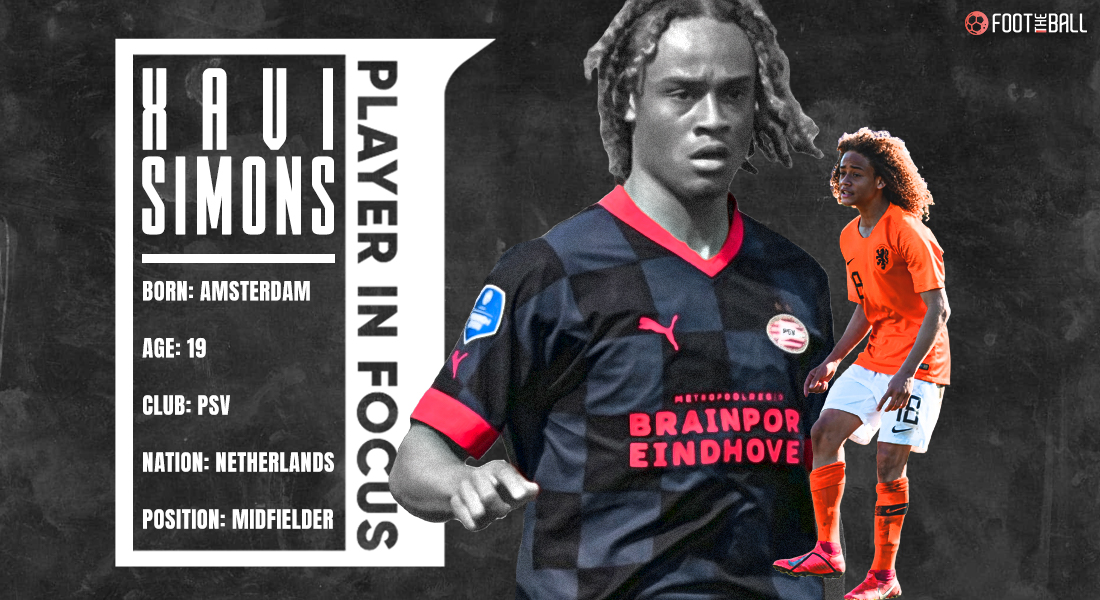 If you like to keep up to date with European football and all of its intricacies, it's fairly likely the name Xavi Simons is a familiar one to you – and has been for some time.
The curly-haired Dutchman has been the victim of the internet hype machine ever since he was a child, when he was in Barcelona's La Masia youth academy, and another Xavi was still featuring in the club's senior team.
Simons joined Barcelona's famed academy La Masia at the age of seven from previous club CD Thader. He worked through the ranks of the youth system but never actually made a first-team debut for the Catalan side after a contract dispute. Simons would eventually leave for PSG as a free agent 16-year-old.
Due to PSG's policy of buying superstar players, they have also lost plenty of youth players who have decided to move on for better opportunities at first-team football. That policy might have changed with the arrival of Cristopher Galtier and Luis Campos, but it's one that is a bit too late.
Xavi Simons was one wonderkid they managed to bring to the club but due to lack of assurances over first-team opportunities, the Dutch midfielder left for PSV in the summer of 2022. Still just 19, the young Dutchman has a potentially marvellous career ahead of him.
Best way to start the league!! ⚔️🦁 pic.twitter.com/HbVVo26o28

— Xavi Simons (@xavisimons) August 6, 2022
How good is Xavi Simons?
A product of La Masia, he naturally has a lovely command of the ball and his balance when dribbling is excellent.
Simons' skillset is unconventional, but it is becoming more common in this era. It is not quite a false nine role, but rather for of a floating playmaker. In the UEFA Youth League in 2021/22, his starting position was clearly in the middle as his team's lone striker, but he was essentially given total freedom to tuck in, drift wide, or play off the shoulder as he saw fit.
He is a very damaging transition threat. Rather than getting stuck playing with his back to goal, Simons comes to the ball with supreme confidence in his ability to give and go. His technical quality forged from years of playing as a midfielder has clearly aided him in the way he can sharply work his way through congestion. Though average in height, Simons has been credited recently with bulking up and putting on muscle, which will allow him to take on the senior game.
It may be fair to say that Simons is still evidently a very promising midfielder who is capable of influencing the game from various different positions on the pitch. He is a technically impressive player, his playmaking ability is impressive, and his dribbling, ball control, and passing are all key aspects to his game. While he does still have some clear areas where he can potentially improve on his game, it's clear that Simons' potential is clearly very positive. 
Also Read: Mario Gotze's resurgence at PSV before he moved to Europa League Champions Frankfurt
Xavi Simons stats
The player stands at around 168cm (5'6") tall and weighs roughly 58kg (128lbs). He isn't a physically big player by any stretch of the imagination, however, he tends to be quite difficult to dispossess despite often being physically outmatched by much larger defensive opposition players. 
Physically, Simons is likely helped by his relatively low centre of gravity as he has got an impressive ability to turn on the ball and keep opposition defenders guessing with regard to his movement in possession.
The little Dutch maestro made 6 appearances last season for PSG and 7 overall in 2 years, which says it all why he left the capital club for PSV this summer. Simons has begun his life in the Netherlands in some style and has already an assist to his name in his first game.
Xavi Simons scout report
Simons has displayed some impressive quality on the ball so far during his young career and one aspect of his on-the-ball ability which is particularly impressive is his dribbling quality and the impressive control that he possesses over the ball. 
He is not the quickest, nor the most athletic, but he makes the most of what he has; a strong core and good lateral speed and agility to amplify the unpredictability of his ball carrying. And so while he isn't incredibly athletic, he is hard to dispossess or body out of possession.
The Dutchman is a facilitator and creator first and a goal scorer second. When he has the time to raise his vision, he makes excellent use of his ability to play through the defence – always looking for the inverted runs of his teammates out wide.
As mentioned previously, Simons isn't a physically big player, however, he knows his size and he uses is quite well with regard to protecting the ball when he receives it. Simons is an intense and fairly aggressive player at times and this aggression and determination to retain possession of the ball. 
The first thing to note about how Simons typically receives possession of the ball is that he is good at making himself aware of his surroundings on the pitch. While Simons is generally good at receiving the ball and his confidence is typically a positive aspect to his game, this element of overconfidence does rear its head every now and again, resulting in easily preventable errors. 
Lastly, with regard to his shooting, Simons tends to play his shots with a lot of power, however, this can, at times, come at the expense of precision. He can be a very effective player in front of goal and he is also a set-piece specialist, indicating that his shooting ability is quite good, however, finding a greater balance between power and precision in his shooting is an area that he can improve upon. 
Xavi Simons future
With a contract that was set to expire this summer 2022, the footballing world was Xavi Simons' oyster. While he had been given some opportunities in the first team at PSG, one would have to assume they have been too fleeting to convince him to stay put, it was never sure he would sign a contract extension.
The Dutch midfielder though was very close to extending his current deal at Parc des Princes. However, with so much managerial uncertainty, Simons decided that in order to get his career back on track, a change of scene was needed. And so he decided to make a move back to his homeland at PSV. He has begun the new season strongly, and if he continues at this pace, PSV might find it tough to keep him for more than a season.
With such a versatile skillset, Simons needs to decide what kind of position and role he wants to play, and work towards landing at a club in future that intends to play a system that will facilitate it. A player of his talent should not be a gap filler. He is ready to play an important role at one of the elite clubs.