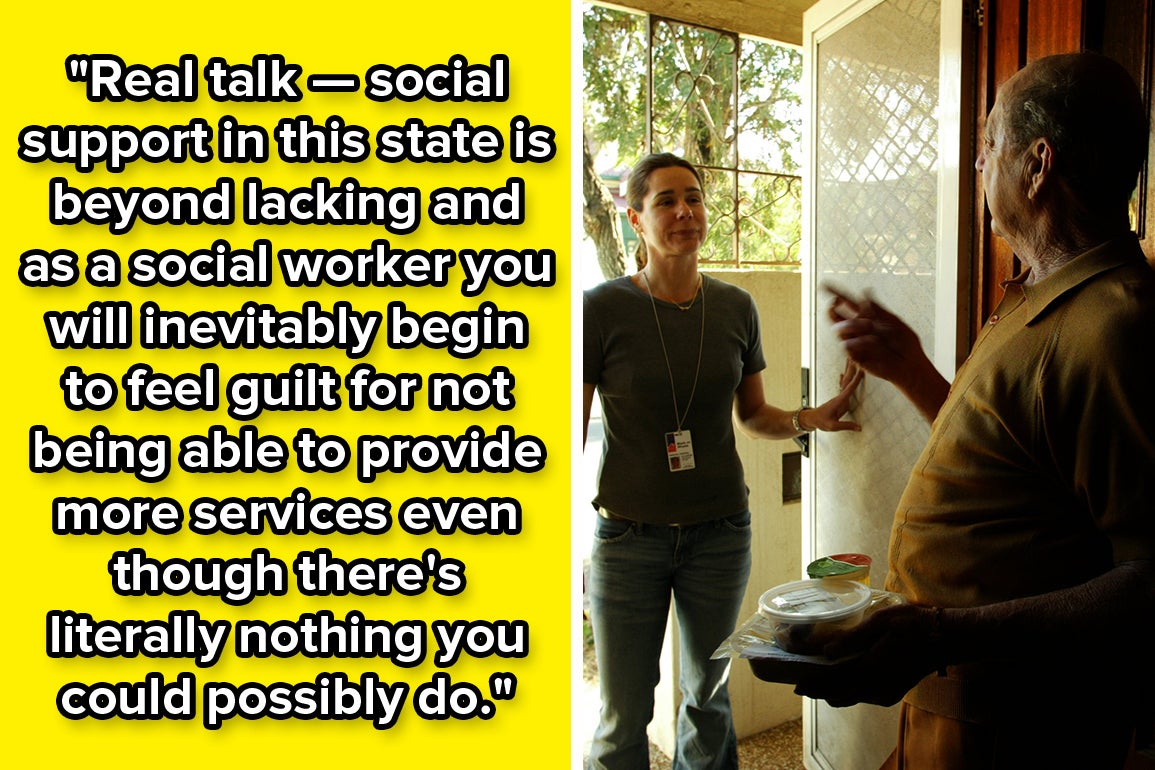 While social work is plays an incredibly vital role in our society, I've always been in absolute awe of those who are able to take on such an immense responsibility — and have always wondered about their experiences in their line of work and how it effects them.
1.
"I ended up quitting shortly after getting my Bachelor's. I just couldn't handle it. I realised that while I still wanted to help people, I couldn't do the frontline work."
"I've floated around into various projects/research, but still haven't found anything I really like or can emotionally handle. Now, I'm looking to work in the governance/policy side of things in the same area, so I can help our frontline workers — and I guess we'll see how that pans out."
—u/maecat2011
2.
"Just try different cohorts until you find out what you like. I worked in youth residential care whilst doing my Bachelor's and then got a job working with offenders. Now I can move onto corrections or the courts if I like."
"The best thing about social work is that it's expected people will move around to gain more knowledge, so there's a lot of mobility. Unfortunately, in reality, staff numbers are low, case numbers are high and no one cares if you burn out — so you need to practice some initiative in managing yourself and your self-care. I love it because it's real work, with real problems and some real wins."

—u/Bigmanbonsey
3.
"Are you capable of emotionally detaching yourself from serious child abuse while still remaining empathic? If so, go for it. If not, it's a tough job."
—u/nathrogers7

"A friend told me her partner and her were out one evening, he got a call on his work phone about some serious shit like that, he switched into work mode instantly, five minutes later the call ended and he was back to laughing and having fun. She was amazed at his ability to switch like that."
—u/reverendgrebo
4.
"Social work is broader than child protection. With a Bachelor of Social Work you could theoretically work in schools, policy, community development, hospitals, mental health, drug and alcohol, forensic and so on."
—u/jamie_ann88

5.
"It's both a challenging and rewarding job. You're often working with people experiencing some of the worst moments of their lives and you don't always get good outcomes. Being realistic is important in the role, as well as prioritising self-care."
"Pay varies a lot. As it's a female dominated profession, they tend to take advantage of people's caring nature to justify low wages. There also can be issues with insecure employment, particularly when you're employed in a temporary government funded program. Good money and secure employment tends to be in hospitals, prisons/justice system and specialist therapy services (eg. acute mental health, family violence, trauma) where you can earn $100k+. There's also career options in policy and training."
—u/monsteras–
6.
"I work with young people who don't want to go to school. Whether it be post-lockdown anxiety, self-esteem issues, mental health issues or poor home environments."
"The team and environment I work in is fucking fantastic. Good group morale, it's easy to talk to anyone in the team, whether higher up or not. It's a great collaborative learning environment. It's hard sometimes, but I love it.
—u/peteypotato
7.
"I worked in community health for two years after getting my Bachelor of Social Work degree and got burnt out. It is really important to take the time to look after yourself emotionally and physically when doing such a sometimes draining job."
"Also, whilst I was working I realised that a lot of my time consisted of making client referrals to other services so the job can involve a lot of paperwork. I realised that I enjoyed speaking to the clients and the counselling side of the job more, so I plan on studying psychology online. I need to start from a Bachelor level, but I don't need to complete more than half the units as I have RPL."

—u/Jolly-Cake5896
8.
"So I'm studying social work currently and while I'm absolutely loving the course, I'm terrified of the 1,000 hours of unpaid placement."
"I was made aware of it before studying, but I'm unsure how I'm going to survive working full-time, but with no pay. It's a very outdated system that there is no push to change. Any lecturer I talk to about this agrees that the system is broken and needs changing because it's so unreasonable."
—u/Dame_E
9.
"Real talk — social support in this state is beyond lacking and as a social worker you will inevitably begin to feel guilt for not being able to provide more services even though there's literally nothing you could possibly do."
"There's not enough contact hours for the people that need it most and you'll be forced to waste time with people who don't need — or even really want — help because your hands are tied behind your back by the system in a way that at some points seems not only careless, but almost malicious. You really need to be made of iron to do the job and realise that you're making as much of a difference as you can."

—u/Sector17_Underground
10.
"My social worker friend deals fine with the misery that some of her clients go through — professional detachment and compartmentalisation. But the shitheads in management at her organisation are almost unbearably horrible and petty. Look hard at the culture of the organisation."
—u/alphgeek

11.
"I'm a social worker in Melbourne. I've worked in lots of different areas and now currently in Family Violence. It's a rewarding career and you can apply your training to multiple different areas that suit you."
"I will say that wherever you go, there is a lot of admin and a lot of paperwork, documentation and 'covering your ass'. People talk about burn out a lot, but if you have strong boundaries and self-care, you can learn to compartmentalise the secondary trauma and hopefully you will find a supportive leadership team.
Others have mentioned the placement which is significant — I had 1,000 hours for my Master's. I hear now it's very difficult to find placements due to COVID restrictions and working from home arrangements. But you may be able to do a work-based placement if you're working in a suitable area already."
—u/MessyMusical
12.
"Keep in mind the amount of unpaid compulsory placement you have to do. It can literally be 3–6 months of full-time work where you don't have the time to do any other paid work. If you can't survive solely on Youth Allowance or Austudy (as many people can't), be prepared to save up a hell of an emergency fund to live on."
—u/universe93

13.
"I'm a recent graduate with eight months in my field. I love my job. It can be quite exhausting, but I feel extremely well supported by my colleagues and rewarded by what I can bring in."
"I think from what I'm hearing from my friends who I did the course with, it REALLY depends where you work since SW [social work] can be anywhere from first responding Child Protection to more of case management roles."

—u/Gluodin
14.
"I would suggest looking into occupational therapy. You can work in mental health and other similar paths as social work but have many more options (physical therapy), better pay etc. I quit as I had no emotional space for my friends and family. I also found that I was more inclined to take on giving roles in these relationships rather than more equal ones as I was conditioned to do so at work. Observing others in the sector, I certainly wasn't the only one."
—u/hsnm1976

15.
"I started working as a youth worker last year and have found it challenging, but rewarding at times. There's heaps of work available though, so the ability to earn good money is there if you work overtime. I feel like 80% of it can be cruise-y and enjoyable, but 20% can be extremely stressful."
—u/harzee

16.
"I'm doing my Master of Social Work at the moment and I've already had my first 500 hours of placement. I like social work because there are so many fields you can work in — mental health, hospital work, schools, drug and alcohol, family violence, child protection, housing, social policy, community development work, etc."
"Each role is different with most requiring case management with risk assessments and psychosocial assessments. Others involve individual counselling or group counselling with a variety of ages, cultural backgrounds and personal struggles. Every social worker is different and will have different preferences. I know personally, I wouldn't be able to handle child protection.

Overall, you will love social work if you have a passion for social justice and for helping people as this is at the core of the practice and theory. Of course this is just based on what I've learnt from my experience on placement and from my tutors and supervisors."
—u/Nataliz1999
17.
And finally, "I love my job. Working with the children and adolescents is a very interesting and rewarding position to be in. It's a massive cliché, but no two days are ever the same, which is something that I find very enjoyable. My favourite part of the job, by far, is the relationships I'm able to form with the young people I work with and even on the very challenging days it's something to take comfort and joy from."
"There are so many different areas of social work that you can end up in, and it is the norm that you move around throughout your career to gain a range of experience and find the niche that best suits you. 
That being said, there will inevitably be heavy days that really take the wind out of your sails, because you're often working with people through the most challenging times of their lives. The ones that sting me are the children who experience abuse at home and parents/carers who report their child's suicide attempts. That's why professional supervision and a solid self-care routine for yourself is essential."
—u/holybowlcut
If you're a social worker and have any advice for those looking to enter the field — we'd love to hear your experiences in the comments below.
Note: Some Reddit responses have been edited for length and/or clarity.