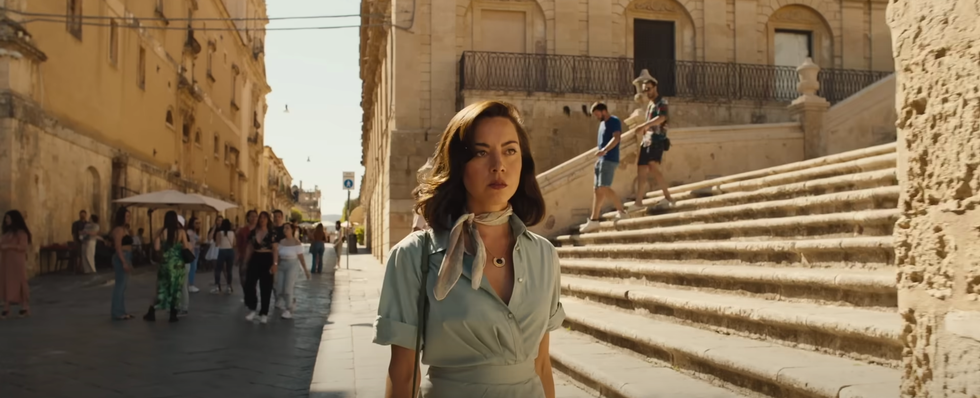 The second season of Mike White's hit HBO series will premiere in October.
Pack your bags, folks! We're heading back to the White Lotus resort chain for a Season Two—and soon. Recently, Variety announced that the show will premiere on HBO Max this October.

This season's confirmed vacation-goers include Sopranos star Michael Imperioli as Dominic Di Grasso, who will vacation along with his elderly father (played by F. Murray Abraham) and college graduate son (Adam DiMarco). Also confirmed is Parks and Recreation star Aubrey Plaza, who will play Harper Spiller, a woman who arrives to the resort with her husband and his friends. Tom Hollander and Haley Lu Richardson will also be joining the cast. Though the hit series is continuing on as an anthology, we can be sure that the hotel's spa will be in use, as Jennifer Coolidge's Season One character Tanya McQuoid will also be back on vacation. Hopefully this time without any ashes to scatter. In a grand trailer for HBO Max's upcoming shows below, we see Tanya pouting in the bathroom mirror, so here's hoping. Don't miss Plaza's character storming the streets of Sicily, heading to who knows where.
This content is imported from youTube. You may be able to find the same content in another format, or you may be able to find more information, at their web site.
The Last of Us, Succession, The Idol, The White Lotus & More Coming To HBO Max
Watch on
This time around, our destination is Sicily. On January 20, Variety reported that the Four Seasons San Domenica Palace in the Sicilian town of Taormina would be used for filming the second season of The White Lotus—and indeed, according to the hotel's website, it was closed to the public for the season until April 1. In first-look images revealed by TV Insider, we got our first glimpse at the resort, which looks downright plush. In the images, young couples and families descend on the resort, while the staff pours out to greet them. And don't forget Tanya—she's there too, with an assistant in tow. Will this person fare better than Brenda, the last woman in Tanya's employ?
Last August, HBO confirmed that creator Mike White's hit series would go from miniseries to ongoing anthology. The clever first season followed a group of travelers—newlyweds, a family, and a single woman there to scatter her mother's ashes—who all arrived at the White Lotus, a resort in Hawaii, at the same time. Over the course of a week, their storylines, along with those of the hotel's staff, intertwined to ultimately arrive at a sinister end.
"Mike has once again delivered a quintessential HBO show, and it's the talk of the town," said Francesca Orsi, Home Box Office's executive vice president of programming. "We were thrilled to hear where he wanted to go next, after closing this epic chapter in Hawaii, and can't wait to keep following him wherever he takes us."

Lauren Kranc is the assistant content strategy editor at Esquire, where she runs the brand's social media accounts and covers pop culture and television, with entirely too narrow an expertise on true crime shows 
This content is imported from OpenWeb. You may be able to find the same content in another format, or you may be able to find more information, at their web site.
Advertisement – Continue Reading Below
Advertisement – Continue Reading Below